Pros: Nice design, Ample amount of cooling options, Hotswap bay, Cable management, Dustfilters, Easy build
Cons: Not enough room for large GPU's, Heavy case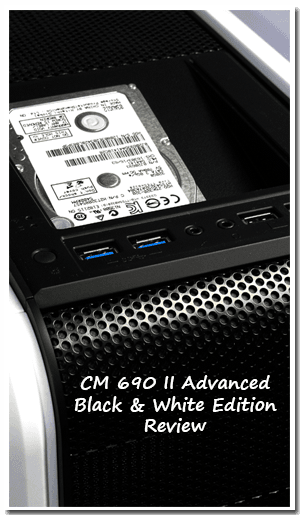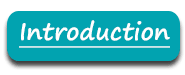 The Cooler Master 690 series has been a very successful series over the last few years. They have offered the consumer an affordable, good looking case with good airflow. I will be reviewing one of the newer versions of the CM 690 II, the Black & White Edition.
There aren't many differences with the CM 690 II Advanced (without USB 3.0), except for the white edges to the case, USB 3.0 ports on the front and a large CPU cutout. They also made the rubber grommets better. Today we will be looking at all different features and how it all adds up.

Cooler Master's description of the Cooler Master CM 690 II Advanced Black & White Edition:
Utilizing the feedback from market, Cooler Master newly launches the trendy and stylish CM 690 II Advanced Black & White Edition. The new case makes it possible to take advantage of excellent airflow and water cooling options to vastly reduce temperatures on system components. The CPU mounting hole size has been enlarged to make installing CPU heatsink backplates even more convenient, and the rubber grommets have been redesigned for improved cable management. Additionally, it is equipped with two USB 3.0 internal connectors for faster data transfer
Available Color Black & White (w/ inner black coating)
Materials Steel body / Plastic + Mesh bezel
Dimension (W / H / D) 214.5 x 496 x 528.8mm / 8.4 x 19.5 x 20.8 inch
Weight 9.56 kg / 21.08 lb
M/B Type Mini-ITX, Micro-ATX, ATX
5.25" Drive Bays 4 (without the use of exposed 3.5" drive bay)[/li]
3.5" Drive Bays 6 hidden (4 are removable), 1 exposed
(converted from one 5.25" drive bay)
I/O Panel USB 3.0 x 2 (internal), USB 2.0 x 2, Mic x 1, Audio x 1
(supports HD/AC97 audio)
Expansion Slots 7+1
Cooling System Front: 140 x 25mm white LED fan x 1 / 1200 RPM / 19dBA
Rear: 120mm fan x 1 / 1200 RPM / 17dBA
Top: 140x25mm fan x 1 / 1200 RPM / 19dBA
(supports 120/140mm fan x 2)
Bottom: 120mm fan x 2 (optional)
Power Supply Type PS2(optional)
2.5" Drive Bays 2 (converted from one 3.5" drive bay)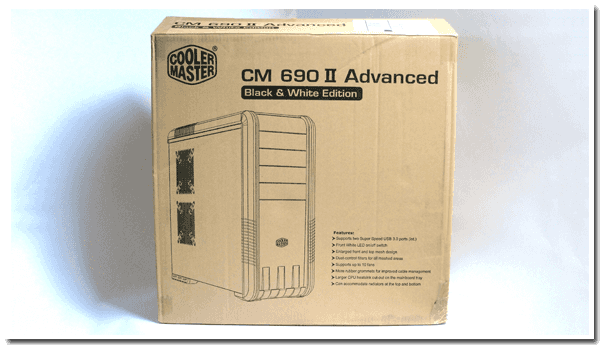 Cooler Master opted just for a standard looking box, with drawings of the case on front and backside. Along the edges of the box you will find a list of the specifications and features of the CM 690 II Advanced B&W Edition.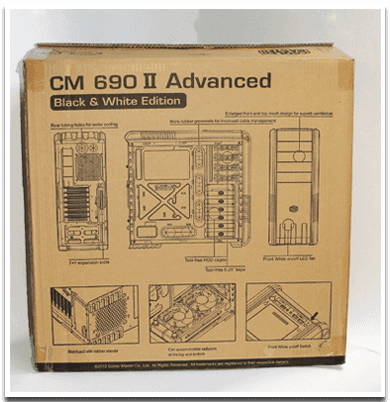 Once opened you will find the case protected by a plastic sheet and 2 Styrofoam paddings along the side.
Above you can see a picture of all the peripherals that are included with the case. Just to name them all the items you see here:
An instruction manual
Case speaker
Several cable ties
4 Plastic Revits
5,25" to 3,5" Mesh Panel
*]Lock BKT
Fan dustfilter for under your PSU
3,5" inch BKT
Several screws and standoffs
At first sight, you see a very nice looking case. It looks exactly the same as the standard CM 690 II Advanced, except for the white sides. It makes the case look very classy. It's not your typical gaming case with lots of different lights, it's a case that could fit easily in your living interior. The sides aren't matt grained like the CM 690 II but have a nice lacquer white finish.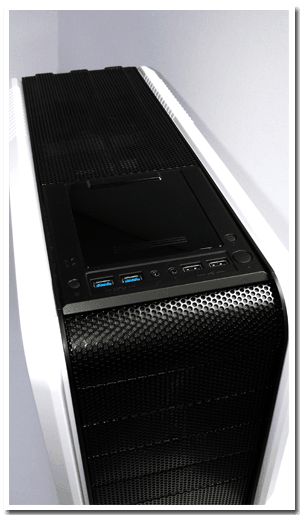 This is a midtower case, so it is fairly large. It's also quite heavy, without your hardware installed it weighs around 10 kilos.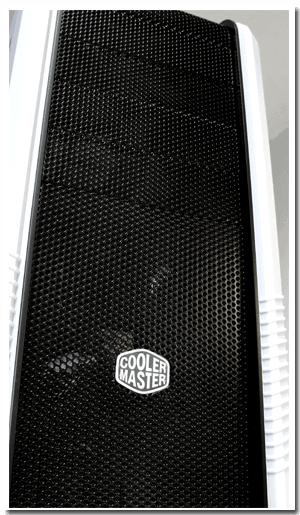 On the front you can find your I/O ports. There's a button to switch the led of the front fan on and off, two USB 3.0 ports, microphone and headphone jack, two USB 2.0 ports, power and reset button. Alas no eSata port is available, but has a hot swap bay (X-dock) which you can find at the top of the case. You can put a 2,5" or 3,5" inch hard drive in the bay, which is very handy if you quickly need a hard drive but don't have the time to install it in your case.
At the back, you have 7 expansion bays plus one extra along the side. The mounting of the PSU is at the bottom, which is much more logical than having it at the top as hot air rises and you don't want that coming through your PC. There are 2 watercooling holes with rubber grommets and of course an opening for your I/O ports of your motherboard.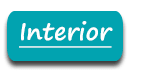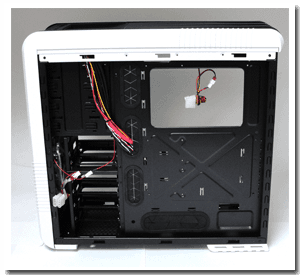 Upon opening the case you are greeted with a beautiful full black finish along the inside. The contrast between the black and white makes it looks quite classy. The CM 690 II Advanced series is known for its room, cooling options and cable management. The CM 690 II Advanced Black & White Edition delivers on all these options. The only difference between the older CM 690 II Advanced models is the larger CPU-cutout. It really is huge and should accommodate all CPU-coolers and make it easy for each builder to replace your CPU cooler when needed. All of the cable management holes are also protected by rubber grommets and there are several, enough to please most cable management nerds.
In total there are 3 fans installed, two 140mm fans and one 120mm from Cooler Master. There is a maximum of 10 fans supported in the case.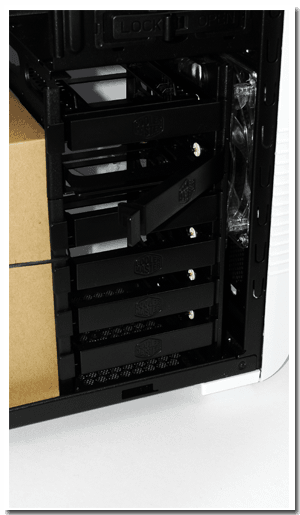 There are 7 hard drives bays available, with one of them having a SSD adapter. You can have either seven 3,5" hard drives or six 3,5" drives and one 2,5" drive. They are your typical Cooler Master toolless drive bays as you can in the photo below (Note: SSD bracket installed)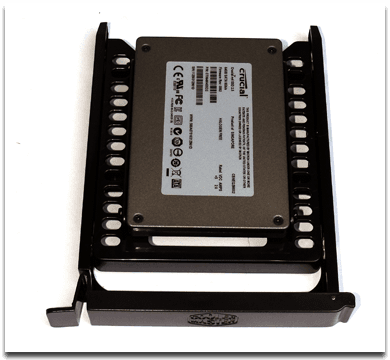 The CM 690 II Advanced B&W Edition has also a set of 4 5,25" drive bays. You can put up to 4 DVD/Blu-Ray drives, card readers or fan controllers here. The tool less design was nice and I was easily able to mount my Blu-Ray drive.
The expansion bays are locked with what appears to be tool less designed screws but alas, you will need a screwdriver.
Lastly you have a slum of front I/O cables, by the way the front USB 3.0 ports are connected via an internal cable to your motherboard. At the introduction of USB 3.0 lots of case manufacturers had just a simple USB 3.0 cable go to your motherboard I/O USB 3.0 port. This is better.

Installing my system in the case was a breeze, I had no problems whatsoever. The many cable management holes made it easy for me to hide all the cables away and conserve good airflow.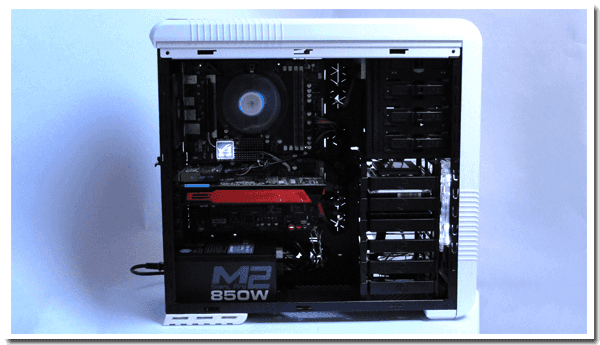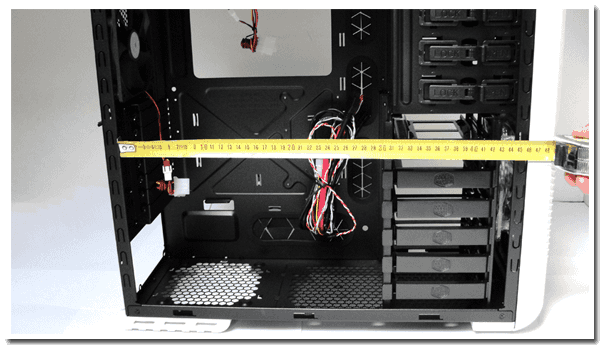 The maximum size as you can see in the picture is 30 cm. My AMD HD 5850 (24 cm) had ample enough room but if you have a larger GPU you can remove the hard drive cage (bottom 4 hard drive bays) for more space. That would then give you about 43 cm space for your GPU.
I found the whole build process quite pleasant.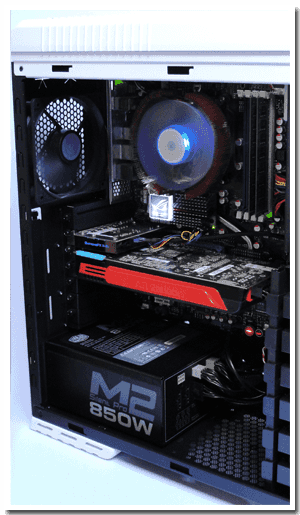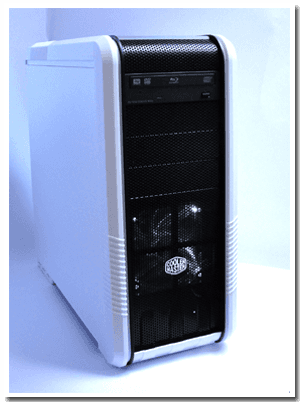 Test systeem:
CPU: AMD Phenom II 965 BE
Motherboard: Asus Crosshair III Formula
RAM: Kingston 4 GB DDR3 1333 MHz
GPU: Gigabyte HD 5850
SSD: Crucial M4 64 GB
HDD: 1 TB Samsung Spinpoint F3
PSU: Cooler Master Silent Pro M2 850W
With everything installed I booted up the pc and found the case to be very quiet. My Antec Nine Hundred II was much more audible. It's still audible but not where it gets annoying.
As far as cooling, I did an idle and load test of the entire system. I left the computer on idle (desktop, no programs open) for 30 minutes and then measured the temperatures. Next I put my CPU and GPU under full load with Furmark and OCCT. Left it running once again for 30 minutes and measured the temperatures again. Temperatures were measured with HWMonitor.
Of course these tests depend on what kind of hardware you have in your system but it gives you an idea.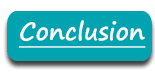 The Black & White Edition you can find for about 80 euros here in Europe. Now you can find the standard black version of the CM 690 II Advanced (with USB 3.0) for around the same price. That being said, there is no real difference except for the color, it comes straight down then to taste. Personally I like the white. It looks sleek. The only question I have, is will the white fade over time?
To sum things up though, all in all a terrific case. Cooler Master has made with the CM 690 II series a staple in the midtower range cases. They are not only well built and functional, they are also nicely designed. They come with ample amount of cooling options (air and liquid), enough room for several hard drives and much more. The only negative I would say, would be the available space for a graphics card and also it's quite heavy at 10 kilos. Otherwise it's a great all-rounder.