Pros: Semi-Modular, Slick design, Strong cables, Very quiet
Cons: Logo along the side only facing one way, non-modular cables not black
Introduction
Last week I received the Silent Pro M2 850W PSU from Cooler Master. The Silent Pro M2 is Cooler Master's second generation of the Silent Pro M series.
Cooler Master's objective with this series is to bring an affordable, efficient and quiet power supply to its consumers. The Silent Pro M2 comes in 7 different wattages ranging from 420W to 1500W. Today though I shall be reviewing the 850W version. You can find this version for around 130 euros in Europe.
Cooler Master's description of the Silent Pro M2 Series:
The Silent Pro M2 is the 2nd Generation of Cooler Masters successful Silent Pro M Series. It features a powerful single 12V rail capable of powering a HighEnd PC with 8 Core CPUs and several VGAs running in SLI or X-Fire. Thanks to its skillfully crafted aluminum-copper heatsink combined with a 135mm Super Silent HDB fan it remains cool and virtually silent in typical operation. The modular cable system with flat wires helps you to create a neat and organized build with excellent airflow resulting in a cool and quiet System overall. The M2 series comes with no less than a 5 year warranty!
Specifications
As you can see Cooler Master opted with the Silent Pro M2 for a single 12V rail. It has a 80 Plus Silver certification which means that the efficiency of the PSU at 20% and at 100% load is at least 85% efficient, at 50% load is at least 88%. The certifications range from 80 Plus to 80 Plus Platinum.
http://www.coolermaster.com/product.php?product_id=6806
Model
RS-850-SPM2
Type
Intel Form Factor ATX 12V V2.3
Dimension (W / H / D)
150 x 180 x 86mm / 5.9 x 7.1 x 3.4 inch
Input Voltage
90-264Vac (Auto Range)
Input Current
11 – 5.5A
Input Frequency Range
47 - 63Hz
PFC
Active PFC (>0.9)
Power Good Signal
100-500ms
Hold Up Time
>17ms
Efficiency
88% Typically
MTBF
100,000 Hours
Protection
OVP/UVP/OCP/OPP/OTP/SCP
Output Capacity
850W
Operation Temperature
0~40°C (Nominal Input Voltage)
Regulatory
TUV / CE / UL / FCC / BSMI / GOST / C-tick / KC / CCC
Fan
135mm Hydraulic Dynamic Bearings
Certifications
80 Plus Silver
Connector
M/B 24 Pin Connector x 1, CPU 4+4 Pin x 2, PCI-E 8 Pin x 3, PCI-E 6+2 Pin x 3, SATA x 12, 4 Pin Peripheral x 5, 4 Pin Floppy x 1
Packaging en design
The box the PSU comes in, is just a simple design. A white box with on the front the main details of the Silent Pro M2 and a lightning design.
On the back you can find the main features, a curve depicting the fan voltage and speed under load and another curve showing the efficiency of the PSU.
On the side of the box, you can find the specifications of the model (Model, Type, PFC,…)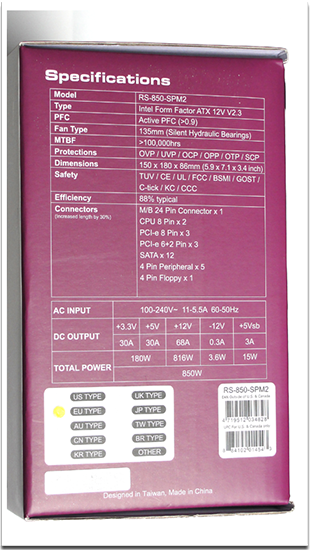 Opened up we can find inside the PSU, cabling, a set of fixing bolts, user manual and card for the warranty.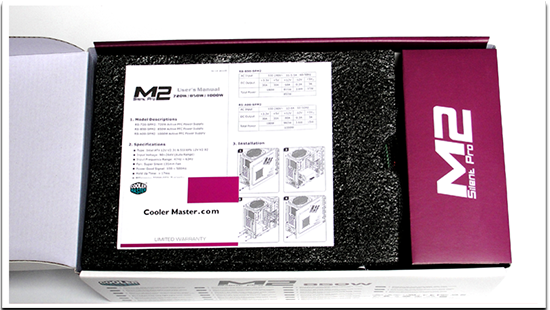 Everything that is found in the box:
As you can see Silent Pro M2 is a semi-modular PSU. The 24-pin motherboard connector and two 8-pin CPU connectors are directly connected to the motherboard while the PCI-e, SATA and Molex cables are modular. The 2 CPU connectors are handy if you are planning on getting a dual processor system.
Cooler Master chose for the modular cables, flat black cables instead of the normally seen braided cables. They make your build look sleek especially. They also feel good and sturdy.
What I found disappointing though was that the non-modular cables weren't as sleek. They were just your plain old sleeved cables with the colors of the cables showing (i.e. yellow). It would have been nice if they also would have painted these black but this is a minor design issue.
I found the length of the cables long enough. I was able to install the PSU efficiently in my system without any hiccups. In a big tower you may find them short but I doubt it. (you can always purchase extensions then)
The amount of connectors you get, should satisfy most people. You get a total of 12 SATA connectors, 6 PCI-e connectors (3x PCI-e 8 pin and 3x PCI-e 6+2 pin) and 6 Molex connectors. Enough to give power to several drives and up to 3 GPU's.
Here a picture of the connectors on the PSU: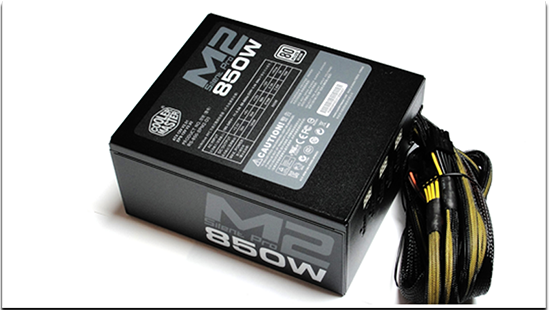 The PSU itself is painted in a nice matt black. On both sides you can find a Silent Pro M2 850W decal in big letters. But sadly they are both facing the same direction, so there is only one way to mount the PSU if you want to have the text on the sides not upside down. In my system, I ended up having to put the fan at the top because my case (Antec Nine Hundred v2) doesn't have an airvent at the bottom. This of course resulted in the text on the side being upside down as you can see in the photo below. It would have been nice if they had taken this into account. Otherwise a nice looking PSU which will look nice in your setup. My setup at the moment is:
- AMD Phenom II 965 BE
- Asus Crosshair III Formula
- 4 GB DDR3 1333 MHz
- Gigabyte HD 5850
- Crucial M4 64 GB
- 1 TB Samsung Spinpoint F3
- Antec Nine Hundred Two
Internal
Upon opening the PSU, you can see the internal heatsinks that cover a vast majority of the area. This is good news as far as cooling your PSU which should ensure that the fan can run at low speeds, hence be quiet. It made it though difficult to be able to see the rest of the components.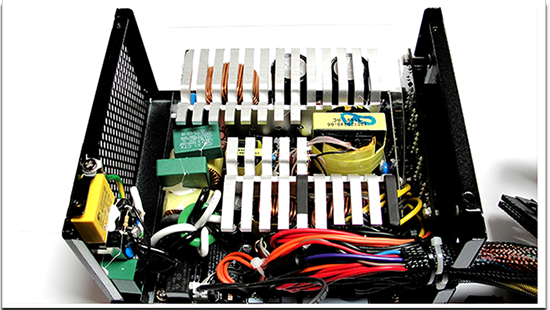 What you can make out, are the two hold-up capacitors rated at 330µF, 420V, 105 C°. A common choke coil with a Y cap can also be found beside the two hold-up caps.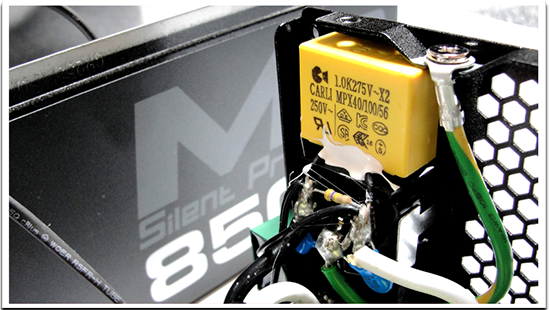 Two X-caps along with two Y-caps at the AC receptacle.
Cooler Master opted for a 135mm fan, modelnumber DFS132512M. It says Cooler Master but found out online that the fan is actually from Young Ling Tech., rated at 12V, 0.2A, 2.4W, 1500RPM, 34.44dBA, 78.13CFM. The reason behind such a large fan, would be to keep the fanspeed low and of course the noise.
When installed in my system, I found the PSU to be very quiet. Barely audible which is a big plus if you are looking for a quiet system. Cooler Master delivers on its Silent Pro name.
Conclusion
I wasn't able to fully test the PSU as I don't have the tools yet to test it fully but plan to get the right tools in the future. This ended up being more of a preview than review. Overall I was impressed by the Cooler Master Silent Pro M2 850W. It has a nice matt black design (except for the issue with logo on the side of the PSU), good specifications, semi-modular design, good and sturdy cables, though I would have liked to have the non-modular cables also painted black. As far as installing, I had no problems whatsoever. I was able to keep my system clean and hide lots of the cables and was pleased with the length of the cables.
If you are in the market for high-wattage PSU to power your Crossfire/SLI systems, then you should definitely take a look at the Cooler Master Silent Pro M2 850W. As far as efficiency though I can't say much at the moment as I'm not able to fully test it.
All in all, a good PSU that should satisfy most users.