Alright so I picked up a CM HAF 912 fairly cheap and was just planning to finally get this LGA775 setup off the T60 Bench and into a case. At this point I thought it might be worthwhile to fail/take a stab at some case modding. Any ugly case cant get any uglier right? Ok maybe it can. Also this is the lowly standard 912, no window and the internals are not painted.
Never attempted anything really like this before so im a bit skeptical of what I can do but Im willing to give it my best. At this point I have some ideas in mind but nothing set in stone so im completely open to ideas and advice (in fact its needed!).
-For starters im thinking/planning to completely dismantle the case and paint the internal/external white and leave the front plastic bezel black (painting the grills white as well). Im hoping to get some shopped pics done sometime this week to get a better idea of how exactly that might look.
-The left side window. Definitely want to get some window action going on so im contemplating either going for a LARGE standard window ridding the designs or a more modest window. Clear acrylic for sure and if I went the large route I believe I could get a large sheet from Home Depot and have them cut the dimensions im looking for. As for mounting it, im not sure if the Scotch 4010 tape would hold it or if a more structured route would be ideal.
Was thinking one of these cuts: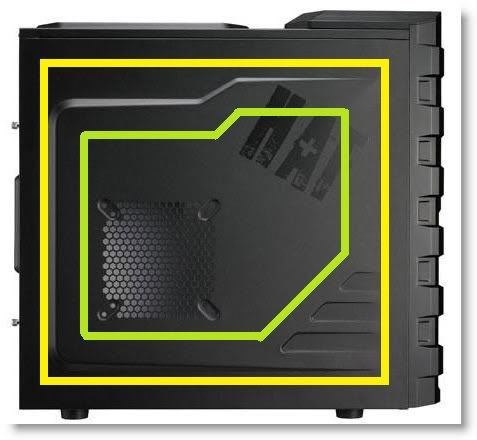 -I was really digging this sort of mod and looking to maybe do some variation of it:
Edited by iamtwan - 4/26/11 at 11:17pm
CPU
Motherboard
Graphics
RAM
i7 4770K
ASRock Z87M Extreme4
XFX R9 390 Black Edition
16GB Corsair
Hard Drive
Hard Drive
Cooling
OS
256GB Samsung 840 Pro
Seagate 3TB
Scythe Mugen 2
Windows 7
Monitor
Keyboard
Power
Case
ASUS VG248QE 24"
Logitech g710
Corsair AX 760i
CM N200
Mouse
Mouse Pad
Logitech G502
Razer
View all
hide details
CPU
Motherboard
Graphics
RAM
i7 4770K
ASRock Z87M Extreme4
XFX R9 390 Black Edition
16GB Corsair
Hard Drive
Hard Drive
Cooling
OS
256GB Samsung 840 Pro
Seagate 3TB
Scythe Mugen 2
Windows 7
Monitor
Keyboard
Power
Case
ASUS VG248QE 24"
Logitech g710
Corsair AX 760i
CM N200
Mouse
Mouse Pad
Logitech G502
Razer
View all
hide details