Hey guys like i said i just recieved this case from newegg last night and i love it. i would like to know what modifications i should add to the tower before doing stuff to it. Tomarrow i recieve my 6950 2gb so im happy ass hell. After that im ordering a corsair 850w modulator so i can be able to sleeve the cables and have more watts also. So for now this is what i got i wana know what i can do until i get my power supply and be able to sleeve. Color suggestions also im adding a water cooling system a real one and take off the corsair h50. i was thinking about a Good water cooling system that can go on top of the case but in side and take that 230mm off any help with a suggestion on the water cooling. i have this one in mind but idk if it will fit in the spot.
http://www.frozencpu.com/products/12...?tl=g30c83s137
Thats the link.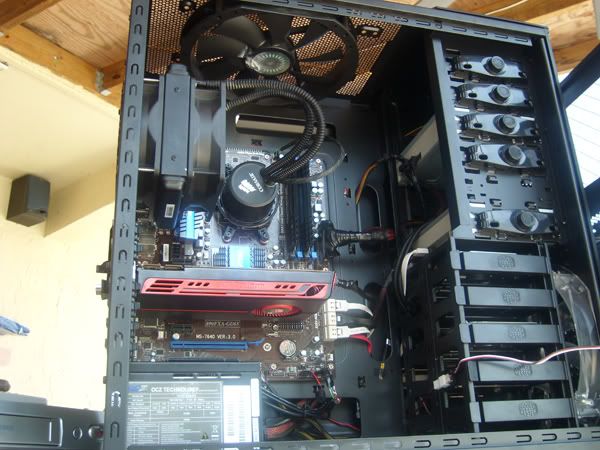 I was thinking of doing some painting on the outside but i wana ask someone for suggestions of help so i know i do a good job. Thank you if u help me with thiz guys..
CPU
Motherboard
Graphics
RAM
Intel Core I5 2500K
Asus Sabertooth P67 3.0 Revision New One
AT RADEON HD 6950 2Gb Unlocked Shaderz Only
4Gb DDR3 VIper Extreme II
Hard Drive
OS
Monitor
Keyboard
Western Digital 500 Gb
Windows 7 64bit
ASUS VE278Q 27Inch 1080p LED LCD
Logitech
Power
Case
Mouse
Corsair HX850 Modular
HAF 932 ADVANCE
LOGITECH G700
View all
hide details
CPU
Motherboard
Graphics
RAM
Intel Core I5 2500K
Asus Sabertooth P67 3.0 Revision New One
AT RADEON HD 6950 2Gb Unlocked Shaderz Only
4Gb DDR3 VIper Extreme II
Hard Drive
OS
Monitor
Keyboard
Western Digital 500 Gb
Windows 7 64bit
ASUS VE278Q 27Inch 1080p LED LCD
Logitech
Power
Case
Mouse
Corsair HX850 Modular
HAF 932 ADVANCE
LOGITECH G700
View all
hide details