So I have been noticing some hip cups since I got my 2500k, Might be that I am barely noticing them now, but I downclocked to 4.4 ghz for now because I got a BSOD while watching a vid. So I decide to start lower and push up when I had the time again. I literary have been stressing my rig for over 20 hours no errors or BSOD.
I was extracting the Arma 2 rar file while playing a vid on MPC and all the sudden the vid starts to fast forward and bug out and would not return to normal. I checked CPU usage and it was low.
So then I started to play BFBC2 and I took SS of CPU usage, tell me if it looks normal or not.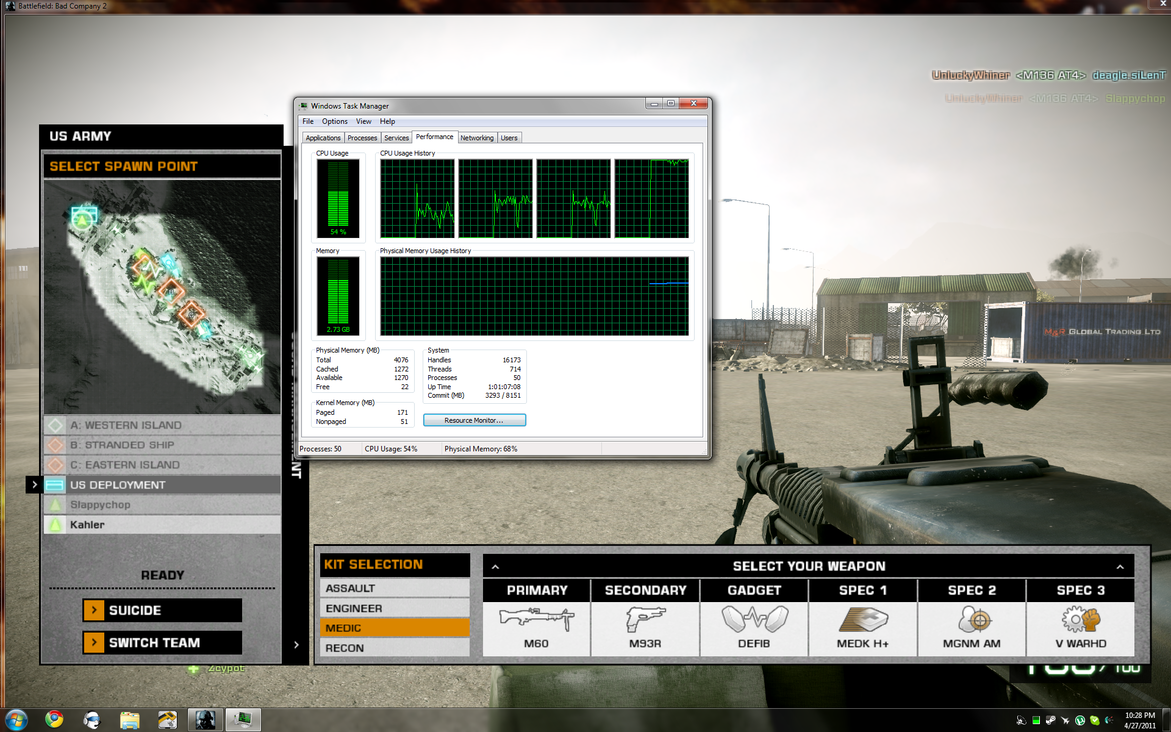 CPU
Motherboard
Graphics
RAM
|2500k @ 4.4Ghz vcore 1.40|
MSI P67A-GD65
290X
G.SKILL Ripjaws Series 16GB (4 x 4GB) 1600Mhz
Hard Drive
OS
Monitor
Power
C300 64GB SSD - 500GB HDD - 840 250GB SSD
Windows 7 Ultimate 64bit
3 HP LA2405wg 24'' 1920x1200 @5760x1200
Corsair 850watts
Case
Mouse
NZXT Phantom Black
G500
View all
hide details
CPU
Motherboard
Graphics
RAM
|2500k @ 4.4Ghz vcore 1.40|
MSI P67A-GD65
290X
G.SKILL Ripjaws Series 16GB (4 x 4GB) 1600Mhz
Hard Drive
OS
Monitor
Power
C300 64GB SSD - 500GB HDD - 840 250GB SSD
Windows 7 Ultimate 64bit
3 HP LA2405wg 24'' 1920x1200 @5760x1200
Corsair 850watts
Case
Mouse
NZXT Phantom Black
G500
View all
hide details