Quote:
Originally Posted by
Gascogne
But anyone with a i7 2600K here who has oc'd it to 4.6Ghz or higher here? (with aircooling)
Would love to know the settings.
Well ... I'm a complete noob when it comes to OC'ing ... but, yeah off the Asus "Auto Tune" I hit "EXTREME BOOST" and got a 33% boost to right just under 4.6 GHz without even knowing what the hell I was doing ... it jumped over 5 GHz once but then I guess wouldn't run 'stable' enough without me tweaking other things and just using my little Noctua and it rebooted back at 4.476 GHz a 31% gain ... however when I opened the ROG CPU-Z it only logged that # for a brief second or so and then showed me down in the 1.something range I guess because I had no load going on the CPU I dunno ?

But if " I " can achieve that not knowing what the hell I'm doing I assume if you've done OC'ng before 5.0 GHz should be an attainable goal, and yeah even Air Cooled. I was watching "JJ" from ASUS on NewEgg TV OC'ing an i7 2600K w/ the Max4Extrm-Z68 board and he got it to 5.2 w/ a Cooler Master hyper 212.
Edit: LINK added = http://www.youtube.com/user/newegg#p/u/16/lajZi-JAFXA

============================

EDIT: Also, maybe check out My Post #511 ... http://www.overclock.net/14161833-post511.html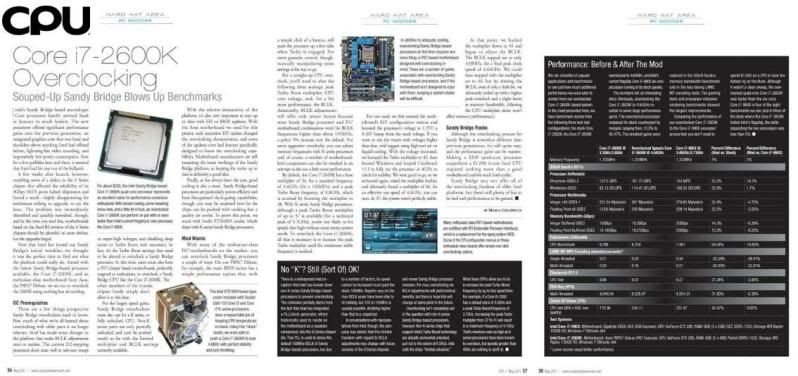 They first boosted the processor's voltage to 1.35V ... then bumped the 'base multiplier' to 45 ... then adjusted the BCLK to 103 MHz ... for a final peak clock speed of 4.64 GHz !

They said the i7 2600K can reach 5.7 GHz but you'd need some exotic system mods and high end cooling to try ... GOOD LUCK !
Edited by LA_Kings_Fan - 7/27/11 at 3:17pm
CPU
Motherboard
Graphics
RAM
Quad Core Krait 400 @ 2.30GHz
Qualcomm MSM8974(Snapdragon 800)
Adreno 330
2GB LPDDR3-1600
Hard Drive
OS
Monitor
Keyboard
32GB NAND
Android 4.4 Kitkat
4.95" 1080X1920 IPS Display
Swiftkey
Power
Audio
2300 mAh Battery
Stereo Speakers
View all
hide details
CPU
Motherboard
Graphics
RAM
Quad Core Krait 400 @ 2.30GHz
Qualcomm MSM8974(Snapdragon 800)
Adreno 330
2GB LPDDR3-1600
Hard Drive
OS
Monitor
Keyboard
32GB NAND
Android 4.4 Kitkat
4.95" 1080X1920 IPS Display
Swiftkey
Power
Audio
2300 mAh Battery
Stereo Speakers
View all
hide details