First, you "...took it apart again to take some photo's and ask a couple questions"? Man you need another hobby!
A-1) I did the same "double-take" related to the protective cover over half of the 8-pin connector. I had read in the manual that I needed to connect the 8-pin connector, and so when I found half of it covered, I went back to the manual and reread the passage again.
A-2&3) I replaced all of the 120mm case fans in my Antec 900 years ago with 3-pin Yate Loon D12SM-12 fans, i.e., no 4-pin PWM connections. They are pretty quiet though. Doing some reading, I have found that many who know more than me are using Nexus D12SL-12PWM fans now. The Nexus is offered as 4-pin, PWN, so that will take advantage of the fan connection on the M4GZ. I ordered one (newegg, clear) to mount in the door of the case as a test ahead of determining what fan to use in whatever case replaces the 900.
Check silentpcreview.com for reviews and test set-up information to learn about how much fan you need to buy for your situation. HINT: More fans and higher CFMs do not necessarily add up to a cooler PC!
If you end up using a 3-pin fan, someone referenced on this thread that you can use "Q-Fan" to control them. I will need to learn more about how this works, too, since I will have some 3-pin YLs in this build for a while.
A4) I am happy to trade the dying "IEEE 1394 support" for USB 3.0! I have one device, an external back-up drive, that connects via USB 2.0 or 1394, so no great loss for me. It is a drag to have a "dead" connector on the front panel of the case though (Oh well, honey, I have to buy a new case now...
).
My surprise was that the board didn't include wireless. I totally missed that it wasn't incorporated on the board. I understand, as I think as an enthusiast board, most would be connecting to the internet via the fastest connection possible, i.e., hard wired, not wireless. Caught me off guard, though.
Time for an adult beverage...
Quote:
Originally Posted by
LA_Kings_Fan
Well still working on mine ... had it booted up and loaded WIN 7
so I'm getting there, but took it apart again to take some photo's and ask a couple questions ...

Q-1.) OK, so I was reading the Manual last night,
(
what you noob you read that thing
?)
, and noticed the board layout has the POWER connectors listed as the 24-pin EATXPWR of course, and also an 8-pin EATX12v ... and in the manual it says something to the effect "for a FULLY CONFIGURED SYSTEM use a PSU that complies w/ ATX 12v spec. 2.0 , and make sure to plug in the 8-pin EATX12v or the system could have problems ..." which got me thinking ... Wait a tic, I only plugged in 1 4-pin at that point!

Is everyone else's board like mine ? they plugged 1/2 of the 8-pin ...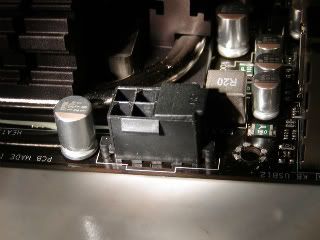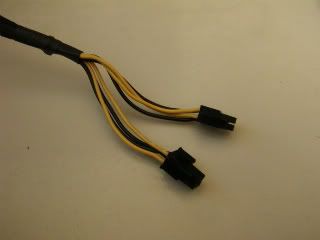 ... am I suppose to take the plug out/off and couple the 2 4-pins from my PSU and plug BOTH in to make the 8-pin connection ??? it seemed to boot and work fine with out doing this, I just don't want issue's to pop up later!

Q-2.) In the effort to keep my make shift HP Stock-Stealth case breath better, I'm installing case fans where ever fresh air can enter/exit, like this one in the HDD cage behind some mesh punch-outs of the side panel, it even helps keep the HDD cool and the SSD once I get that in place ... however it's noisey, anyone know of some GOOD SILENT 80mm & 92mm fans ? and if they have BLUE LED's even better
as it will match the HP Blue lighting theme I'm working with.




Q-3.) IF NOT, to Q-2, these fans being only 3-pin don't let me adjust the speeds from off the MOB do they ? I need 4-pin Fan's to do that right ? IS using one of the LNA or ULNA adapters that came with my Noctua CPU Cooler an option on these case fans ?

Q-4.) I guess we're all just accepting the fact that this board doesn't have any IEEE 1394 support ? not that I ever used it EVER before, I guess it's mainly for like older video camera's and recorders ? and thus I take there's no way to do anything to connect a front panel fire-wire port to this mother-board in any way shape or form ? assuming one would even want to just so everything is connected.


THANK YOU in advance to anyone who cares to help with answers
.
CPU
Motherboard
Graphics
RAM
Intel Core i7-2600K (4.6G)
ASUS ROG M4GZ
Sapphire Toxic HD6950 2G
Corsair Vengeance 16GB, Red/Black
Hard Drive
Optical Drive
OS
Monitor
OCZ Vertex 3 VTX3 120G, WD 640G 7200RPM
ASUS DVD Burner (SATA)
Win7 Pro, 64bit (Bios 0902)
Dell 2001FP
Keyboard
Power
Case
Mouse
MX5500 Revolution (cordless, bluetooth)
Corsair AX850
Fractal Arc Mini
MX Revolution Laser
View all
hide details
CPU
Motherboard
Graphics
RAM
Intel Core i7-2600K (4.6G)
ASUS ROG M4GZ
Sapphire Toxic HD6950 2G
Corsair Vengeance 16GB, Red/Black
Hard Drive
Optical Drive
OS
Monitor
OCZ Vertex 3 VTX3 120G, WD 640G 7200RPM
ASUS DVD Burner (SATA)
Win7 Pro, 64bit (Bios 0902)
Dell 2001FP
Keyboard
Power
Case
Mouse
MX5500 Revolution (cordless, bluetooth)
Corsair AX850
Fractal Arc Mini
MX Revolution Laser
View all
hide details