Hey guys,
I have just finished building my WC setup.
Thanks to all of you here who have shared various tips and information about WC
, I now find WC is an addictive hobby.
I am contemplating to upgrade my graphics card to either 3-SLI or 4-SLI. I have two main loops at the moment.
1st Loop: Res/Pump >> NB >> RAM >> SB >> Rad >> Res/Pump (3/4" Tubing)
2nd Loop: Res/Pump >> CPU >> Rad >> Res/Pump (1/2" Tubing)
I am interested to extend my 2nd loop to include GPUs in it. The Res/Pump/Rad combo that I currently use for this loop is an
MCR320-DRIVE-R2
with only 3 push fans. Current CPU temp with full load (folding 24/7) varies from 37-48'C (depending on each core). My objective is to maintain this sort of temp for the CPU when 3 or 4 GPUs are included in this new loop. Of course, GPU temp should be maintained within reasonable level (I am not quite sure what level of temp for GPU can be considered reasonable, so your advice is welcome).
My current rig is in my sig below. Here is snapshot of my existing temp: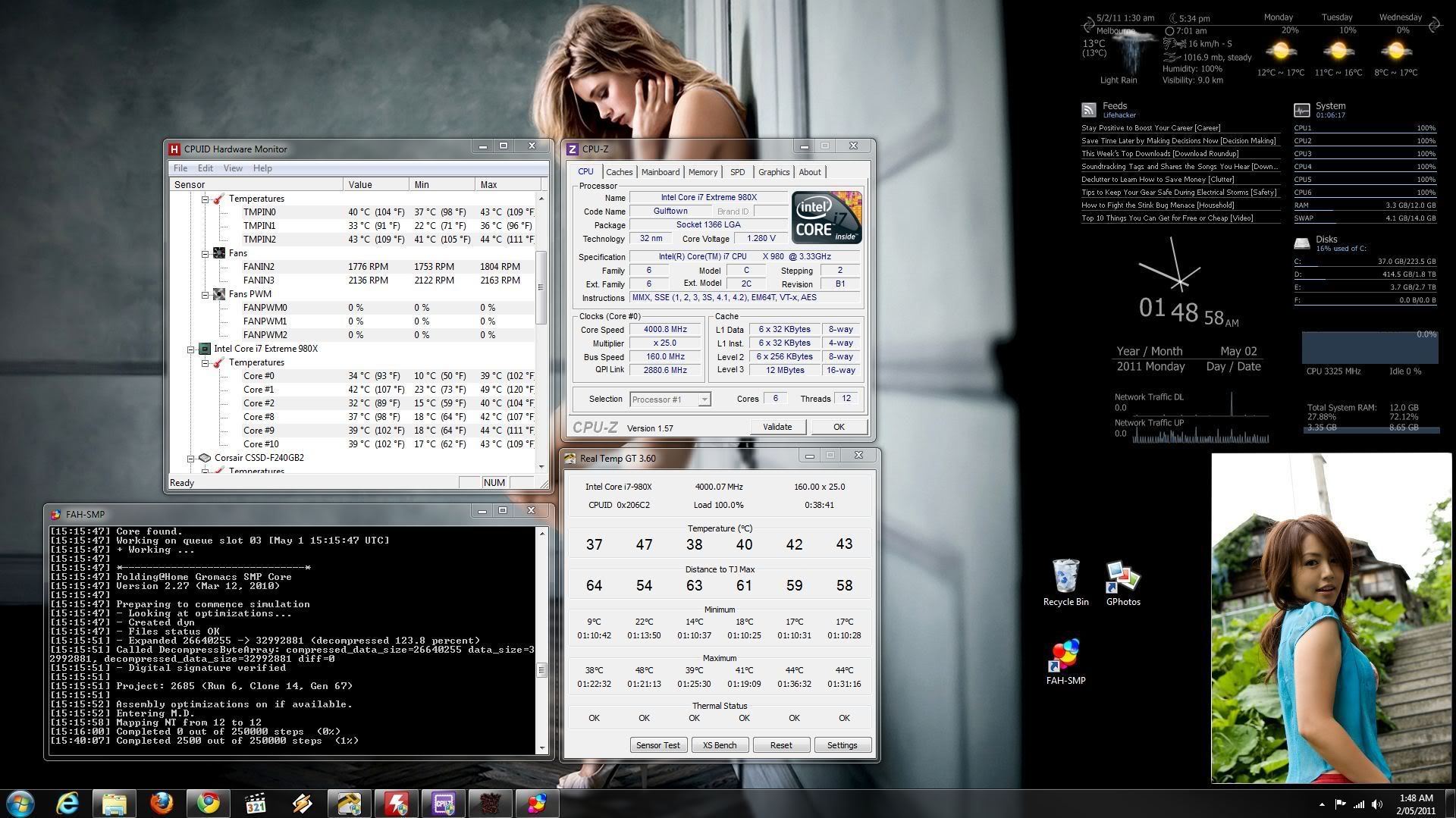 Variables:
- No more 5.25" bay can be used for Res.
- Cost is not a constraint in this project.
Question:
What is the best solution to achieve my objective? I am thinking of replacing MCR320-DRIVE-R2 and using XSPC RX480 with a separate Res/Pump (maybe an
XSPC Acrylic Tank Reservoir with Laing D5
), plus an RX120 in between CPU and GPUs.
(so the new 2nd loop would be come: Res/Pump >> CPU >> RX120 >> 3/4 GPUs >> RX480 >> Res/Pump)
What do you think? Do you guys perhaps have a better suggestion of what parts I should purchase or how the loop should be arranged?
Edited by amang - 5/3/11 at 10:18pm
CPU
Motherboard
Graphics
RAM
Intel Core i7-7700K Kaby Lake 5.1GHz
ASUS ROG Strix Z270G Gaming
Nvidia GTX Titan X Pascal
Corsair Dominator Platinum 16GB
Hard Drive
Cooling
OS
Monitor
960 PRO NVMe M.2 SSD (512GB)
NZXT Kraken X31
Windows 10 Enterprise
Sony X800D 49"
Monitor
Keyboard
Power
Case
Acer Predator X34 34"
Corsair Vengeance K70
Corsair AX1200
Corsair Carbide Air 240 White
Mouse
Other
Corsair Vengeance M65
AudioEngine A5+ Black Speakers
View all
hide details
CPU
Motherboard
Graphics
RAM
Intel Core i7-7700K Kaby Lake 5.1GHz
ASUS ROG Strix Z270G Gaming
Nvidia GTX Titan X Pascal
Corsair Dominator Platinum 16GB
Hard Drive
Cooling
OS
Monitor
960 PRO NVMe M.2 SSD (512GB)
NZXT Kraken X31
Windows 10 Enterprise
Sony X800D 49"
Monitor
Keyboard
Power
Case
Acer Predator X34 34"
Corsair Vengeance K70
Corsair AX1200
Corsair Carbide Air 240 White
Mouse
Other
Corsair Vengeance M65
AudioEngine A5+ Black Speakers
View all
hide details