I was fooling around and testing my OC, and I decided to try and reseat my CPU coolers fan on the top so that instead of pushing the air to the heat sink, it will pull the air in the heat sink.
Before I did that, I read a lot about it on the internet and everybody was under the "logical" impression that pushing the air would be better than pulling the air.
I didn't see how that was logical at all, of course this depends what kind of heat sink you have, and what case for that matter. My prediction was that the cooling performance would be the same, but I I didn't expect to see this to be honest.
The tests were performed with OCCT CPU test, I let it run for 10min to warm up.
These are the results with the CPU cooler pushing the air.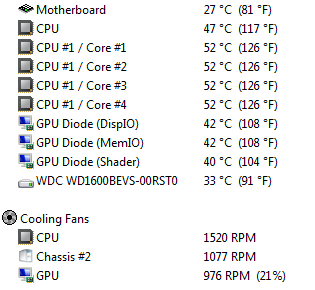 These are the results with the CPU cooler pulling the air.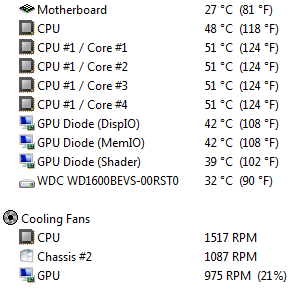 (Note that the temperatures are rounded, in fact in the previous
test the CPU surface temp. was close to 48°C Core temps are what matter anyway..)
I was amazed, apparently my CPU cooler prefers the fan to pull the air in the heat sink, I think this has something to do with my case airflow, I even double checked and confirmed the results.
After reseating the fan, I had more free space and was able to fit an additional fan on the side panel blowing air on the motherboard itself, pulling cool air from outside.
These are the results with only one additional case fan.
I was even more amazed by the difference only one additional case fan made for my results.
I wasn't really expecting this much difference with all the tests I did, I'm running all my case fans on low for noise reasons, I wonder how cool my system would be with all 8 fans running at full power.
Conclusion: Experiment with your airflow and fans, even seemingly unlogical fan placement can improve temperatures, you need to consider everything, CPU fan direction, heat sink, and case airflow and whatnot.
CPU
Motherboard
Graphics
RAM
Phenom II x4 965BE
Asus M4A89GTD Pro/USB3
HD 5870
4GB 1600 CL8
OS
Monitor
Keyboard
Power
Windows 7 x64
24" 1920x1080
Logitech G11
Antec TPQ-850W
Case
Mouse
Mouse Pad
Antec 1200
Razer Imperator
Steelseries QcK
View all
hide details
CPU
Motherboard
Graphics
RAM
Phenom II x4 965BE
Asus M4A89GTD Pro/USB3
HD 5870
4GB 1600 CL8
OS
Monitor
Keyboard
Power
Windows 7 x64
24" 1920x1080
Logitech G11
Antec TPQ-850W
Case
Mouse
Mouse Pad
Antec 1200
Razer Imperator
Steelseries QcK
View all
hide details