Hi! I'm bob, and welcome to my first potentially constructive post on this forum
I'm hoping to correct what seems to be a generally held misunderstanding about the 1155 chips' on-die graphics core; a quick search didn't turn up a similar thread but I'm sorry if this post is redundant or unnecessary.
Anyway I'll start with a quick rundown of what's already well known:
Sandy bridge cheap.
Sandy bridge faaaaaaaast
These new chips come with an on-die graphics core.
There are currently 2 1155 chipsets available, the H67 and P67
The H67 lets you use the chip's GPU, but won't let you overclock.
The P67 does the opposite, which makes it the no-brainer choice for almost everyone on OCN.
The Z68, which should be out this month, gives you both (among other things.)
The integrated GPU is insufficient for any real gaming.
Now, I think many have taken that last bit to mean that the on-die GPU is every bit as useless as the integrated graphics that comes with most motherboards. And don't get me wrong, if you're running H67 or P67, it essentially is because P67 doesn't let you use it, H67 doesn't have the ability to switch between a discrete card and Intel's graphics core, and we're all running discrete cards. C'est la vie...
But with Z68, you gain the ability to switch between them depending on the situation. This gets you 2 benefits; the obvious one is lower power consumption at idle. The other is Quick Sync, which lets you use that graphics core for what it was designed to do:
encoding, decoding, and transcoding video faster and better than any other hardware option on the market.
This is the entire reason Intel put this graphics core on the chip; it's highly specialized and good at its job. According to a few articles I'm about to link you, it's not only faster than even current gen graphics cards, but the end result looks better as well. I don't know much about video transcoding so I can't weigh in here...
Anyway here's a pretty graph I lifted from a good
anandtech article
on the subject: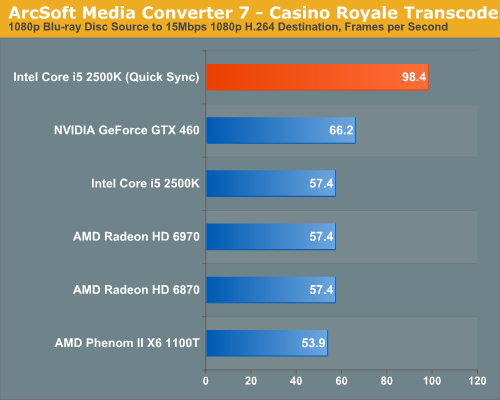 And here's one from
tomshardware
(I know, I know)
Most of us aren't re-encoding video files all that often, which means that seeing the on-die graphics core as useless still isn't entirely inaccurate. That doesn't change the fact that for people who DO this kind of work frequently (Say, re-encoding a movie to play on your ipad?) there is no better option. Software support at the moment is a bit limited, but this is expected to change over the coming months.
Anyway this post was meant to be a primer and to clear up misconceptions; I am by no means an expert on any of this. If you want to know more check out the articles I linked, or ask somebody on OCN who actually knows what they are talking about.
(FYI: You can use quick sync now with an H67 chipset, but you can't use a discrete graphics card at the same time. That's where these benchmarks came from.)
Edited by Traches - 5/2/11 at 10:03am