Hey guys,
I have just bought a PowerColor 6950 which has a custom cooler but i believe has a reference board: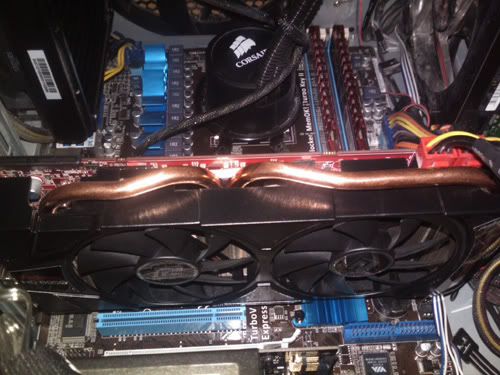 I have managed to unlock the 1536 shaders using the original bios then overclocked the card using MSI Afterburner to 850mhz core and 1350mhz memory (thats the maximum allowed in afterburner for memory)
Everything is running fantastic and never goes above 59 degrees under load playing crysis 2 for hours. However, as this badboy has a customer cooler i would like to push it a bit further without frying it.
Afterburner lets me change the voltage to a maximum of 1300. I have tried 1175 and bumped the core up to 900mhz and its stable playing crysis and adds about 3fps extra on just cause 2 benchmenks. Maximum temperature i saw was 63degrees and fan speed on 50%.
Do you think its safe to run 900 / 1350mhz @ 1.175v with these temperatures or am i better off sticking with 850 / 1350 @ stock voltage?
Its a great card so far. Big upgrade from my old GTX 275, theres a few issues with black ops and GTA IV but thats the games not the card