First off, this review is aimed purely at practical application and performance. I'm not going to go through this thing with a DMM and hit every header and post the Delta_V per degree of turning the knob. Secondly, I'm not interested in PWM control (if you are you'll have to look elsewhere), I bought this to help silence my sig rig and I like manual fan controllers but my case has a lot of fans and I wanted one that would actually drive them all from one 5.25" bay.
With that out of the way: let's get on with it.
The controller itself has a nice fit and finish in a 5.25" bay (even when it's been powder coated like my HAF932 has been). The heat sinks on this unit keep everything from getting boiling hot as has been seen on cheaper fan controllers - in fact, after 30 minutes, they had barely warmed above room temperature, but this may be a little different inside of a case as compared to sitting in open air. During all of the tests the fan controller never broke 25C in a ~22C ambient room.
NOTE: The EasyWatch recognizes in 100rpm increments starting from 300rpm and up. When a range of 200-300 is given that means the EasyWatch was alternating between 000 and 300 constantly and the fans weren't stopping/starting and were felt to be putting out a constant air mass. And yes, the fans were always spinning in all pictures. Some of them were taken with the flash on and that makes the fans appear to not be spinning.
Testing this fan controller I have a pair of
230mm fans
,
4 CM R4's
that have been painted, and four
Scythe Slipstreams
, and an AeroCool Easy watch fan monitor to get some RPM outputs. I'll be attaching these in various combinations to the controller to see just how much it can handle in real world use.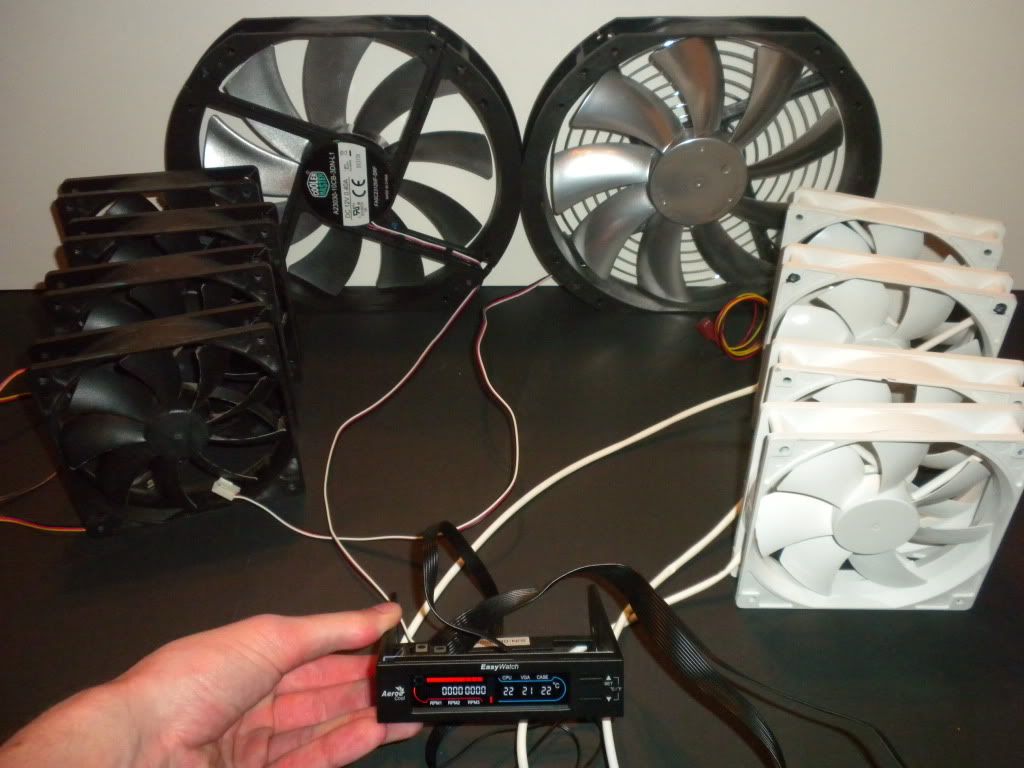 First up, two R4's. They started turning at a leisurely 300-400rpm with the knob turned 50% of the way. At full power they were around 1100rpm. A single fan ran between 1100-1200rpm.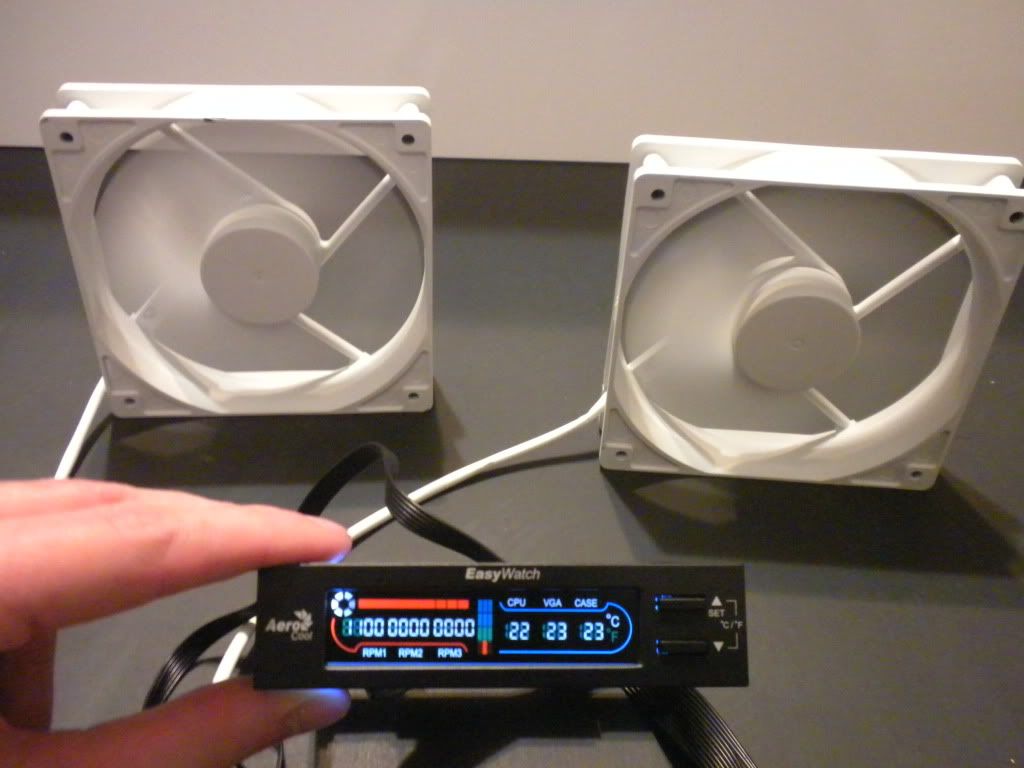 Next, two slipstreams. These started turning between 200-300 rpm, again at 50% power on the fan controller. At max RPM they got around 1100rpm, and a single fan got between 1100-1200rpm.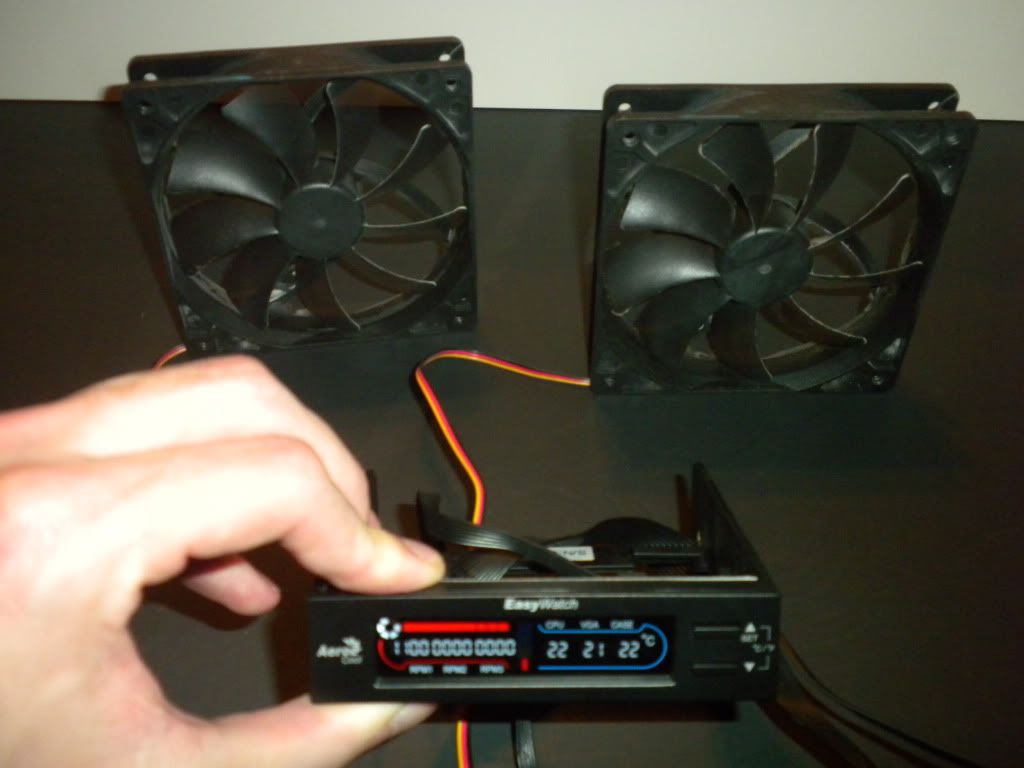 Next we'll up the ante a little bit, dual 230mm fans on a single channel. They start at about 50% (notice a trend here?) between 200-300 rpm. At full power they run at 600rpm together, and a single one also runs at 600rpm.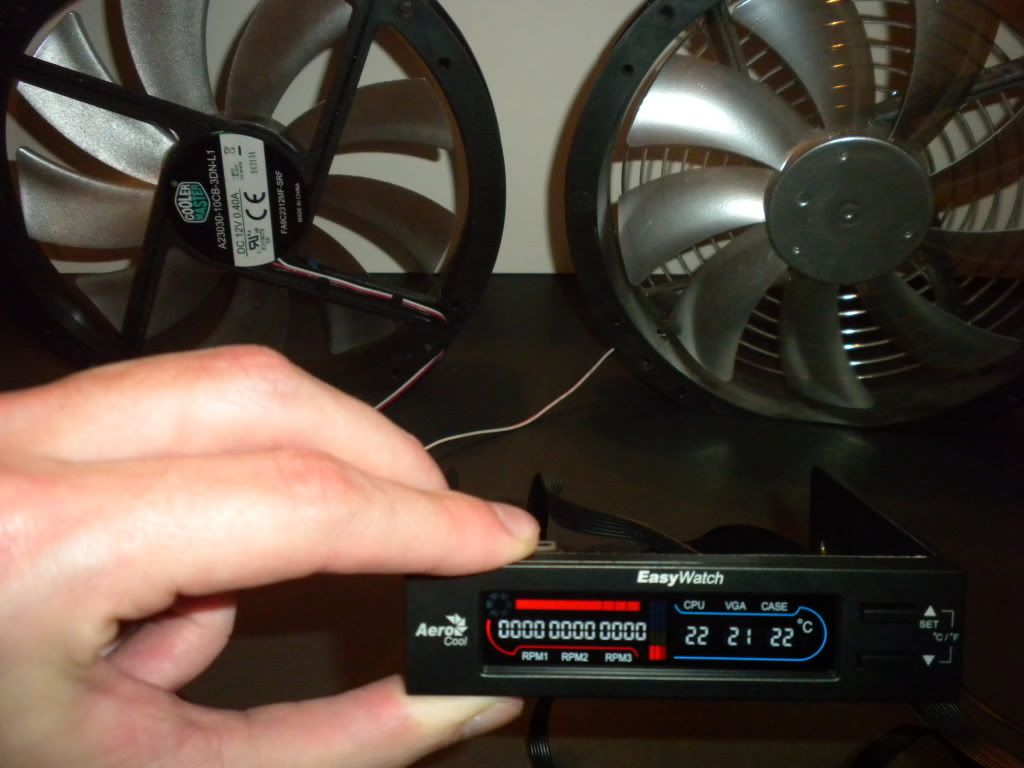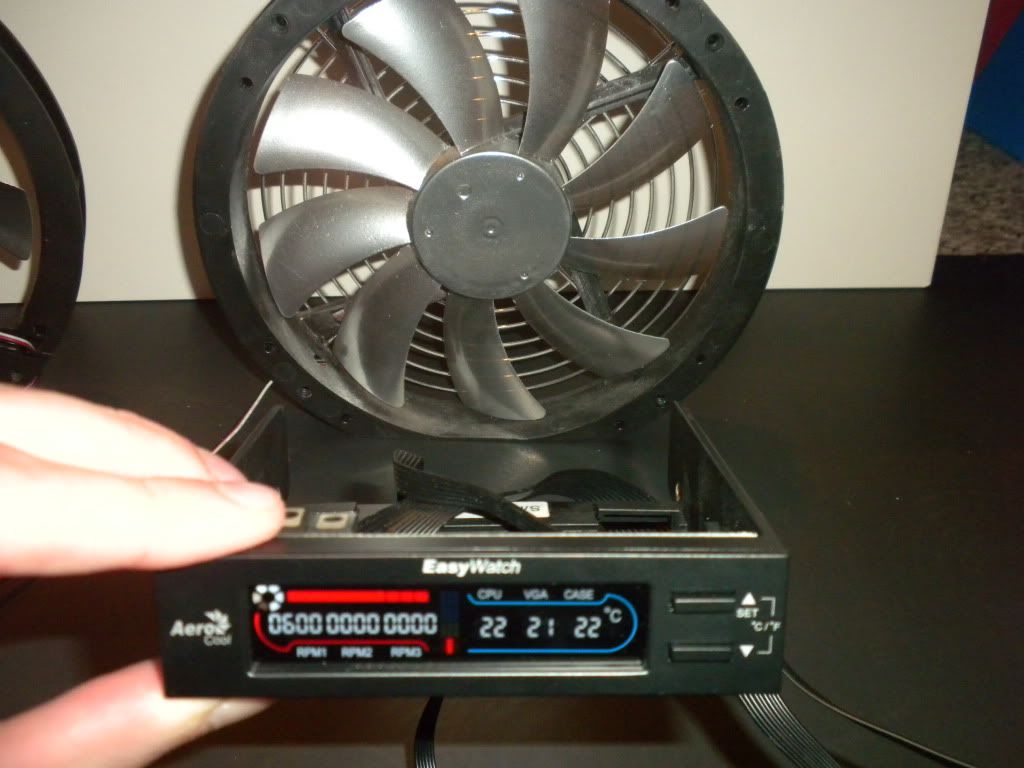 Taking things a little further, how about four R4's on one channel of the controller? Well, no sweat. (NOTE: All four fans are powered off one channel of the fan controller, but I wired them in pairs into two channels of the EasyWatch to see if there was any uneven distribution of power) At 50% power they all start turning at 200-300rpm (notice in the picture rpm2 is 000 and rpm1 is 300, they were both changing between 000 and 300 for several minutes, hence the range). At full blast they get 1000pm (a drop from the 1200rpm of one fan, or 1100rpm for two).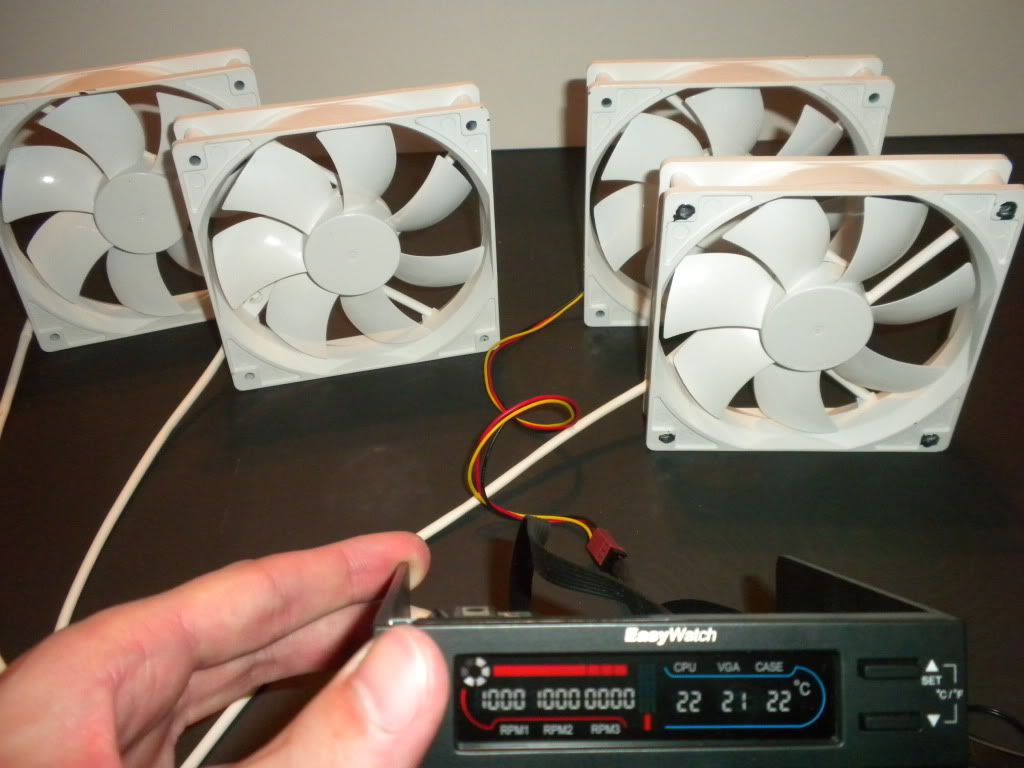 Overall I'm very happy with this controller, and personally I'm planning on attaching seven 120mm fans, one 230mm fan, and the pump for my H50 to this and try to silence my system some while not sacrificing temps by directing airflow only where it's needed most.
I hope this helps others here when they're looking for a good fan controller.
[EDIT] Unit installed in my sig rig
Just finished installing this in my system and the results are phenomenal. I have my exhaust 120mm on the MoBo's CPU header, the H50 pump on channel 1 so I know it's always running at 100% on #1, my bottom 120mm intake fan on #2, my front 230mm on #3, the lower two 120mm fans in my door on #4, the top two 120mm fans in my door on #5, and my top two 120mm fans on #6.
Significant Take Aways:
--With fans loading across all channels my RPMs still are constant compared to the results above only loading one channel according to my RPM monitor.
--My CPU temps are identical idle and load to what they were with the H50 pump set at 100% directly from the MoBo so any difference in total power is negligible.
--My system is now SIGNIFICANTLY quieter while most temps only increased 1C if at all.
Edited by CTRLurself - 5/18/11 at 8:22pm