Just got my new system in and diving right in to building it, I have some questions for my case mod that maybe some of the long time modders can answer.
Specs
CPU: Intel 2500k 3.3GHz (stock)
GPU: EVGA 560ti 850/1700/4104 (stock)
Mobo: Asus P8P67 Pro
SSD: Crucial 128GB M300
RAM: G.Skill Ripjaws X 2x4GB 1600 8-8-8-24 (stock)
PSU: Corsair TX650 v2
CPU Heatsink: Noctua NH-D14
Goals
In terms of components I'm looking to OC the CPU, GPU, and RAM specifically.
My goal for the 2500k is at least 4.7GHz, and if I have a good chip I will push it higher, hopefully past 5.0 once I get enough time to do some tweaking.
The 560, I'm looking for at least a 900 core clock, but if I have a decent chip I'm looking to push it past 1000 for best case scenario
RAM is easy and a given, I will see what I can do with this, but that is last on the agenda since the other two have the most impact on game performance.
Case
For a case I got the Antec 600, with plans to upgrade to a CM HAF X, CM 690II, or a Corsair 600T at a later date. Newegg was liquidating the Antec 600 line to make way for the new versions coming out, so they had it down to a 45 dollar deal, and then a 10 dollar promotion deal as well. A 35 dollar case is hard to ignore.
I was a little worried though because i thought I would have to do significant modding on this case to get it to a decent performance level. I looked at the pictures on Newegg and it showed no holes for wire routing behind the mobo. I assumed that I would have to get out a Dremel and fix these problems, as soon as I opened it up though I noticed that there were huge wires for cable routing which made me extremely happy that I can be lazy.
One of my goals for the case is to paint the entire interior black, looking at some other threads I saw you used spray pain type cans for the primer and the actual paint. Anyone have some advice on what to get and what techniques? Links to good guides are appreciated as well.
Case
Here is the case I actually got, first impressions I am very pleased that I don't have to cut out wire routing holes.
The picture that was displayed on Newegg that lead me to believe this case wasn't that good.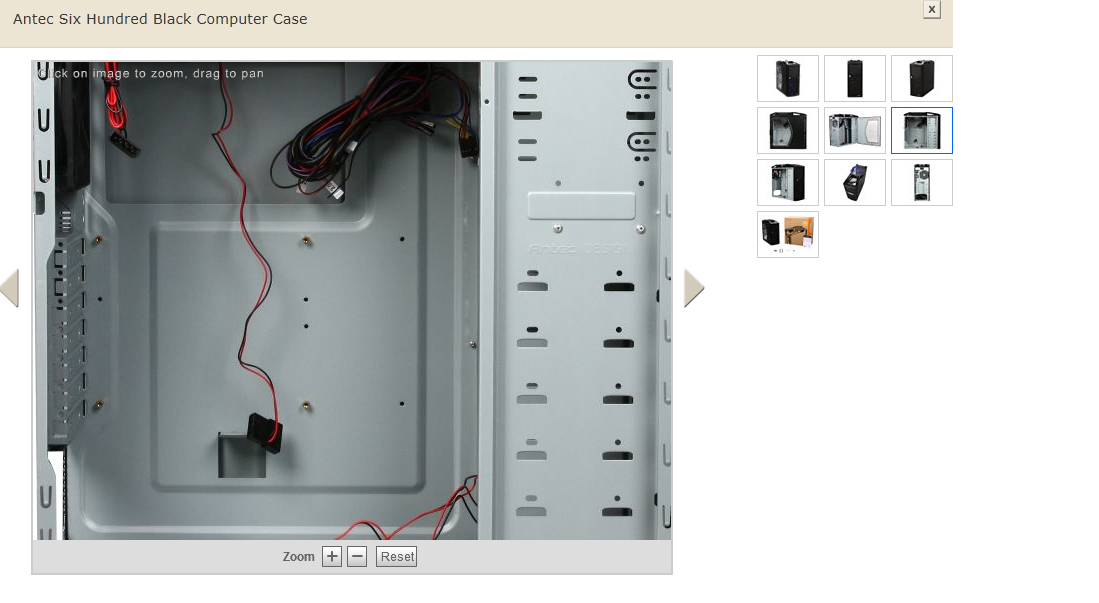 And finally the power behind the rig
CPU
Motherboard
Graphics
RAM
2500k @ 4.6 1.27V
Asus p67 Pro
SLI 560 TI
Ripjaws X 1600 2x4GB
Hard Drive
Cooling
OS
Monitor
Crucial C300 + Spinpoint F3
Noctua N-D14
Win 7 x64
LG 1920x1080
Keyboard
Power
Case
Mouse
Das Professional
NZXT 750w Hale90
Antec 600
M60
Audio
ATH AD700
View all
hide details
CPU
Motherboard
Graphics
RAM
2500k @ 4.6 1.27V
Asus p67 Pro
SLI 560 TI
Ripjaws X 1600 2x4GB
Hard Drive
Cooling
OS
Monitor
Crucial C300 + Spinpoint F3
Noctua N-D14
Win 7 x64
LG 1920x1080
Keyboard
Power
Case
Mouse
Das Professional
NZXT 750w Hale90
Antec 600
M60
Audio
ATH AD700
View all
hide details