A bit late to post this one since it was published at the end of March, but better late than never here. I have a feeling I already posted this somewhere but I hope not since search came up empty.
http://www.awardfabrik.de/kuhlung-wasser/laing-16-pumpendeckel-im-test.html
Feel free to use your preferred translator for this, but to get down to the results, starting with flowrates in liters per hour at full pumping power: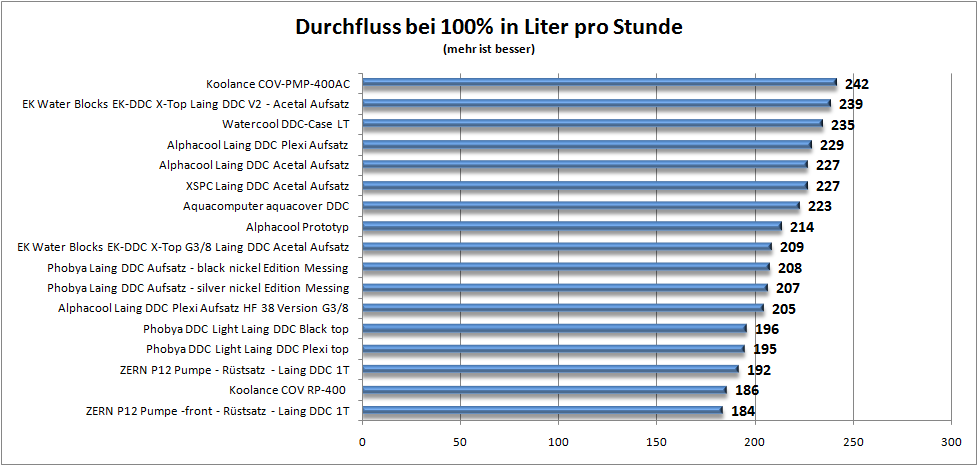 and here at half power: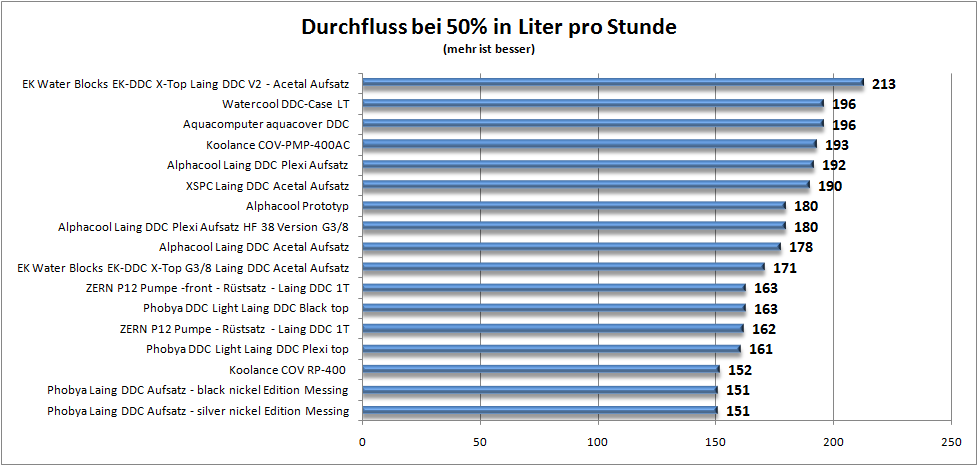 and comparing how much noise the tops add: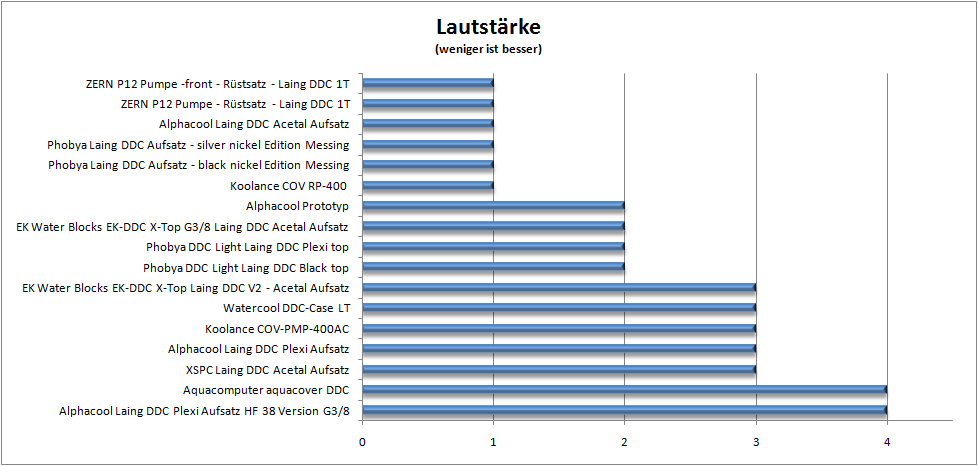 Great showing from EK as is typical of these German tests, though Koolance and Watercool surprised me especially considering Watercool's top used to get low performance scores. The only mark I can put against the testing is no pressure comparison, I suppose.
CPU
Motherboard
Graphics
RAM
Intel Core i7 920 D0 (Batch # 3901A240)
Foxconn X58 Blood Rage (non-GTI)
eVGA GeForce GTX670 2GB
6GB Corsair Dominator 1.6GHz TR3X6G1600C8D Rev 3.2
Hard Drive
Optical Drive
Cooling
OS
Samsung SSD830 128GB / Seagate 640GB+1TB+2TB+4TB
Samsung SH-S223Q 22X
XTTH | OCZ Freeze | 9G1212H1011
Windows 7 Ultimate x64 SP1
Monitor
Keyboard
Power
Case
Dell U2410f (rev. A02)
Code 104 w/O-rings + Vortex doubleshot keycaps
Antec HCPP-850
CaseLabs SM8
Mouse
Mouse Pad
Audio
Other
Logitech G500
Sharkoon 1337
Asus Xonar DX + Swan D1080MkII08 + MXL Tempo
Lifecam Cinema
View all
hide details
CPU
Motherboard
Graphics
RAM
Intel Core i7 920 D0 (Batch # 3901A240)
Foxconn X58 Blood Rage (non-GTI)
eVGA GeForce GTX670 2GB
6GB Corsair Dominator 1.6GHz TR3X6G1600C8D Rev 3.2
Hard Drive
Optical Drive
Cooling
OS
Samsung SSD830 128GB / Seagate 640GB+1TB+2TB+4TB
Samsung SH-S223Q 22X
XTTH | OCZ Freeze | 9G1212H1011
Windows 7 Ultimate x64 SP1
Monitor
Keyboard
Power
Case
Dell U2410f (rev. A02)
Code 104 w/O-rings + Vortex doubleshot keycaps
Antec HCPP-850
CaseLabs SM8
Mouse
Mouse Pad
Audio
Other
Logitech G500
Sharkoon 1337
Asus Xonar DX + Swan D1080MkII08 + MXL Tempo
Lifecam Cinema
View all
hide details