Quote:
Originally Posted by
audioxbliss
Here's my cooling setup: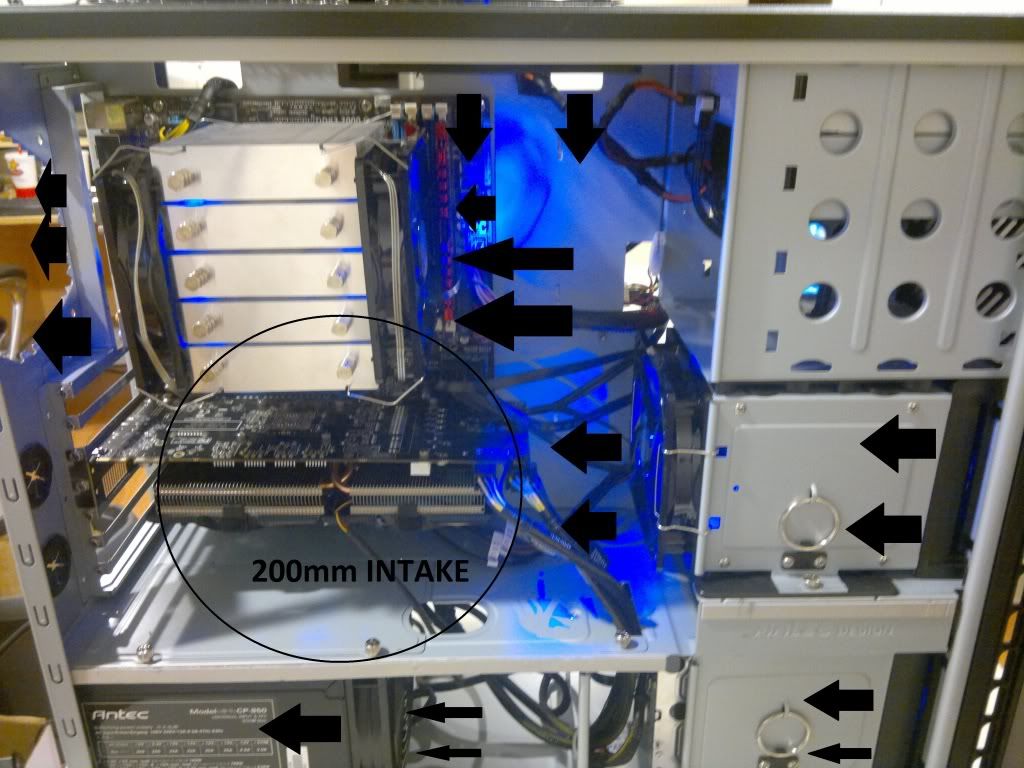 I don't technically have any exhaust fans. As it is, though, my "pull" fan on the cooler blows air straight out the back, making it ALMOST an exhaust fan but not quite.
My airflow is like this. If you look at item 2 in my sig you can see that a heatsink pull fan can really be a case exhaust fan (this was a test, not a working configuration).
Quote:
Originally Posted by
a pet rock
Mmmm no case exhaust. Anyways, I dislike the idea that "well since heat rises your top fans should exhaust". That's just bullcrap. Air goes where you push it, and most fans suck at pushing air straight up.

I took my top two exhaust fans, turned them around to intake and it dropped all my temps by ~5C. However, I tried ehume's idea of no case exhaust and it raised my temps ~5C. This is probably just because my heatsink is passive, it needs the help getting rid of hot air.
Given that the most effective heatsinks have push and pull fans, it makes sense that your passive heatsink would need a push fan (from your case intake) and a pull fan (from your case exhaust).
I would advise that you try moving your case exhaust fan to be a push fan on your heatsink. Passive heatsinks are nice for silent builds, but when you have case fans your rig is not silent.
A case exhaust fan is on the outside of a case, making noise. That same fan in the case's interior would have its noise muffled.
As always do the rearrangements and test the results.
CPU
Motherboard
Graphics
RAM
i7 860
Gigabyte GA P55M UD2
ZOTAC/NVidia GTX 650 Ti 2GB
4x4GB G.Skill Ripjaws DDR3-1333 CAS9
Hard Drive
Optical Drive
Cooling
OS
Samsung 1TB Spinpoint F3 7200.12
Plextor 24x DVD burner
Cooler Master Hyper Z600R
Win7 64-bit
Monitor
Keyboard
Power
Case
Dell E207WFP 20-inch flat panel
Logitech Wireless 510
Seasonic X-650 fully modular 80+ Gold
Lian Li PC-7FN
Mouse
Mouse Pad
Audio
Wireless Mouse
WACOM Intuos 3
generic
View all
hide details
CPU
Motherboard
Graphics
RAM
i7 860
Gigabyte GA P55M UD2
ZOTAC/NVidia GTX 650 Ti 2GB
4x4GB G.Skill Ripjaws DDR3-1333 CAS9
Hard Drive
Optical Drive
Cooling
OS
Samsung 1TB Spinpoint F3 7200.12
Plextor 24x DVD burner
Cooler Master Hyper Z600R
Win7 64-bit
Monitor
Keyboard
Power
Case
Dell E207WFP 20-inch flat panel
Logitech Wireless 510
Seasonic X-650 fully modular 80+ Gold
Lian Li PC-7FN
Mouse
Mouse Pad
Audio
Wireless Mouse
WACOM Intuos 3
generic
View all
hide details