Hey Guys, my name is James and for a while i've always been a lurker upon the overclock.net forums with my questions frequently being answered! So thanks for that! But now it is my turn for a question or five!
I recently (2 months ago) purchased the new Alienware Aurora R3, and I am thrilled with it. Specs are below! Before I go any further, I would just like to clarify that this is not a forum for bashing (ie. why spend that much money when you can build it your self for half price? etc), your comments towards my questions below would be greatly appreciate. That being said if its bothering you that much that you have to say something, feel free to PM me!
Motherboard: NFPR8 Swift
Intel Core i7-2600K (8MB Cache) Overclocked Turbo Boost to 4.1GHz
16GB Dual Channel DDR3 at 1333MHz (4X4GB), 4 DIMMs
BD Combo, DVD+RW
Matte Stealth Black Alienware Aurora w/ 875W Multi-GPU Approved PSU
Dual 1GB ATI Radeon HD 6870
Genuine Windows 7 Home Premium, 64bit, English
3x 1TB SATA 3Gb/s (7,200RPM) 32MB Cache
Appologies for the image quality, I took it with my playbook as I was to lazy to pull out the camera.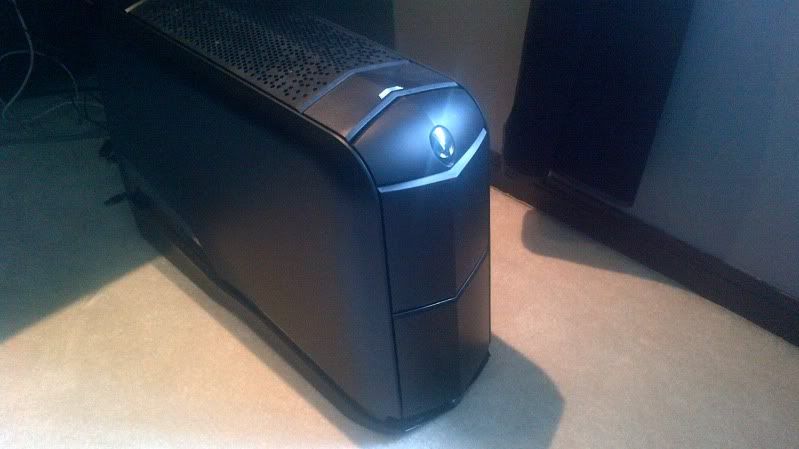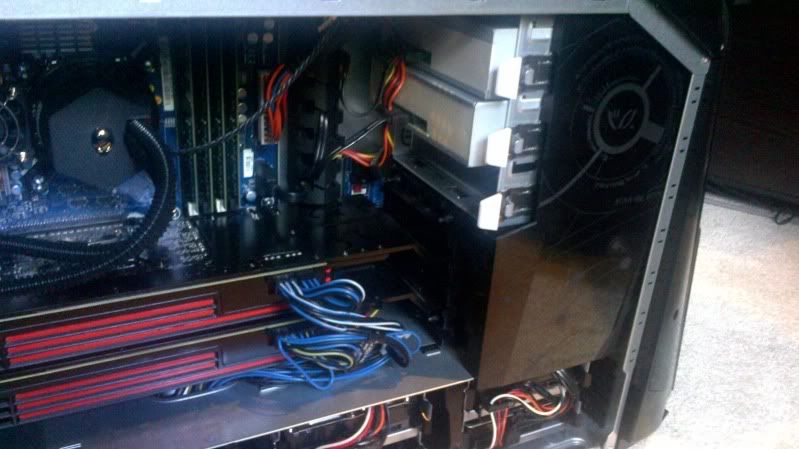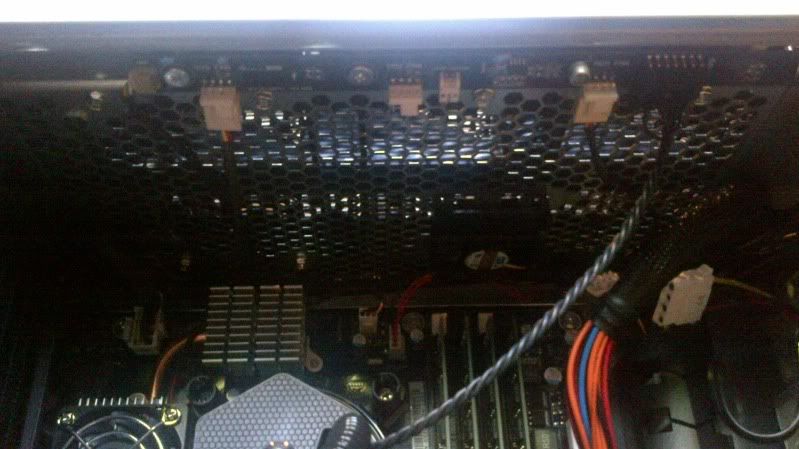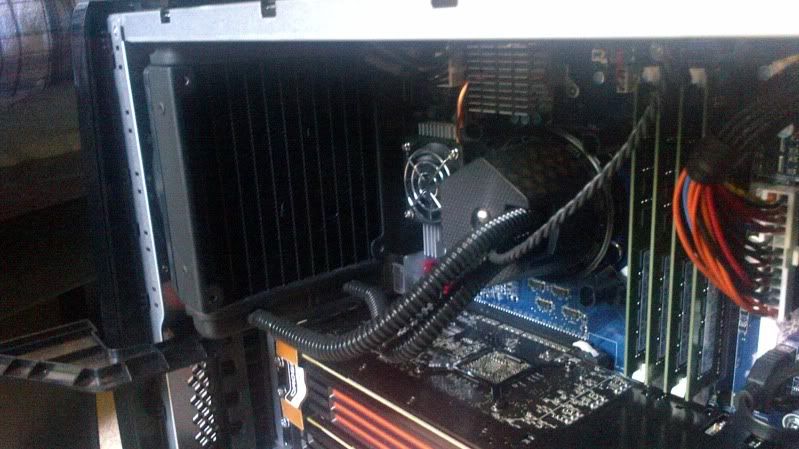 Any ways! On to the meat and potatoes of this post. As you can see from the pictures above the CPU is liquid cool but the 2 GPU's (AMD Radeon 6870's in CrossfireX) are not.
Right now the PC itself is performing great however the GPU's (In my opinion) are not performing to their full potential. I have a feeling this is due to the fact that they are sitting right on top of each other and the exhaust warm air from the top card is literally blowing onto the underside of the bottom card. Sometimes causing it to overheat and the pc will shut down under load. Obviously unacceptable for a PC of this value.
Now I would like to get the most out of this pc and was thinking of water cooling the GPU's. Now this obviously brings up a lot of question.
1) Do I have to purchase a whole new cooling unit, or can I extend 2 more loops onto the GPU's? (I think I said that correctly)
2) If i require a whole new water block, given the current set up where would i be able to put the radiator and fans? (If you need more pics of different angles, please let me know)
3) Do you guys have recommendations for GPU water blocks? at first glance Koolance seems like a good brand.
4) If I have to start the cooling system from scratch is it possible to get everything done on a $300-400 budget, if not less)
5) Are there any ready made kits (all-in-one) type deals that are out on the market?
6) Is extending water cooling onto these GPU's even a good option, or should I scrap these 6870's and get one GTX 580 or even 590 or even radeon 6990
The rest is up to you guys. I'm open for suggestion please let me know if I have missed anything or any other suggestions that you guys may have.
I have a decent understanding of my PC hardware components however my water cooling knowledge is definitely limited.
Thanks for all your help guys. Looking forward to hearing what you all have to say!