I need some help, guys. Well, since I put this PC together about six-eight months ago I OC'd it up to where it currently is and left it at that. I have OCCT and prime95. OCCT has it's own CPU stress as well as built-in linpak. I ran both seperately for a combined 5 hours then ran prime95 while I went to work(bout 9 hours). Didn't have any issues.
I play BFBC2, civ5, and FFXIV mostly these days. I also use this pc to record gameplay vids and do video editing for my sister. Never had any problems with anything in the past, with the most intense punishment being nonstop FFXIV for a 10 hr period once or twice. >.>
However, I finally decided I could take the hit to the electric bill and start folding. Thought the chimp challenge would be a good time to get started. HOWEVER, I keep getting an error anywhere from 20 minutes in to one hour into folding. After this 'glitch'- the SMP client is unable to continue the WU no matter how many times it attempts to. I also get reverb audio glitches in multiple audio files played via VLC. The only way to solve both issues is to reboot the computer.
Am I unstable or is there some sort of issue with the folding setup?
pic: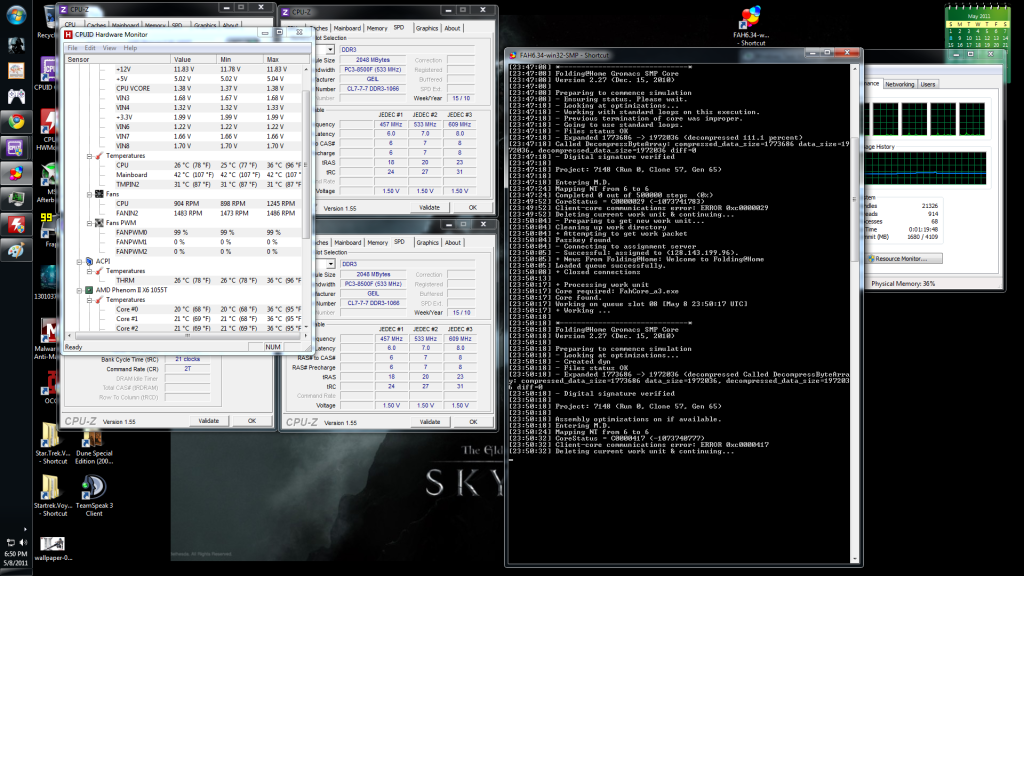 Once the initial crash has occurred, even if i just click the red X on "faha3 core.exe has stopped working"- the program will continue and will always reproduce the "stopped working" dialog box every time it reaches the Mapping NT 6 to 6 line.
Again, I haven't been able to fix the issue w/o rebooting so I'm not really sure what's going on here. I -DO- have the -smp flag turned on. Otherwise I just followed the SMP client guide and fahmon guides that I found after visiting the chimpin' main thread.
Edited by FenrirXIII - 5/8/11 at 5:03pm
CPU
Motherboard
Graphics
RAM
1055t EO @3780mhz 1.38v
Biostar TA890GXE
Asus DirectCu TOP GTX 460 1gb
8gb G. Skill ripjaws 1600mhz @ 8-9-8-23 1.5v
Hard Drive
OS
Power
Case
WD Caviar Blue 500gb, Corsair F40 40gb SSD boot...
Windows 7 x64 SP1
SeaSonic Breeze 520w
Rosewill Challenger Black
View all
hide details
CPU
Motherboard
Graphics
RAM
1055t EO @3780mhz 1.38v
Biostar TA890GXE
Asus DirectCu TOP GTX 460 1gb
8gb G. Skill ripjaws 1600mhz @ 8-9-8-23 1.5v
Hard Drive
OS
Power
Case
WD Caviar Blue 500gb, Corsair F40 40gb SSD boot...
Windows 7 x64 SP1
SeaSonic Breeze 520w
Rosewill Challenger Black
View all
hide details