Hope this helps other owners in the endless quest to cooler computing...
This started by me wanted lower the stress on my MOSFET, Northbridge, and Southbridge. It became a search for the temp sensor on mobo. I use Speedfan to monitor my temperatures. One of the sensors,
System
, was the one I wanted to lower. I figured it was connected to one of these three point – or – was an average of 2 or 3 of them. So, I started testing.
Using a old 130 CFM fan, some hose from a hardware store, I fashioned this device...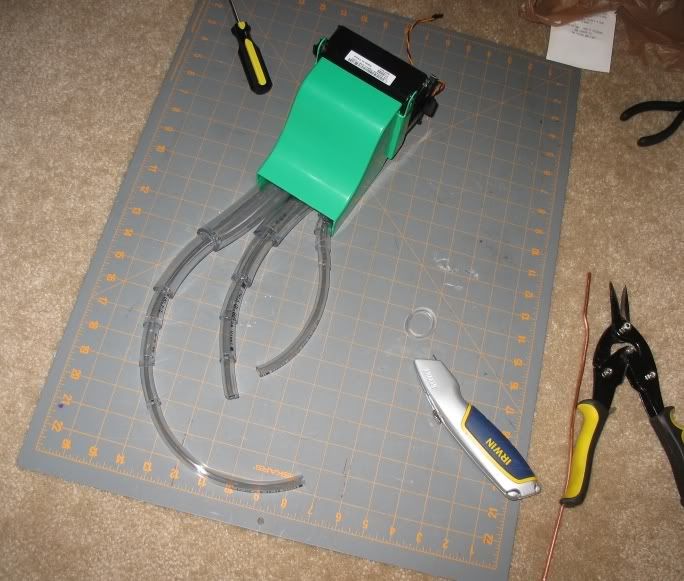 I installed it in the three 5.25 open bays on my HAF 912.
After using Speedfan to monitor and repositioning the hoses to change the air flow, I finally found the location of the temperature sensor. It surprised me, because its location and readings take no account of the MOSFET or Northbridge.
The red zone is as localized as I could get for the sensor.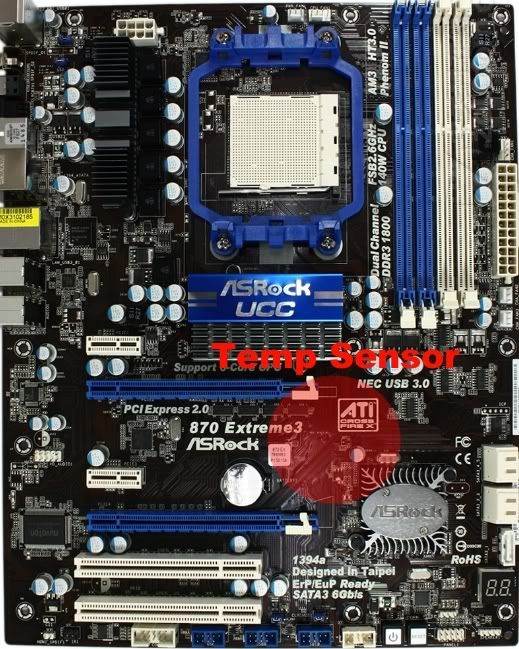 What's important:
No amount of cooling to the MOSFET or Northbridge changes the temperature. So if your interested in lower temperatures for either of them, you have no way of monitoring it on this motherboard.
Cheers,
Jyk
CPU
Motherboard
Graphics
RAM
Phenom II 555 BE 3.8ghz
ASRock 870 Extreme 3
MSI N450GTS-M2D1GD5/OC
G Skill 4 GB DDR3-1333
Hard Drive
Monitor
Power
Case
Seagate 500 GB, 7200
Compaq WF1907 [19" LCD]
antec neo eco 520c
Cooler Master HAF 912
View all
hide details
CPU
Motherboard
Graphics
RAM
Phenom II 555 BE 3.8ghz
ASRock 870 Extreme 3
MSI N450GTS-M2D1GD5/OC
G Skill 4 GB DDR3-1333
Hard Drive
Monitor
Power
Case
Seagate 500 GB, 7200
Compaq WF1907 [19" LCD]
antec neo eco 520c
Cooler Master HAF 912
View all
hide details