UPDATE:
My cat finally bit through my screen filter in the Tupperware container on the side of the case (If you look close, you can see it)... I had to upgrade to
MARK II
: cost $1, to reinforce. I used an aluminum wire basket from my local dollar store.
Btw: I also did the EL Cheapo treatment to my
vrm & north-bridge
...
Original:
I have a great cat, but she love the HAF 912 more than I do, and that's a problem. The intake on the side and bottom, are fun to paw at. And top exhaust is fun to lay on.
So, I had to get creative on a budget.
1.
A paper tray that is slightly twisted to keep it off balance, so if she jumps up on it, it rattles and scares her. In addition it is useful as both a fur-filter and paper tray.
2.
Tupperware Container with an alumiunum mesh screen filter. The lid is bolted directly to the side of the case, and sealed with electrical tape. The container is easily removed and cleaned by popping the top. In Addition, finding a 140 mm filter w/ guard proves difficult. Finding old tupperware, in my house, is easy.
3.
2"x4" Riser block. Good for airflow. And hard for the cat to reach the PSU vent. The two blocks are connected by 2 adjoining pieces of 2"x4" that negate the cat ability to reach the vent, plus and addition mesh filter spands the gap.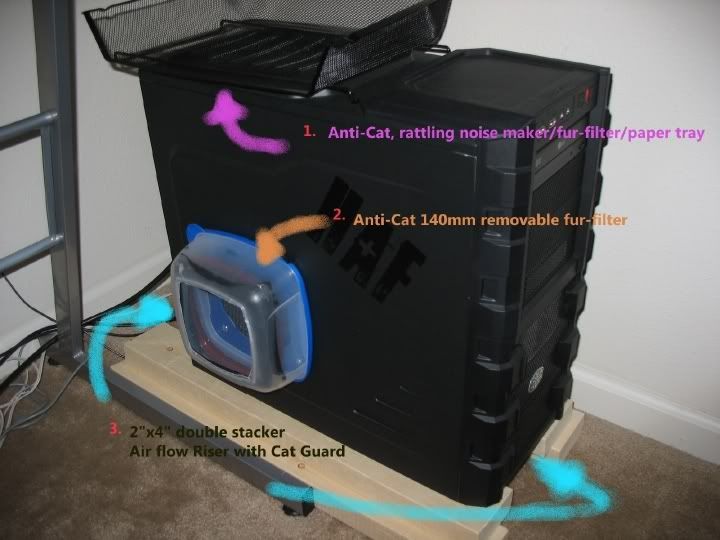 Total cost:
$8
Hope someone gets a kick out of my cheapness,
Jyk
Edited by jyk - 5/28/11 at 10:47am
CPU
Motherboard
Graphics
RAM
Phenom II 555 BE 3.8ghz
ASRock 870 Extreme 3
MSI N450GTS-M2D1GD5/OC
G Skill 4 GB DDR3-1333
Hard Drive
Monitor
Power
Case
Seagate 500 GB, 7200
Compaq WF1907 [19" LCD]
antec neo eco 520c
Cooler Master HAF 912
View all
hide details
CPU
Motherboard
Graphics
RAM
Phenom II 555 BE 3.8ghz
ASRock 870 Extreme 3
MSI N450GTS-M2D1GD5/OC
G Skill 4 GB DDR3-1333
Hard Drive
Monitor
Power
Case
Seagate 500 GB, 7200
Compaq WF1907 [19" LCD]
antec neo eco 520c
Cooler Master HAF 912
View all
hide details