Hi guys!
Just want to ask a few questions since im still not at peace regarding the proper airflow for my case.
here is a pic of the airflow of my current setup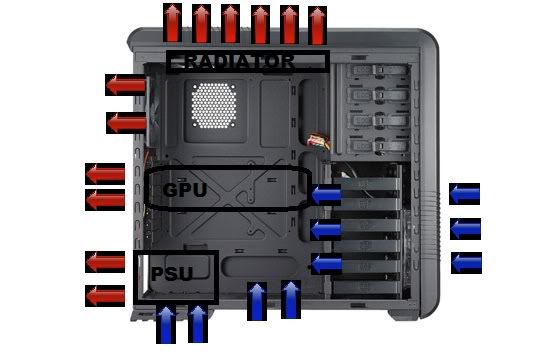 Actual pic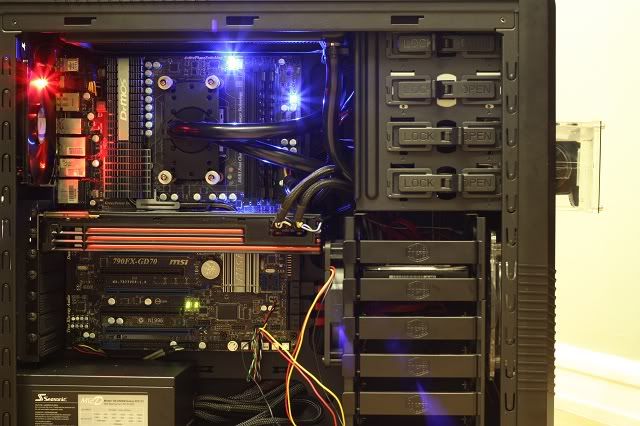 now im not sure if it is correct. ive read somewhere that top fans should be pulling air in then rear will exhaust the hot air.
also as you can see, im planning to add a 120mm fan on the bottom but im not sure if it is good since i already have a 120mm attached on the hdd cage.
also i have the clear panel version and im not sure if ill place a fan there. if yes, will it be for intake or exhaust? i tried place intake fan there but it was too noisy.
regarding the 5.25 slots, its fully packed now since i placed my res/pump, odd and fan controller there.
your inputs, suggestions will help me alot!!!
thanks in advance guys!
CPU
Motherboard
Graphics
RAM
AMD Phenom II x4 965 BE @ 4.0GHz 1.412v (bios)
MSI 790FX - GD70
Powercolor HD 6970 Reference Design
G.Skill 4GB (Dual) DDR3 1333 7-7-7-21-28-1T
Hard Drive
Optical Drive
OS
Monitor
WD Caviar Black 640GB
Lite-on DVD-RW 24x
Windows 7 Ultimate x64
Samsung 2253LW
Keyboard
Power
Case
Mouse
Logitech MK320
Seasonic M12D 850w 80+ Silver
Coolermaster 690 II Advanced
Logitech MK320
View all
hide details
CPU
Motherboard
Graphics
RAM
AMD Phenom II x4 965 BE @ 4.0GHz 1.412v (bios)
MSI 790FX - GD70
Powercolor HD 6970 Reference Design
G.Skill 4GB (Dual) DDR3 1333 7-7-7-21-28-1T
Hard Drive
Optical Drive
OS
Monitor
WD Caviar Black 640GB
Lite-on DVD-RW 24x
Windows 7 Ultimate x64
Samsung 2253LW
Keyboard
Power
Case
Mouse
Logitech MK320
Seasonic M12D 850w 80+ Silver
Coolermaster 690 II Advanced
Logitech MK320
View all
hide details