History
...
This is a on going project. This was originally a Asus CG5290 (showing above). Upcoming future plans for the build are the side panels I make comments about below, SSD, and upgrade on the RAM sticks. I would like to eventually water cool this machine after I upgrade to the second series of the i7 cores.
I call my PC Jango; many may already understand the reference. If not think Star Wars...yes, I am sort of a star wars geek. So in saying that I decided to paint it using his armor color scheme (primarily his helmet), which ends up being a beat up grey/silver, lighter blue, and royal blue for the cloth. The paint is supposed to be uneven...well at first it was not but then after I looked at it the unevenness kind of gave it that worn beat up look I was looking for. So it worked out quite well. I had purchased some flat black to give it the beat up look and scorched looking areas, but I think it turned out fine so I refrained myself from more painting.
This will be the first time I have attempted painting a computer case. So please bare with me.
I plan on doing some touch up this upcoming weekend and fix a couple blue spots that bleed onto the grey/silver. I also am removing the side large grill and having Plexiglas with a design cut into it (secret on what though) and on the other side an air brushed picture (also a secret). Unfortunately I don't know when I will get around to the last two items.
Lots of pics so I will skip through most of them.
Tear down pics:
Painting:
Assembly:
Finished: (Needs some touch up)
Above and below: This is where you see the blue bleed over spots I need to fix.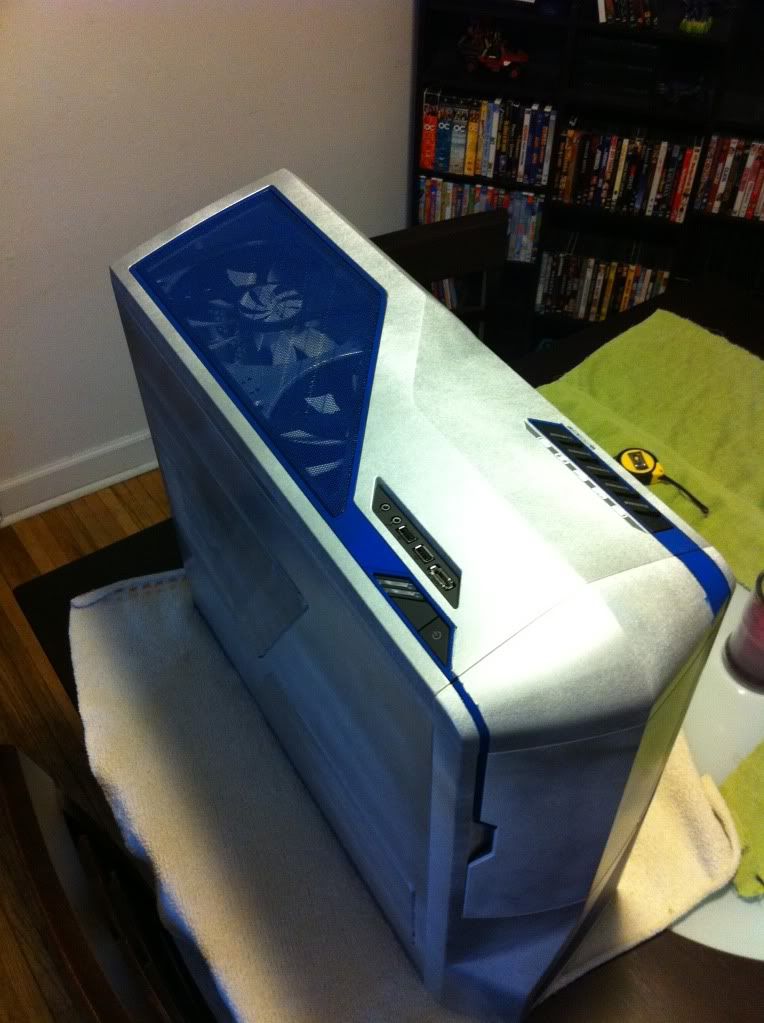 Hooked up and running again:
Above: The touch up includes blending the seams together more. This was hard to do since I painted all the parts separate.
Don't mind the mess desk
I know this is nothing when it comes to case mods compared to the WC'ers and all out redesigns. But until I joined OCN I never thought about doing any kind of mods other then normal upgrades to components. I do have more ideas/plans to come....hopefully
Edited by newbrevolution - 7/19/11 at 4:38pm