Quote:
Originally Posted by TooManyToys NotEnoughTime;15053266 
I guess that mass of questions didn't make total sense. I could never make it into Windows at x47/x48 so I don't know what my load voltage would be. The trick turned out to be enabling PLL Overvoltage and then going back to your awesome template. I thought I had it stable at x48 with +0.065--passed prime95 1344 and 1792 FFTs @ 90% available memory with a vcore around 1.42--but she died about 6 hours into a full blend test.

I gonna try going to +0.070 but thats probably going to push my voltage and temperatures higher than I'd like for folding. I think I read in one of your posts that ~1.425v is the limit recommended for 24/7 @ 100% load?

Thanx!
I have spent countless hours testing with Prime over multiple platforms, taking notes and discovering what tests effect what ever.
I know it takes a minimum of 10 hours to complete all available test Prime Blend has to offer.
The 160K test at 6 hours 14 minutes is very stressful and makes the most heat during the 10 hour loop of Prime blend. It seems useful for setting both total Vcore and also seems to be Ram voltage sensitive requiring more Vdimm to pass consistently for me anyway.
So there are three issues you need to deal with here heat not being the least of your concern.
It's important to note the failed test in Prime so you can come back to it and not waste a bunch of time but I'm almost certain this is the test you failed. Keep in mind you can choose the test from Prime to begin testing by selecting "Custom" and you can loop the test as well by as many times as you choose. I'd start with 4 loops as indicated below.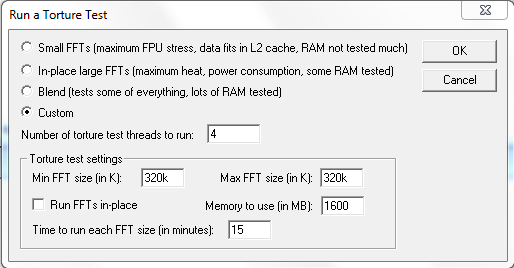 Your are on the right track bumping vcore but if you do plug in the 160k where you see 320k above and if the test fails try bumping vdimm and test again paying particular attention to your temps. If you have a temp gun watch your digi+ vrm/s
It may also be useful to enable Spread Spectrum. Keep in mind the memory controller is on die (proc) making the power it gets critical. Through my testing with this platform on the Asus board it seems the fellas who have written the bios paid particular attention to this parameter in the overclocked state and may well be a compliment/aid. Similarly MSI (I also have a Z68A-GD80 to play with) has there on implementation (intel SVID vs APS) where they have spent time shoring up the interface, you can choose the Intel spec or there own which seems to do better with higher clocks, so me thinks it's no coincidence.
GL and report back
I have posted up a spread sheet for this platform for anyone here who wants to use it to share bios settings. All I ask is that you only post settings that work but it is my hope it becomes a repository we all can use. I made a few entries so far and intend to add more soon and would like to see you all take advantage of it.
It is editable by all who have a link so Check it out >>>
https://docs.google.com/spreadsheet/ccc?key=0ApAbOXdu3nL3dEJ6U2hQd3RfNVRRMmxkbVFHSG5WdGc&hl=en_US#gid=0
edit I should note in addition to the settings listed in the spread sheet I make the following changed to optimized defaults to avoid certain peculiarities of the bios such as dbl post over 100Blck, disappearing hard drive, and slow boots.

Full screen (post) disabled
APM: PCIE enabled
J-Micron: Disabled
Marvel: Disabled
Setup Mode: Advanced
Raid mode + 1st boot device set & 2nd disabled
Opt. ROM: Keep Current (set boot drive & F10 first before you set this)
QFan: disable both CPU & Case
Edited by owcraftsman - 9/25/11 at 6:54am