I'm an Engineer by trade and was a programmer and developer for 10+ years. I generally know quite a bit about software and hardware, but I never had a system until now that was worth overclocking so I never really dove into it.
Did my first overclock a few weeks ago solely from BIOS (learned a lot). Got my 630 Propus from 2.8GHZ to 3.3GHZ stable on my own and then had some help fine tuning her to 3.5GHZ - which required better cooling, better RAM, ect, but nothing I wasn't planning on upgrading anyway. The voltage could probably still stand to be tweaked a little, but temps are good and she's stable (Prime95 8HRS, Y-Cruncher 2HRS).
Didn't take a screen of Prime95, was tired when it finished and just shut her down without thinking. I recently did the Y-Cruncher for further verification and you can see that screen below.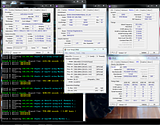 Edited by ALUCARDVPR - 5/11/11 at 7:46am