After many years this thread has finally been completely re-worked in a similar fashion to many of my other threads. The goal of the new layout is precision, tidiness and ease.  Many of you are familiar with what this thread is. It is a database of sorts of audio products that I recommend people venturing into audio for perhaps the first time or simply making their way up the ladder to try. These are all products that are tried and true. There are many other products out there that are not listed on this thread, but that are also potentially good options. This thread is not the be all end all of audio products. It is simply a map to help guide you on your audio journey. Most people do not have the time, ability, or money to spend trying multiple products. They just want what's best for their needs given their budget and appreciate a thread putting all of that information that would have taken them months of research to acquire. Audio is subjective to a large degree. While for the most part 95% of everyone that reads this thread will agree with the audio improvement you'll see with each product, there are some that 1) Won't hear a difference because they simply can't. This means their hearing is shot, they're half deaf for whatever reason or have a certain condition that doesn't allow them to pick up on a lot of frequencies that normal users would. Many people as they age also lose those higher frequencies. 2) Are not attentive or are untrained in the ability to pick out minute changes in sound including texture/bass impact and clarity as well as boldness or weight of an instrument/vocals.
I, and most people, agree that the largest change you can make is to upgrade from your onboard (motherboard's audio) to a sound card or dedicated external DAC (Digital/Analog Converter). Here you'll immediately notice just how poor your motherboard's audio is. Everything will become cleaner, livlier, less congested, more complex, and won't artifact for whatever reason. Everything after this initial upgrade will be much smaller and while IMO, still worth a bit of an extra climb if you're truly an audio enthusiast, understand that the upgrade from there will be much smaller than you initially stepping off onboard sound. I hope this does not confuse anyone into thinking that you only need a soundcard to get pretty much the best sound possible. That's not the case. To really get the most out of your sound, you should look into investing in an external DAC, plain and simple. As you read through this thread, consider to yourself 3 things:
How much of an audiophile am I?
How much do I really want to spend on this hobby?
How awesome is Simca for doing this all for me? <--Focus on this one the most.
I previously broke down the thread into people that were gamers, people that were music lovers, people that were both and then the top tier audiophile. Instead, this time around, I'm going to break it into entry level, mid-fi and hi-fi. You'll notice most gamer-centric devices will be in the entry level, although for headphones, there will be many in the mid and hi-fi entries as well. Simply put, the soundcards which make up most of your gamer gear as far as the DAC is concerned is gamer focused, but not the be all end all. If you're a gamer, but want better sound, moving to an external DAC is the better way to go. You'll get better detail and better sound complexity.


For those entering audio for the first time, your initial impressions are most likely, "on board audio sounds pretty good to me, I probably just want some headphones or new speakers." This is natural as you have likely not tried a sound card or external DAC to this point and if you've heard better speakers or headphones, they were most likely hooked up to a better source than your on board. While speakers and headphone upgrading will produce the largest difference in audio, having a good source to let you hear all the details the headphone or speaker has to offer is key. GET OFF ONBOARD SOUND! That is your goal. As soon as you do so, trust me, you'll be praising me like the goddess I am. Perhaps you're thinking, "Well, just how bad is on board and how much will I really hear? I mean, I have a pretty crappy pair of headphones and only logitech speakers, will that make a difference for me?"

To see the difference between on-board and a sound card read my other thread here.
So after reading that, you should have come away with "Yes, upgrading from on board to a soundcard or external DAC is the way to go." If not, go back and read it until that is the conclusion.
Entry Level Audio Interfaces
If your goal is to get an internal soundcard for your PC then there are basically 3 recommendations for you. While there are many other good soundcards, I no longer recommend them because at those price points you'd be better off moving to an external DAC and dedicated headphone amplifier. The headphone amplifier on almost all sound cards are trash and are not meant to amp expensive headphones. They're honestly meant to do not much more than make the volume louder, and louder =/= sufficiently amplified.
The following that 3 soundcards I recommend based on price to performance ratio:
Asus Xonar DG - This is less than $30 soundcard and will drastically improve performance over your on board sound. Don't let the price tag fool you, this is a legitimate upgrade over onboard sound, that's how bad your onboard sound is! The sound card has a ~150 ohm amplifier on it that's only sufficient for amping low ohm headphones like Audio Technica M50s. This headphone amplifier is not meant to be paired with a pair of Senneiser HD600s and up. The Xonar DG is the PCI version. There's also a PCI-E version called the Xonar DGX and they both perform exactly the same.
Creative Titanium HD - This is now an aged card. It's no longer for sale, but if you can get your hands on it, it's an excellent sound card at ~$80. This will provide you with just about the best sound you can get via a sound card. As far as price/performance concerned, easily one of the best sound cards on the market. Many gamers are also very happy with the performance this card gave in many games at the time. The only downside to the Creative Titanium HD for some users is that it is only capable of driving ~330 ohm headphones. This honestly shouldn't be an issue, but if it is, then see the 3rd recommendation. An alternative to this would be the Asus Essence ST/X, which is also capable of "powering" 600 ohm headphones, but priced at double this amount, it's unfortunately NOT WORTH BUYING in most instances. Maybe if you can get the card for under say ~130 it would be worth the purchase. Otherwise, do not bother with this sound card.
Creative Soundblaster Z - This is one of the more recently releases Creative cards. After the Titanium phase they released a set of dreadful cards called "recon 3D". It was all a gimmick and performed horribly. Do not EVER buy those cards. The Z series however, is a good soundcard. While I don't personally feel the Zx and ZxR are worth the price you're paying for it, you can choose to upgrade to those higher versions if you see fit. Specs will tell you they're better than the Z, but real world performance may not give you that impression. Ultimately, on many accounts, the ZxR faired WORSE than the 2 generation old Titanium HD. While I would rather have the Titanium HD over the Z, this is a viable option at this price, especially if you're on a very strict budget and need a sound card that will run 600 ohm headphones. The amplifier on this card will do the trick, but it's not recommended you run 600 ohm headphones off this unless you know you'll be upgrading in the near future and are getting a great price on the headphones now.
If you find yourself either wanting to upgrade from your current soundcard or have decided it'd be best for you to skip the soundcard phase all together because your budget is higher, then begin to look at external DACs and amplifiers. Keep in mind if you're pairing these external DACs with speakers rather than headphones and the speakers are active, the speakers already have an amplifier in them and do not need an amplifier. If the speakers are passive then they'll required a dedicated speaker amp of some sort either via a dedicated speaker amp or receiver such as a Denon or Yamaha receiver (these are two brands I highly recommend and are usually at the forefront of sound quality). Keep in mind, for those new to audio, that a HEADPHONE AMPLIFIER will NOT power passive speakers. Likewise a speaker amp will not power headphones UNLESS the speaker amp has a headphone out. So trying to pair passive speakers with a Schiit Magni will not work. The following are DACs and amplifiers you should begin looking into. These are based around PRICE first, not performance. Just because something is priced higher does NOT mean it's better, although typically they are, especially if it's being recommended by me. If it's not better, I'll let you know.
The Schiit modi at $99 is an excellent, and I'd probably say the best DAC at it's price range. It comes in a beautiful housing, sounds good (if a bit cold and sterile), made and designed in America with mostly American parts. It's the go-to DAC IMO. Downfall is it's output connections.
NOTE: Keep in mind that this is simply a USB DAC. This means you can't directly plug your headphones into it. You'll need an amplifier to do that. You can; however, plug your active speakers directly into it.
Schiit Modi
(Click to show)
$150 - Objective DAC (ODAC) - Designed by NwAvGuy - Produced by JDS Labs/Epiphany and many others.

This design is designed by professional electrical engineer, audio hobbyist and blogger, NwAvGuy. Depending on builder, options vary on the case design and output connections, however the main DAC design remains the same.

A list of sellers / builders can be found here and more information on the ODAC, including objective measurements can be found here.

NOTE: This is only a DAC. Therefore you must connect it to a stereo / headphone amplifier for it to work.
JDS Labs ODAC
(Click to show)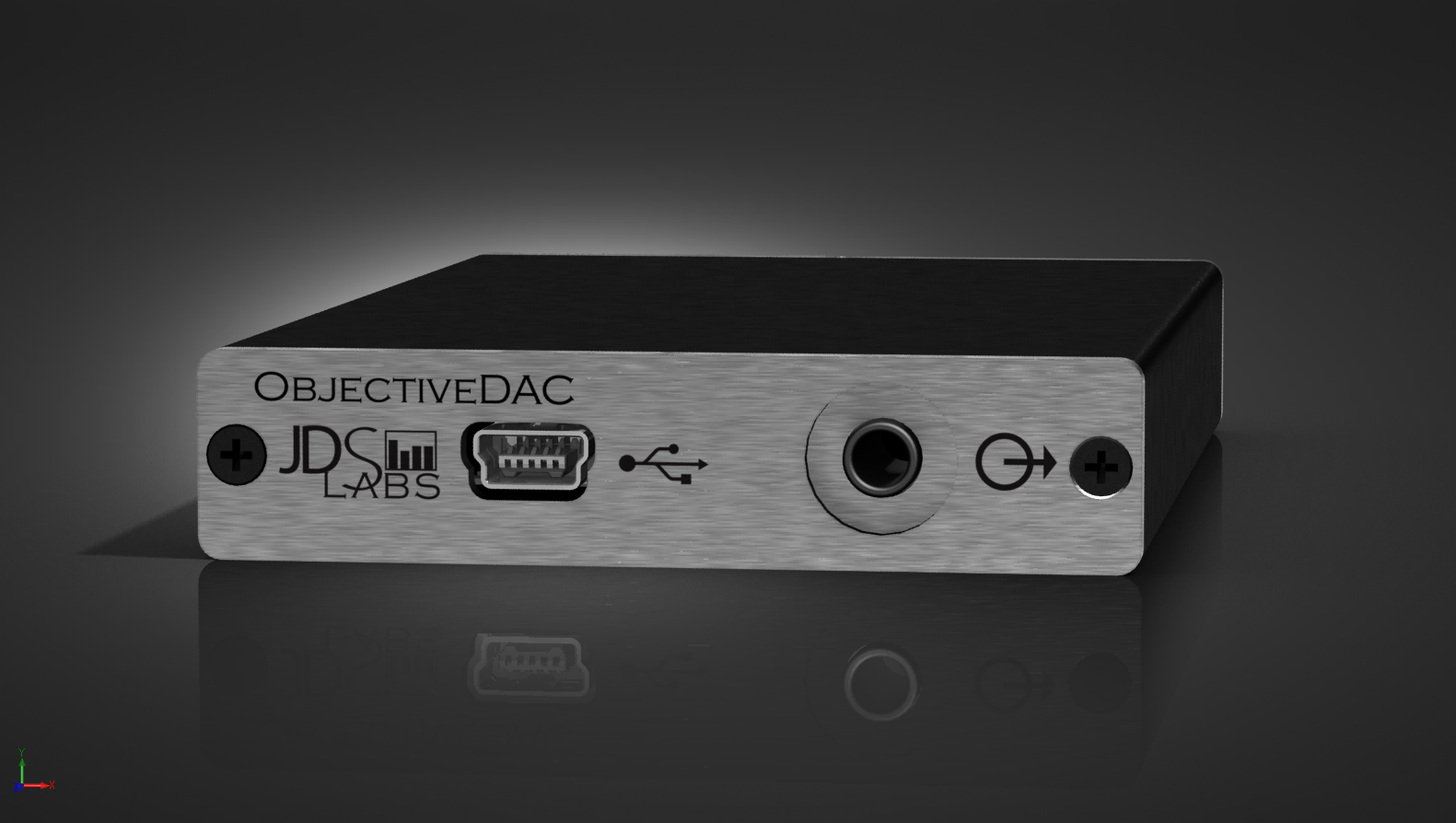 $100-$150 - Audioquest Dragonfly 1.0 and 1.2
​
The Audioquest Dragonfly 1.0 is a DAC the size and shape of a USB flashdrive that provides you with superior sound over the onboard of your laptop. It's mostly meant for laptops NOT for desktop use. The 1.2 version improves on the 1.0. The new price definitely makes it worth a buy for laptop users. Stay away from Audoquest cables though. Those are overpriced and NOT recommended.
Audioquest Dragonfly
(Click to show)
$285 NwAvGuy Objective DAC (ODAC) + NwAvGuy O2 Headphone Amplifier combo

Includes NwAvGuy designed 'Objective 2' (O2) headphone amplifier combined with the ODAC within the same enclosure. Not factoring portable size and output connection considerations, this is by far the best value external DAC and amp combo on the market. See the ODAC and O2 entries in this list for list of sellers and links to detail surrounding this.
JDS Labs ODAC O2 Combo
(Click to show)
$300 Price Range - Cambridge Audio Azur DacMagic

Note:
The Cambridge Audio Azur DacMagic only has analog RCA and XLR outputs so for headphone input, you will need a separate headphone amplifier.
Cambridge Audio Azur DacMagic
(Click to show)
$450 - Schiit Bifrost
Another DAC worth mentioning is the Schiit Biifrost at ~$450. While that price tag is a bit more than the DAC is worth IMO, it'll get you a nice housing, good sound quality, and it's made in the USA.
Schiit Bifrost
(Click to show)
The above were mostly neutral DACs that gave you exactly what was there. For those wanting to try tube DACs, there are 2 recommendations. Tube DACs color sound, but do so to many in a pleasing way. Tube DACs typically tend to increase soundstage, give focals more weight and have a few other "advantages." It's not for everyone, but for those wanting something different try:
This Tube DAC comes with a Solid State Amplifier which isn't the best, but gets the job done and allows you listen to your headphones without requiring an additional headphone amplifier. It's highly recommended you find this on sale on Massdrop for $130.
Aune T1
(Click to show)
~$450 - Jolida Glass FX Tube DAC III
Jolida Glass FX Tube DAC III
(Click to show)