With the memory madness comp running & more benchers looking at freezing memory modules I figured I'd post my method of insulating.
I already had my board covered in dragon skin. Vaseline, dielectric grease, conformal spray & nail polish are other common ways to cover the
motherboard itself.
I tape off the unused slots first (secondary slots were covered from when I poured the dragon skin, just had to tape off the third channel tonight).
Then the memory goes in. This is a set of Super Talent chrome 2000Mhz 8-8-8 24 modules I put in copperhead heatspreaders. I did use eraser on the sticks under the heatspreaders, when using my dominator memory I did not remove HS or put anything to insulate on the sticks themselves.
Next some strips of shop towel & armaflex cut to fit around the memory slots, & strips to fit in between the outer gasket & the modules.
Hard to see in the pic, but I gouged out foam from this piece so it goes over the memory clamp-downs without leaving much of a gap in there.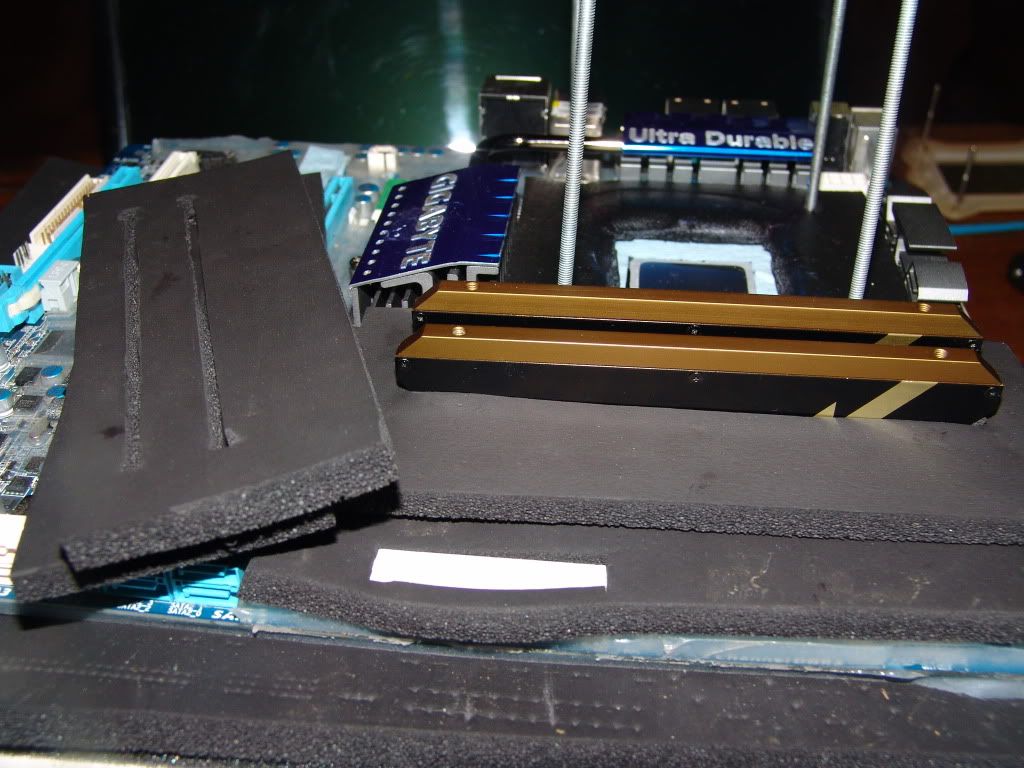 Then i just keep stacking on the armaflex until it is slightly over the top of the modules & clamp the pot on.
I put a piece of armaflex tube insulation over the pot & wrap the whole works in shop towel. For the temp sensor I just filled a screw hole with TIM & stuck a probe in it.
Now ready for the cold!
CPU
Motherboard
Graphics
RAM
i7 990x/3930k/3770k/4770k
GB x58a-OC/Asus RIVE/x79 gd65/z77 mpower/z77 MV...
gtx480s/gtx580s/7970s/680s/Titan
Hyper/PSC/BBSE/Hynix/Samsung
Hard Drive
Optical Drive
Cooling
OS
HDDs/SSDs
DVD
Air/water/phase/copper pot
Windowz
Monitor
Keyboard
Power
Case
samsung 2320
Razer Lycosa
ax1200
carboard box
Mouse
Trackball
View all
hide details
CPU
Motherboard
Graphics
RAM
i7 990x/3930k/3770k/4770k
GB x58a-OC/Asus RIVE/x79 gd65/z77 mpower/z77 MV...
gtx480s/gtx580s/7970s/680s/Titan
Hyper/PSC/BBSE/Hynix/Samsung
Hard Drive
Optical Drive
Cooling
OS
HDDs/SSDs
DVD
Air/water/phase/copper pot
Windowz
Monitor
Keyboard
Power
Case
samsung 2320
Razer Lycosa
ax1200
carboard box
Mouse
Trackball
View all
hide details