The speeds look nice!
But why did you go with Raid0
If gaming!
I'd use one drive for the OS. And the other for games/storage
Drive 1, I'd partition 15% for my OS. And the remaining space I'd leave unpartitioned! (you can extend this partition if you start running out of space).
Drive 2, I'd partition 20% for games! And make a second partition using the remaining space, for storage! (If you need more than 200GB for games, make the games partition bigger).
My drives and partitions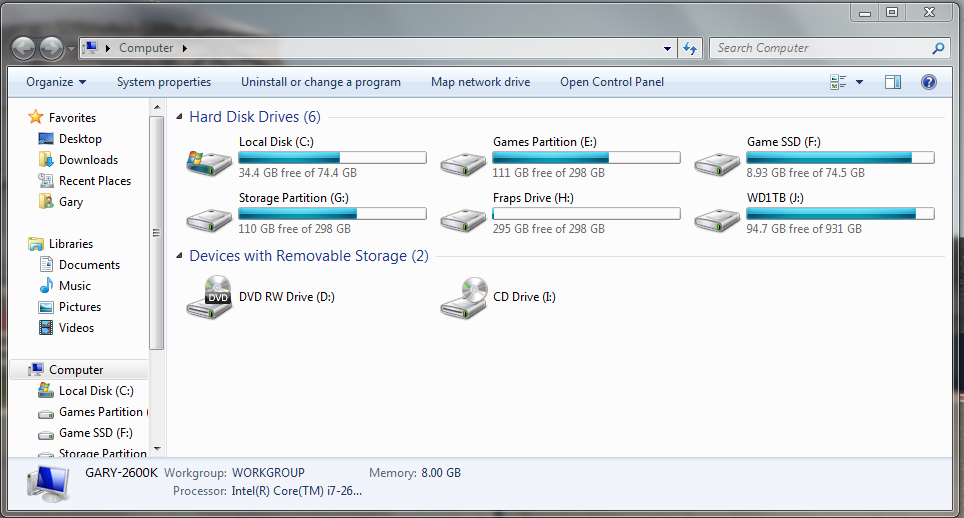 CPU
Motherboard
Graphics
RAM
Intel® Core™ i5-3210M
Laptop
HD 4000
Corsair Vengeance 8GB
Hard Drive
Optical Drive
OS
Monitor
Samsung 840 250GB
DVD Multi
Windows 8
15.5 inch display (1366 x 768)
Keyboard
LED Back lit
View all
hide details
CPU
Motherboard
Graphics
RAM
Intel® Core™ i5-3210M
Laptop
HD 4000
Corsair Vengeance 8GB
Hard Drive
Optical Drive
OS
Monitor
Samsung 840 250GB
DVD Multi
Windows 8
15.5 inch display (1366 x 768)
Keyboard
LED Back lit
View all
hide details