Hiya Guys i had to start a new build log because i moved pictures in photo bucket and ruined my whole thread.I will do my best to post what i have but it may take some time.Beer with me and keep checking back.
Build Name: Requiem (Definition: a musical composition in honor of the dead)
named in Honor of my brother that just passed away @ age 44 a few days ago.
Specs:
Cpu: Intel Sandy Bridge i5 2500k @ 5 Ghz Prime Stable
Motherboard: AsRock Fatal1ty P67 Pro
Memory: 4 Gig DDR3 Corsair Dominator-Gt 2133 C9 @ 1869mhz 8.8.8.24 1T
Video Cards: 2 Radeon HD 6970's in Crossfire
Power Supply: Cougar SX850
Digital Display: Antec Veris Premium w/Remote.
Cpu Cooling: Corsair H70 Push/Pull Setup with modified bracket to top mount.
Memory cooling: Corsaiir Airflow setup
Case: Modded Antec Darkfleet 85
Hard drives: 60gig OCZ Vertex II SSD, 2TB WD Black 7200rpm,1TB Hitachi 7200rpm
Drive: Asus DL DVD/CD Burner w/Lightscribe.
Sorry for the bad Photos but the build is Far from done.I will be Posting alot of the work Logs also when i get more Time.Keep checking back,Lots or ccool stuff to come on this build.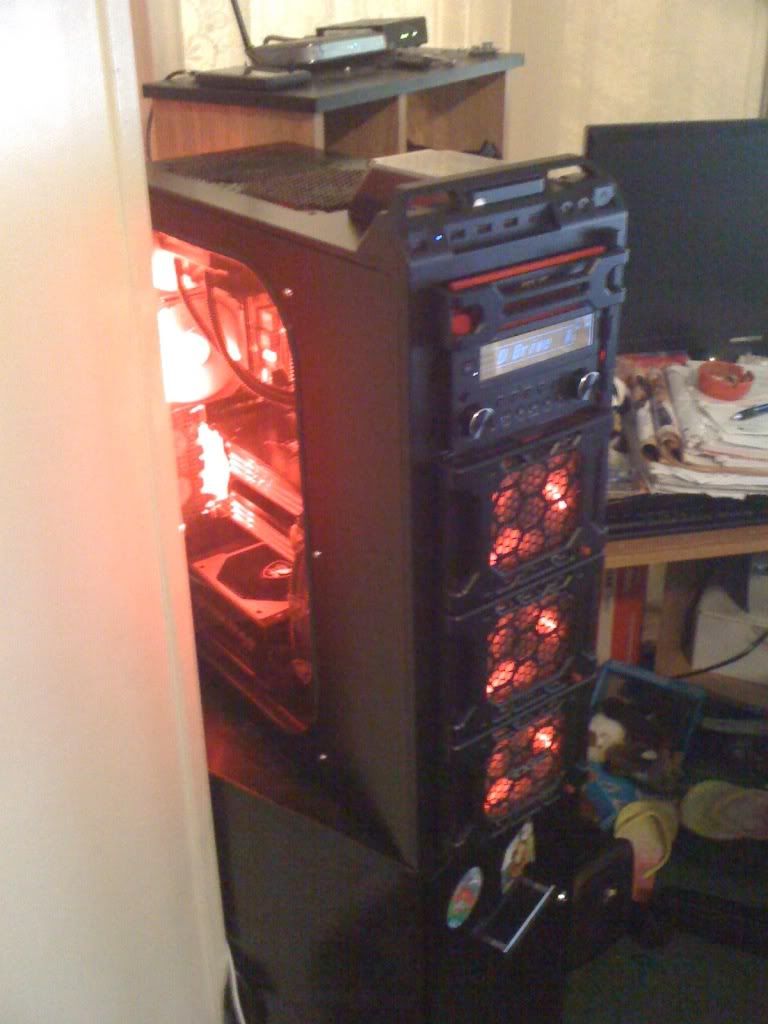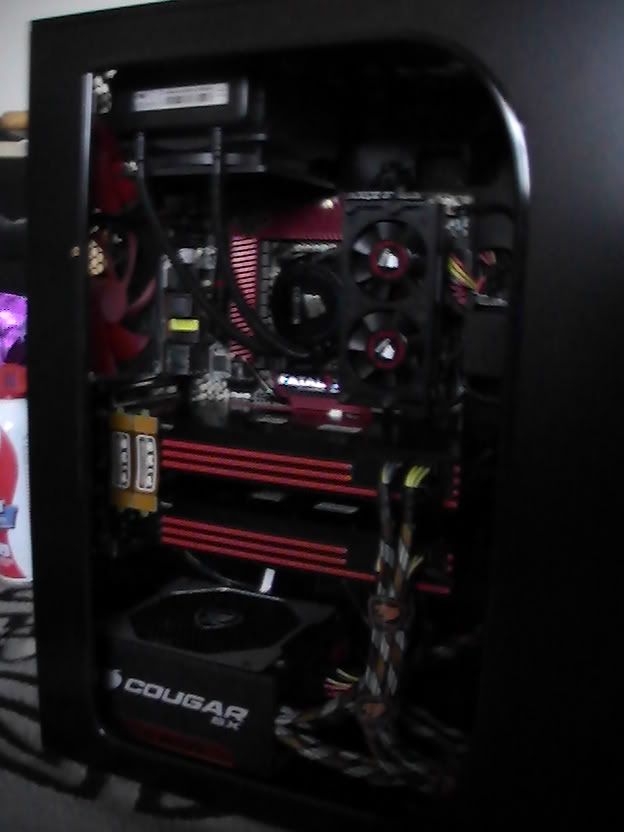 Edited by mybadomen - 5/24/11 at 12:05pm
CPU
Motherboard
Graphics
RAM
Intel i7 2700k
AsRock Fatal1ty Professional Z68 Gen3
PowerColor Hd6970 2gig (Reference)
Corsair Dominator Gt's 1.5 volt
Hard Drive
Hard Drive
Optical Drive
Cooling
2 OCZ Vertex 3's Striped Raid 0
2Tb WD Black
Asus Dual Layer Burner
Custom Loop
OS
Monitor
Keyboard
Power
Windows 7 Ultimate 64 bit
Hanspree 23" 1080p Monitor Hdmi and 55" Toshiba...
Microsoft Sidewinder x6 Gming Keyboard
Painted and Fully Sleeved Cougar 1050watt
Case
Mouse
Mouse Pad
Audio
NZXT Phantom White (Chrome Yellow Now! )
Cyborg Rat 5
Cheapo organomic one.
Bose Campanion 3
View all
CPU
Motherboard
Graphics
RAM
i5 2500k @ 5ghz
AsRock Fatal1ty P67 Professional
Powercolor Hd6970
Corsair Dominator c9 2133mhz Ram kit
Hard Drive
Hard Drive
Optical Drive
Cooling
OCZ VERTEX II
WD Black
Asus Dual Layer Dvd Burner w/Lightscribe
EK HD6970 water block (Nickel)
Cooling
Cooling
Cooling
Cooling
EK Gpu Ram Plate
EK Dominator Ram cooler
Rasa RS360 KIT
Magicool Extreme Dual 120mm Radiator
Cooling
Cooling
Cooling
Cooling
3 Bitspower Ratory 1/2IDx3/4OD Compression Fitt...
7 Bitspower Compression fittings
High Quality anti kink Primochill 1/2x3/4 Tubing
9 NZXT fANS (8 120'S and 1 140)
OS
Monitor
Keyboard
Power
Microsoft Windows 7 Ultimate 64 bit
Handspree 23" 1080p Hdmi and 55" Toshiba Led (H...
Microsoft wireless keyboard 3000 v2
Modded Cougar SX850 (Painted and Sleeved)
Case
Mouse
Mouse Pad
Audio
Modded NZXT Phantom
Basic Microsoft Optical mouse for now.
Black Gel Orgenomic Mousepad (not sure brand na...
2.1 Klipsche System (was top of the line 4 year...
Other
Other
Antec Veris Premier
Nzxt Sleeved Led Kits (White)
View all
hide details
CPU
Motherboard
Graphics
RAM
Intel i7 2700k
AsRock Fatal1ty Professional Z68 Gen3
PowerColor Hd6970 2gig (Reference)
Corsair Dominator Gt's 1.5 volt
Hard Drive
Hard Drive
Optical Drive
Cooling
2 OCZ Vertex 3's Striped Raid 0
2Tb WD Black
Asus Dual Layer Burner
Custom Loop
OS
Monitor
Keyboard
Power
Windows 7 Ultimate 64 bit
Hanspree 23" 1080p Monitor Hdmi and 55" Toshiba...
Microsoft Sidewinder x6 Gming Keyboard
Painted and Fully Sleeved Cougar 1050watt
Case
Mouse
Mouse Pad
Audio
NZXT Phantom White (Chrome Yellow Now! )
Cyborg Rat 5
Cheapo organomic one.
Bose Campanion 3
View all
CPU
Motherboard
Graphics
RAM
i5 2500k @ 5ghz
AsRock Fatal1ty P67 Professional
Powercolor Hd6970
Corsair Dominator c9 2133mhz Ram kit
Hard Drive
Hard Drive
Optical Drive
Cooling
OCZ VERTEX II
WD Black
Asus Dual Layer Dvd Burner w/Lightscribe
EK HD6970 water block (Nickel)
Cooling
Cooling
Cooling
Cooling
EK Gpu Ram Plate
EK Dominator Ram cooler
Rasa RS360 KIT
Magicool Extreme Dual 120mm Radiator
Cooling
Cooling
Cooling
Cooling
3 Bitspower Ratory 1/2IDx3/4OD Compression Fitt...
7 Bitspower Compression fittings
High Quality anti kink Primochill 1/2x3/4 Tubing
9 NZXT fANS (8 120'S and 1 140)
OS
Monitor
Keyboard
Power
Microsoft Windows 7 Ultimate 64 bit
Handspree 23" 1080p Hdmi and 55" Toshiba Led (H...
Microsoft wireless keyboard 3000 v2
Modded Cougar SX850 (Painted and Sleeved)
Case
Mouse
Mouse Pad
Audio
Modded NZXT Phantom
Basic Microsoft Optical mouse for now.
Black Gel Orgenomic Mousepad (not sure brand na...
2.1 Klipsche System (was top of the line 4 year...
Other
Other
Antec Veris Premier
Nzxt Sleeved Led Kits (White)
View all
hide details