Hello there reader,
Glad to see you made it to my thread!
I hope this is a thread of maximum learning, to be sure it was a learning experience for me! I have spent many hours calculating and planning this endeavor. To see it come to fruition is very rewarding.
I decided to build my own CPU air cooler. The challenge here was determining the logistics of the fans, and the positioning in relation to the rest of the case.
I had a lot of fun with this build! Please bear with me as I am a first time builder, and putting this entire thing together was something of a challenge to someone like me.
Finding the parts for this was very difficult! Made me want to pull my hair out at times!
But then I just decided to fabricate some of them myself, which was also tough!
I will add screenshots of my cooling rig in action later!
Here are the pics!!
Also, I was wondering if anyone had any suggestions of making this compatible with Bulldozer and what kind of temps I would expect running the new chip?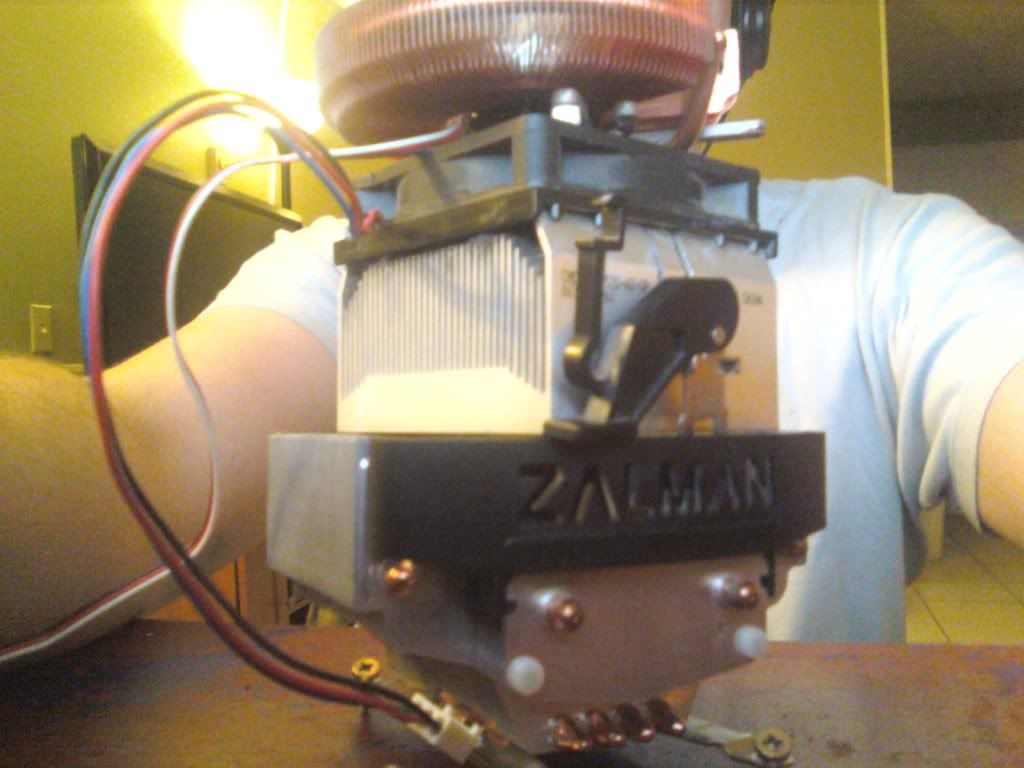 How would you suggest connecting all of the separate fans? should I splice them then solder them together? Get a few y splitters?
I dunno actually I am worried about it tipping over in my case. They are just resting on top of one another.
Thanks for commenting!
CPU
Motherboard
Graphics
RAM
Athlon II X3 435 Rana 3.7 Ghz OC @ 1.44v (lapped)
Asus M4a89GTD-Pro/USB3
XFX HD-4850 1GB 256-bit
G.SKILL Sniper 1333 2x4gb 8-8-8-22-1t
Hard Drive
OS
Monitor
Power
WD Caviar Green 750GB 7500
Windows 7 Ultimate x64
17" LCD / Asus 23" 2 ms HD LCD
Antec TPT 650W
Case
Antec 900
View all
hide details
CPU
Motherboard
Graphics
RAM
Athlon II X3 435 Rana 3.7 Ghz OC @ 1.44v (lapped)
Asus M4a89GTD-Pro/USB3
XFX HD-4850 1GB 256-bit
G.SKILL Sniper 1333 2x4gb 8-8-8-22-1t
Hard Drive
OS
Monitor
Power
WD Caviar Green 750GB 7500
Windows 7 Ultimate x64
17" LCD / Asus 23" 2 ms HD LCD
Antec TPT 650W
Case
Antec 900
View all
hide details