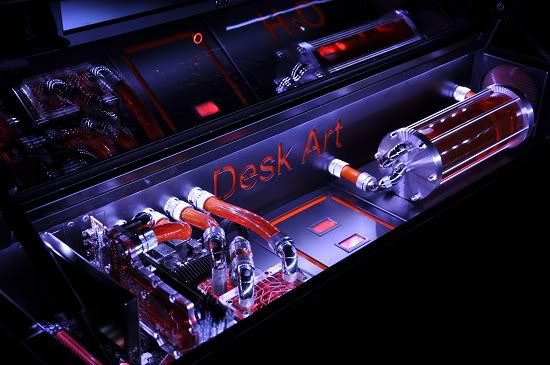 The case parts were cut out of metal himself, including his custom made reservoir.
entry:
http://casemod2011.coolermaster.com/....php?u=208&c=2
Forums post with build log and pictures
http://forum.coolermaster.com/viewto...p?f=49&t=14781
L3p did a great job with his Desk case mod but this guy, in my opinion, out did himself with this sleek looking inside that is elegant and not flashy. Plus the custom made parts he made himself.
I want to do this one day. Looks complicated, fun, and visually pleasing
Edit: Also his specs if you want:
Hardware :
PSU: Cooler Master 800W Silent Pro Gold
CPU: AMD Phenom II X6 1055T
GPU: XFX HD6970 2GB GDDR5 PCIE
Mobo: Asus Crosshair IV Formula
Mem: 8GB Corsair Dominator GT 1866c9
Sound: Creative X-Fi Xtremegamer
SSD: Crucial RealSSD C300 2.5" 64GB
HDD: Western Digital Caviar Green WD10EADS 1TB
Loop :
Pump : Swiftech MCP655
Rad 1: XSPC RS240
Rad 2 : XSPC RS120
CPU block : EK-Supreme HF Nickel CPU Block
GPU block : EK-FC-6970-Nickel
Tube: Feser Tube UV - HighFlow - 1/2 ID - 3/4 OD - RED
Fittings : Bitspower (1/2 ID - 3/4 OD)
Res: custum made by me
Edited by Drybones5 - 5/20/11 at 10:22pm
CPU
Motherboard
Graphics
RAM
Intel Core i7 740QM
Hewlett-Packard 1437
AMD Radeon HD 6630 GPU with 1GB of VRAM
6.00 GB Dual-Channel DDR3
Hard Drive
OS
Monitor
750GB Western Digital
MS Windows 7 Home Premium 64-bit SP1
14.5in LCD
View all
hide details
CPU
Motherboard
Graphics
RAM
Intel Core i7 740QM
Hewlett-Packard 1437
AMD Radeon HD 6630 GPU with 1GB of VRAM
6.00 GB Dual-Channel DDR3
Hard Drive
OS
Monitor
750GB Western Digital
MS Windows 7 Home Premium 64-bit SP1
14.5in LCD
View all
hide details