In progress...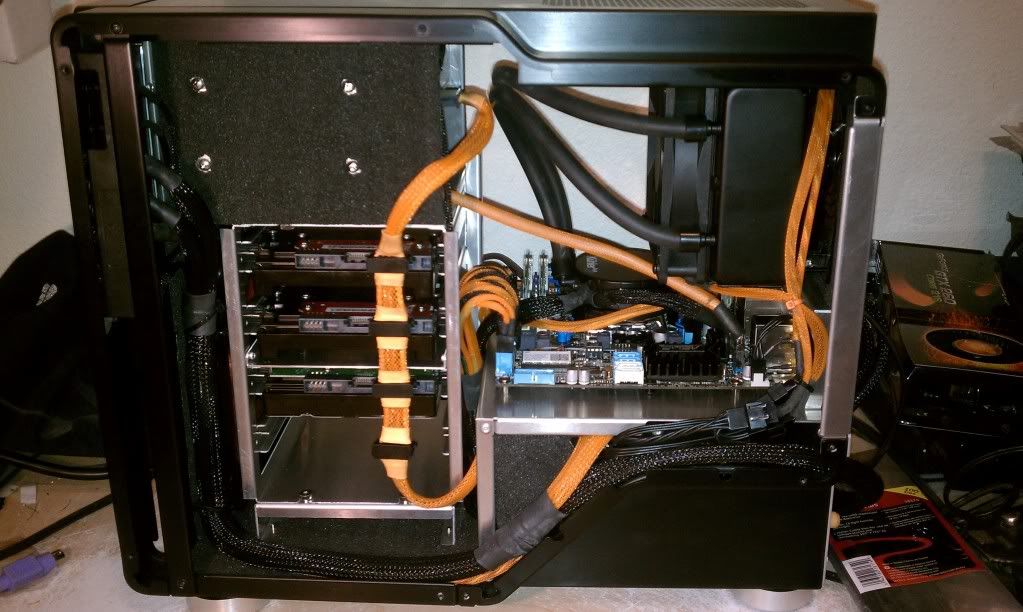 Cubitek Mini Tank Mini-ITX Case

Model #
CB-TKI-B210
READ CASE REVIEW HERE
Newegg.com order:

1

ASUS P8H67-I DELUXE (REV 3.0) Mini ITX Intel Motherboard
Item #:N82E16813131709
1

Intel Core i5-2500K 3.3GHz LGA 1155 95W Quad-Core Desktop Processor
Item #:N82E16819115072
1

Antec KUHLER H2O 920 Liquid Cooling System
Item #:N82E16835209054
2

G.SKILL 4GB 204-Pin DDR3 SO-DIMM DDR3 1333 (PC3 10600) Laptop Memory
Item #:N82E16820231341
1

CORSAIR Enthusiast Series TX650 V2 650W High Performance Power Supply
Item #:N82E16817139020
1

Rosewill RCR-IC001 40-in-1 USB 2.0 3.5" Internal Card Reader w/ USB port / Extra silver face plate
Item #:N82E16820223103
2

Western Digital VelociRaptor 150GB 3.5" SATA 3.0Gb/s Internal Hard Drive -Bare Drive
Item #:N82E16822136296
2

Western Digital Caviar Black 1TB 3.5" SATA 3.0Gb/s Internal Hard Drive -Bare Drive
Item #:N82E16822136284
1
ASUS 24X DVD Burner - Bulk Black SATA Model DRW-24B1ST/BLK/B/AS
Item #:N82E168271352041

Intel 622AN.HMWWB Mini PCI Express 6200 Centrino Advanced-N Wireless Adapter
Item #:N82E16833106061
Performance-PCs.com Order:

Cable management, fans and such for silence & sexy!
1 x
*** NEW *** Bitspower Plastic Fan Adapter 120mm to 140mm - Black
3 x
FilterRight™ 140mm Aluminum Fan Filter - Black
1 x
*** NEW *** ModRight XXXL Noise Dampening - Full Tower - 4 Piece Retail Kit
2 x
***REBATE*** XIGMATEK XLF-F1453 140mm 4 white LED LED Case Fan - Retail - Sleeved
- Sleeve Color: Orange- Heatshrink Color: Black
2 x
Professional Case Mod Sleeve Kit - Orange
1 x
Professional Case Mod Sleeve Kit - Black
I already had the two velociraptors and the other drives on that list. I love them in RAID 0. That is what I used to run. After manufactures start releasing Z68 Mini-ITX boards, I will buy one of those and an SSD to add to the system so I can take advantage of SSD cashing and onboard/discrete GPU switching. Best of both worlds in every way! Can't wait! For now I can only run a single velociraptor due to 4 SATA ports on mini-ITX boards for now. ZOTAC has one with 6 ports, but I don't like the board otherwise. This setup will work for a couple months, but I'm really looking forward to ASUS releasing a mini-ITX version of the ASUS P8Z68 or something similar!

I will be stuck running a single GTX-260 core 216 until I sell the pair. They are for sale for here! I may just list them on eBay to get them gone. I don't want to order another single VGA until I sell those, so bare with me on that.

This is the card I plan to order. Don't know the manufacturer, but the reviews are great. Plus it will match up in the system very well. The cooling will also be very efficient in this case. I will likely be modding in a window approximately the size of the VGA in order to provide provide it with more active efficient cooling. As far as I can tell, this case is set up so well that this will be the only mod I will need to do. I'm not 100% set on this model. In fact, I may splurge and get a GTX-580. haha


1

Palit GeForce GTX 570 (Fermi) Sonic Platinum NE5X570HF10DA Video Card
Item #:N82E16814261097
For those of you that followed my UHAF build, you should hopefully appreciate this one too. I may do some more
motherboard modifications
whatever Z68 mini-ITX motherboard I find in the future too. That is just too much fun for me.
Anyone else as excited as me?!
Edited by Paraleyes - 6/2/11 at 7:07pm