I am going to be working on two major mods this year, one is the overhaul of my own Sig Rig... but delayed due to cash constraints and waiting for Bulldozer so I thought I would get started with this one as parts are arriving. Just a warning, I anticipate this build to go a couple months at least as I am a freak when it comes to details, and I am still saving up some $ along the way to throw at both systems as items go on sale.
Purpose: To build a personalized rig for my two daughters with Autism (5 and 2). They spend a lot of time on the computer playing simple educational games and watching countless hours of netflix, might as well give 'em their own setup. I wanted something that could grow with them for the elementary years, and even upgrade to better graphics/cpu in the future if necessary. But most of all, I am looking for clean, simple, reliable, and quiet... but fast enough that I won't get annoyed if I have to use it.
Inspiration: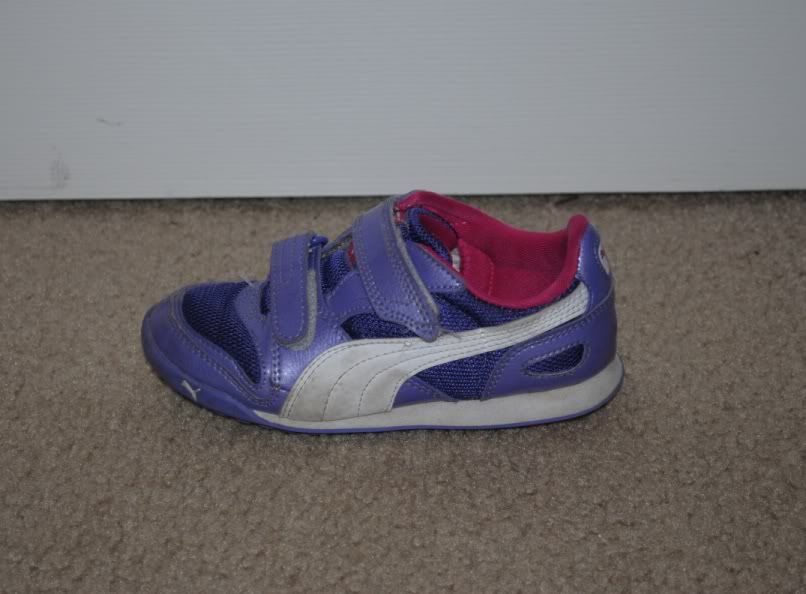 Yes, it's my daughter's dirty shoe, but I wanted to go with something I haven't seen a lot on this site and something that will get the girls psyched about PC's... pink and purple
Components:
Case:
Lian Li PC-Q08B
Mobo:
Intel BOXDH67CFB3
CPU:
Intel Core i3-2100
Ram:
Kingston HyperX Blu 8GB (2 x 4GB) 240-Pin DDR3 SDRAM DDR3 1333 Desktop Memory
HDD 1:
Crucial C300 64GB
HDD 2:
Western Digital Scorpio Black 500GB 7200 RPM 2.5"
PSU:
SeaSonic X Series X650 Gold
Keyboard and Mouse - Pink/Purple
Sleeving and Connectors - Pink/Purple
Case Interior - Pink/Purple lighting accents with some Pink/Purple Carbon Fiber
Fans - Xigmatek Purple LED 120mm and 140mm
Photos
As often as I get new components. Camera is a Nikon D3000 DSLR, so pics should be decent and abundant.
Schedule
I will try to add updates weekly, but bare with me if things are moving slow. I hate doing things twice and am a psycho with regards to project planning, so there is a method to my madness
First Work Days - Cabling:
Power Supply ordered via NewEgg, ETA Wednesday.
Case Fans and slim sata adapter for dvd drive ordered via NewEgg, ETA Thursday.
Purple Mod/Smart sleeving and molex connectors ordered via FrozenCpu, ETA Friday.
Purple Carbon Fiber Vinyl ordered via Metro Restyling, ETA Saturday?
Pink 450 Paracord orderedvia LightHound, arrived today.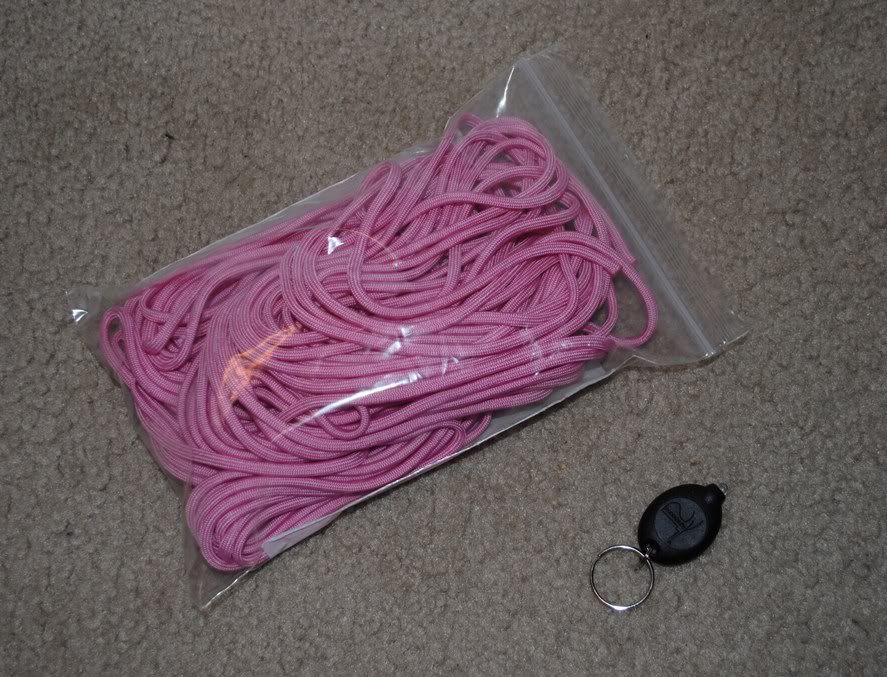 This stuff looks high quality and it was super cheap ($10 for 100 feet). Thanks to Lighthound.com for getting here fast and for throwing in a free keychain light to boot! Pulled out all the inner cables and cut to lengths of 15 feet to make it easier to deal with. Toasted tips with a lighter to prevent frays.
Here is my thinking on incorporating multiple colors into the sleeving scheme - I was able to score UV purple connectors for all of the connectors from my PSU... except for the Sata power, which I could only get white. So I am going to mix and match in some purple sleeving/purple heatshrink with some pink paracord/white heatshrink with purple and white connectors.
Toss this all in with a black interior case and *mostly* blue components and hope I can play some tricks on your eyes by the time I get the custom graphic side panel cut for my case.
I have been chompin' at the bit to get to the sleeving, as I used to build cable assemblies for a living (aerospace) and am excited to see what I can do in a PC.
More on Wednesday, thanks for lookin.
Edited by dutchgenius - 5/23/11 at 10:51pm
CPU
Graphics
RAM
Hard Drive
Intel i7-4710HQ 3.5GHz
Nvidia GeForce GTX 970M 3GB
16GB (2x8GB) Crucial Ballistix 1600 MHz
Crucial MX200 500GB SSD
OS
Mouse
Mouse Pad
Audio
Windows 8.1
Razer DeathAdder Chroma
SteelSeries Qck StarCraft II
Creative Sound Core3D-EX Audio
Other
Other
Creative Aurvana Live Headphones
SteelSeries QcK Starcraft Heart of the Swarm Mo...
View all
hide details
CPU
Graphics
RAM
Hard Drive
Intel i7-4710HQ 3.5GHz
Nvidia GeForce GTX 970M 3GB
16GB (2x8GB) Crucial Ballistix 1600 MHz
Crucial MX200 500GB SSD
OS
Mouse
Mouse Pad
Audio
Windows 8.1
Razer DeathAdder Chroma
SteelSeries Qck StarCraft II
Creative Sound Core3D-EX Audio
Other
Other
Creative Aurvana Live Headphones
SteelSeries QcK Starcraft Heart of the Swarm Mo...
View all
hide details