Made some major strides this week, finishing up the components... hopefully for a while. A big part of the wait was the Thermal Gap Filler Padding found my freebie Nvidia 275 GTX. But Wednesday at work, my "Engineering Samples" came via UPS... now I could finally finish the refurb of the GPU (if any of you need 1.5mm or 3mm thermal gap filler pad, I got you covered). Here is a before and after shot of the Thermal Pad replacement: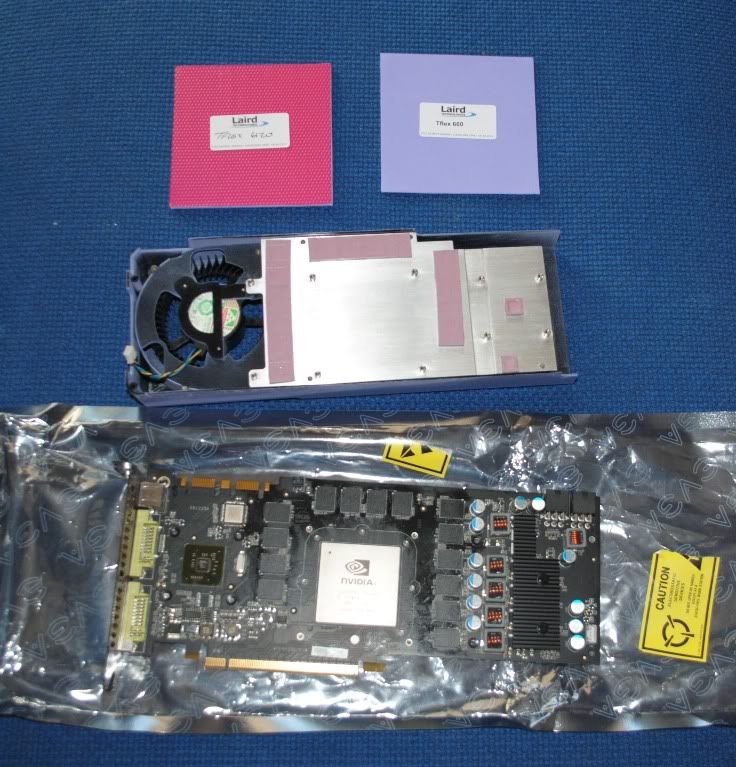 Before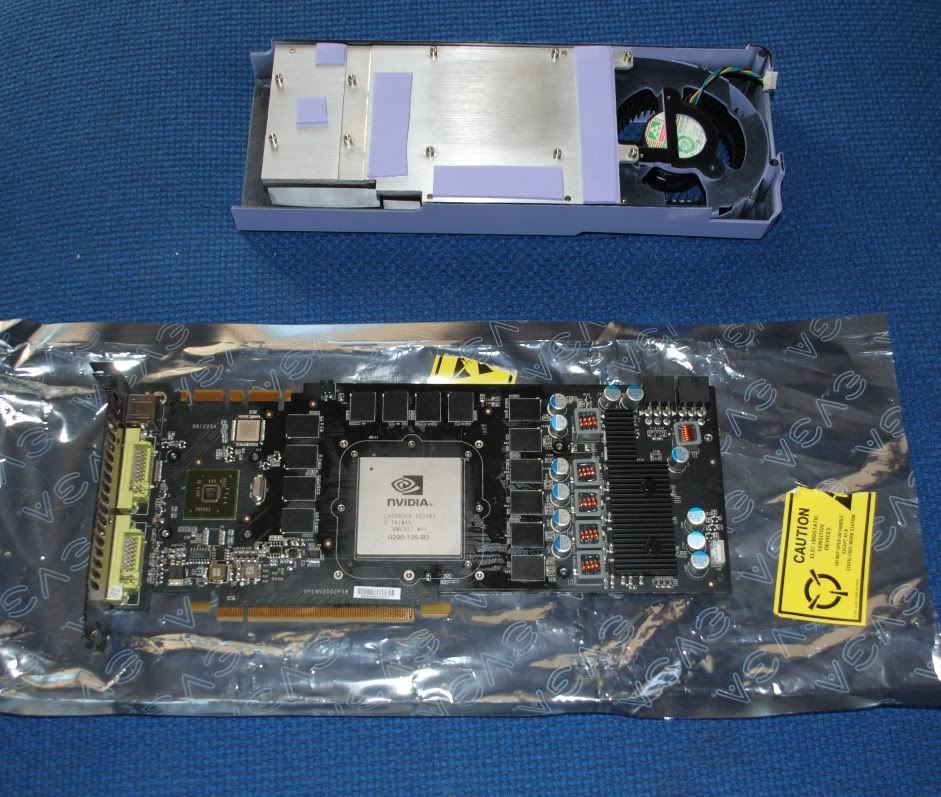 After
And then of course I had to apply fresh AS5 to the gpu and some thermal grease to the thermal pad components and reassemble the card. Final purplelicious GPU: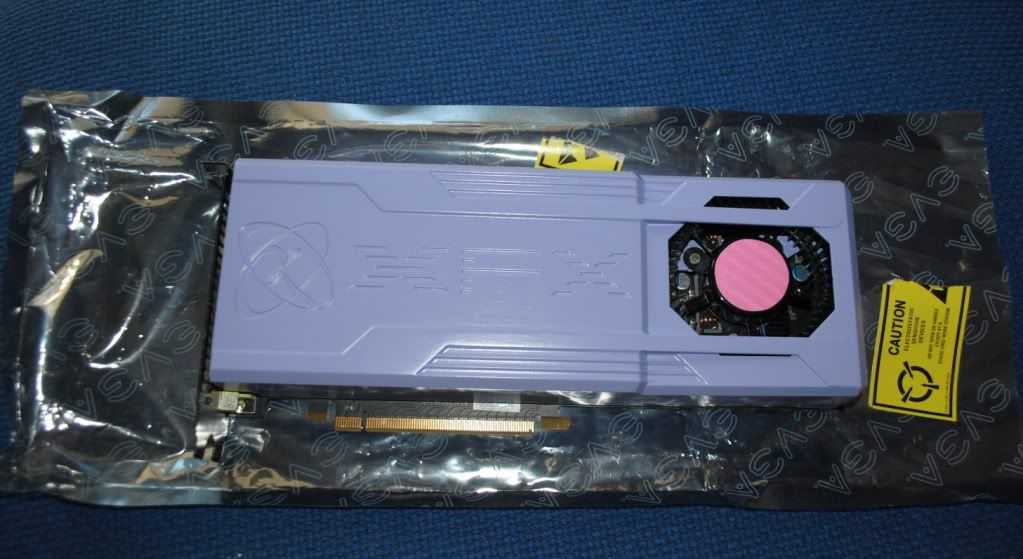 Next up was a minor upgrade. I was able to spot a great trade on the Wanted forums for my old Phenom II processor and scored an i5-2300 (thanks ZFedora)... so out with the week old i3-2100 where it will soon find a home on ebay.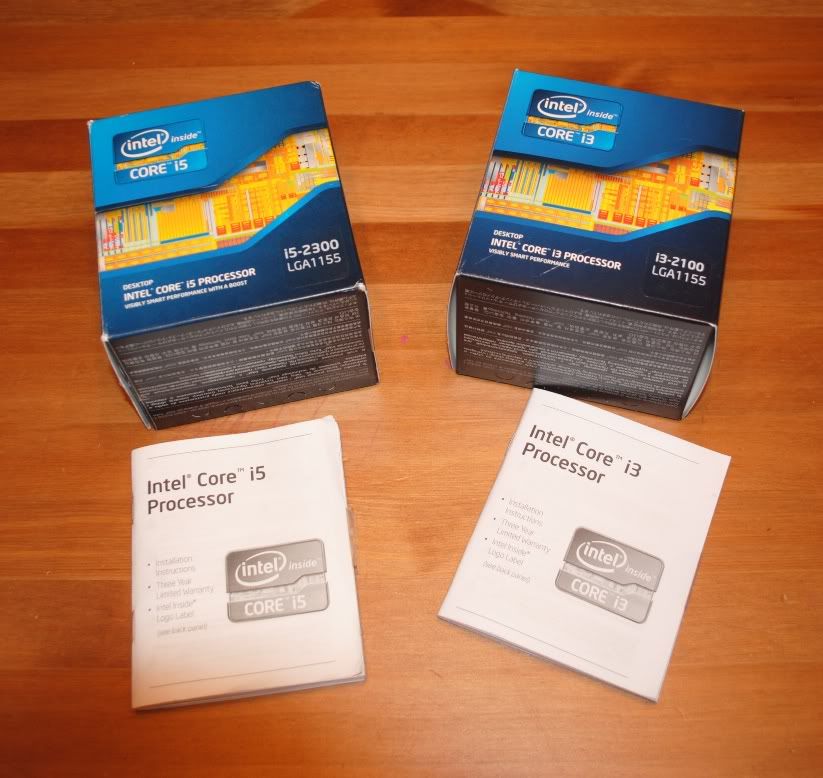 Next up was installing the GPU and then cramming the whole setup into the case. For an older card, this thing was a BEAST. As you can see, it was quite a chore: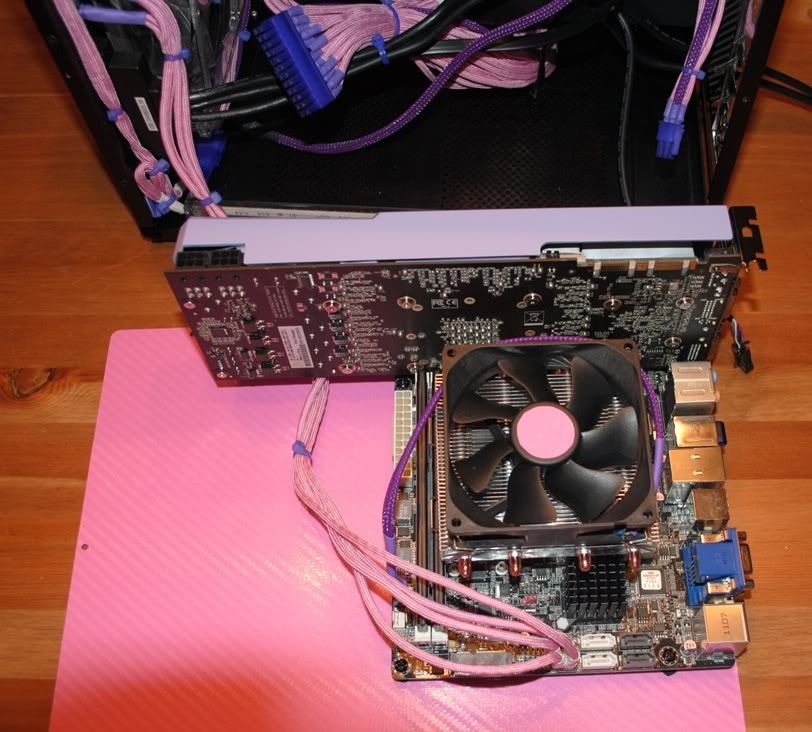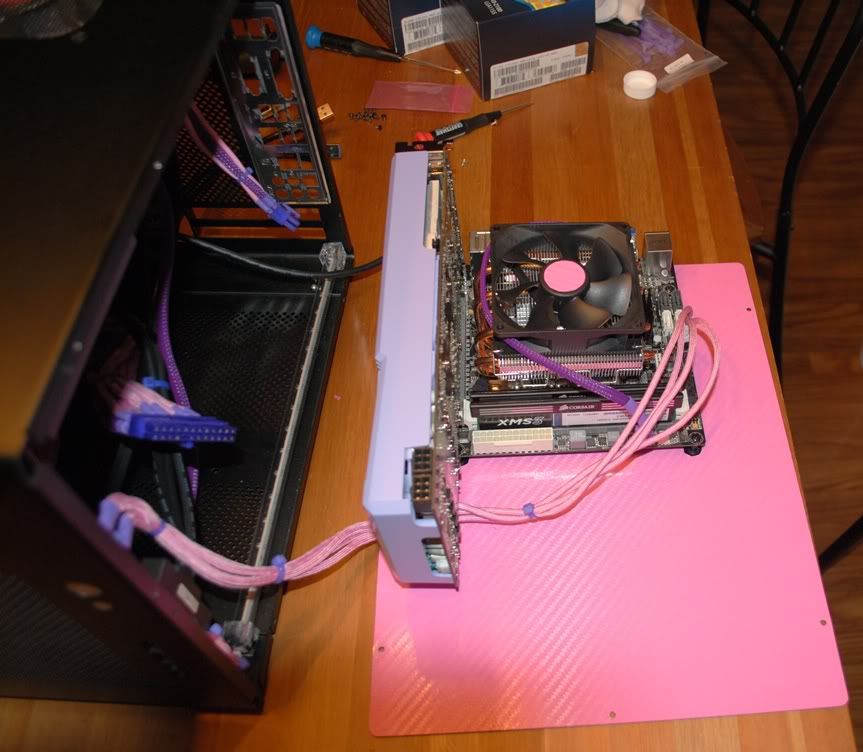 Final cable management - this was a toughy, not gonna lie. I had to squeeze my hand in behind the PSU and make sure nothing was hitting the CPU cooler fan (which it was initially), and then tie wrap everything down where it could be stable and still efficient for airflow. Here is what I came up with: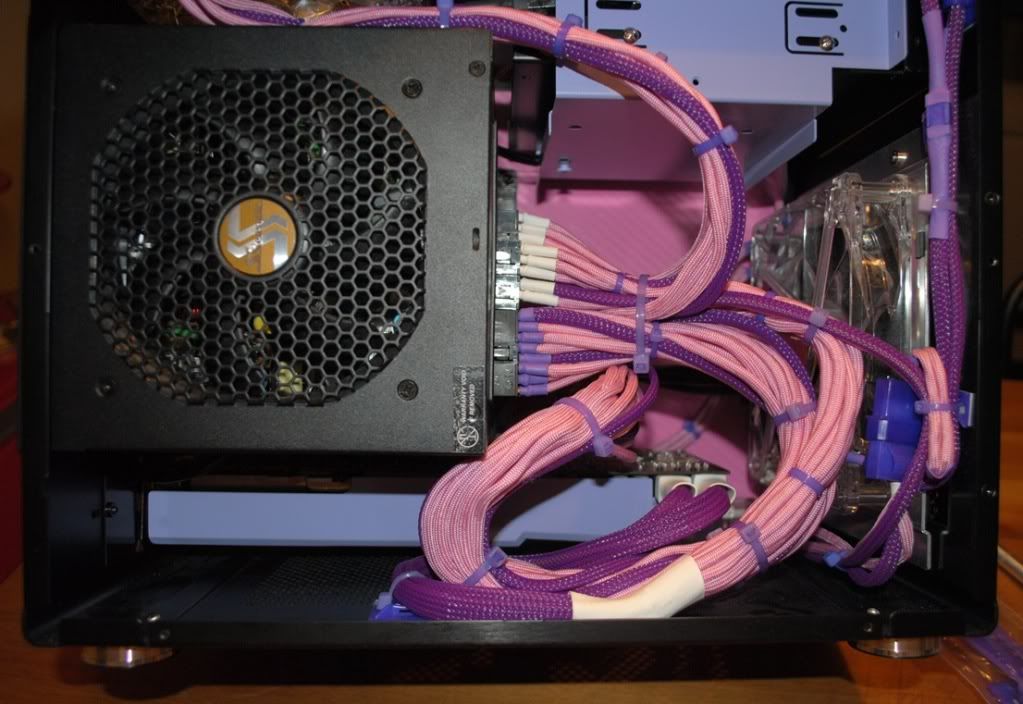 So... is it finished? The short answer is yes, for now. I am still trying to put the pieces in place to get the side panel cut on a waterjet, but $150 is a bit steep right now. If I was more camera savy, I would have some better pics of the lighting... but I am hoping to work on this soon. This sucker really glows and lights up the room, and more importantly - my daughters' faces. "Daddy look, it's making my arm purple!" - heard that about 5 times this week so far.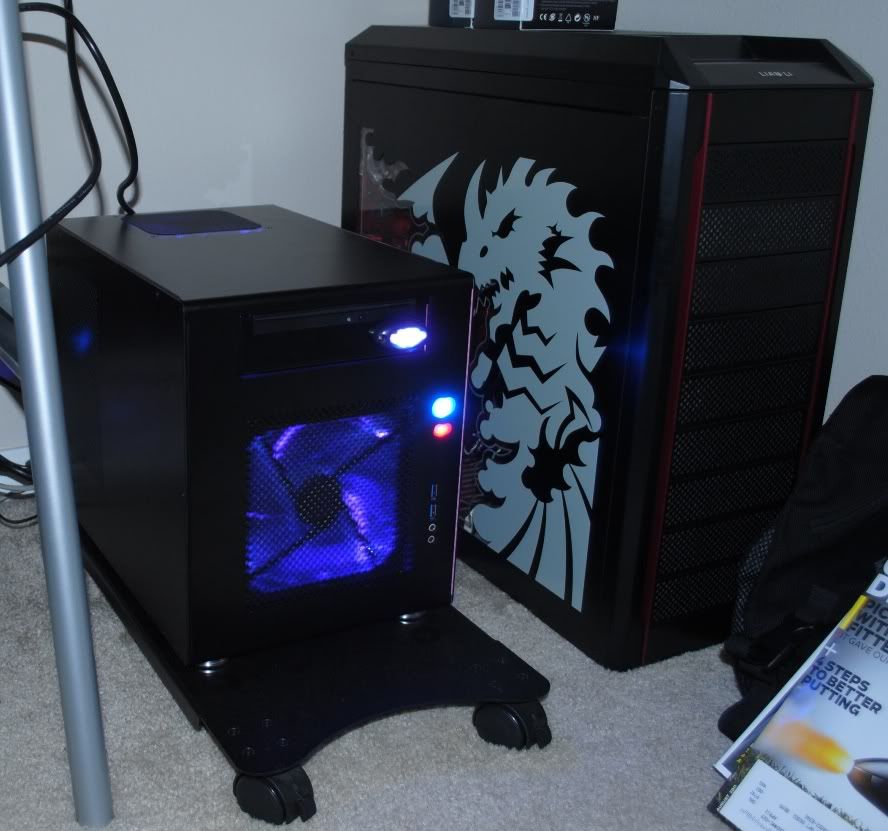 (know anyone who wants a Lian-Li Armosuit AMD case? This thing is sweet... and I just might sell it)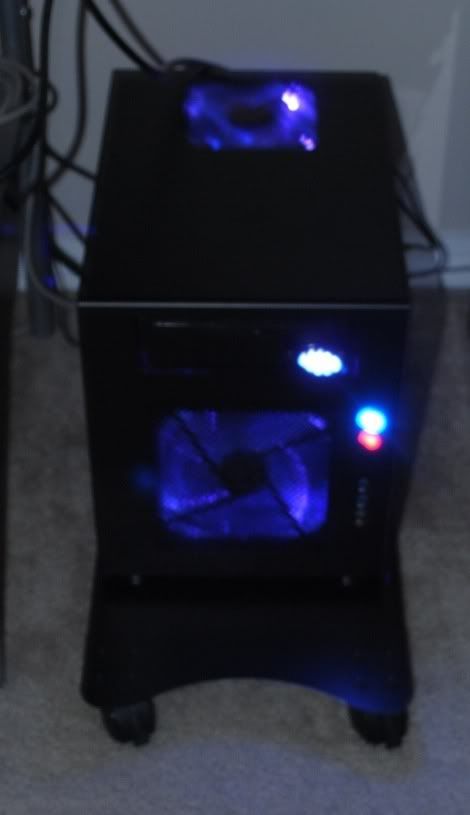 all for now, hope to have some minor updates with the side panel soon. I can tell you it runs Starcraft 2 and Star Wars Old Republic (I am a tester) with ease... stays cool too!
CPU
Graphics
RAM
Hard Drive
Intel i7-4710HQ 3.5GHz
Nvidia GeForce GTX 970M 3GB
16GB (2x8GB) Crucial Ballistix 1600 MHz
Crucial MX200 500GB SSD
OS
Mouse
Mouse Pad
Audio
Windows 8.1
Razer DeathAdder Chroma
SteelSeries Qck StarCraft II
Creative Sound Core3D-EX Audio
Other
Other
Creative Aurvana Live Headphones
SteelSeries QcK Starcraft Heart of the Swarm Mo...
View all
hide details
CPU
Graphics
RAM
Hard Drive
Intel i7-4710HQ 3.5GHz
Nvidia GeForce GTX 970M 3GB
16GB (2x8GB) Crucial Ballistix 1600 MHz
Crucial MX200 500GB SSD
OS
Mouse
Mouse Pad
Audio
Windows 8.1
Razer DeathAdder Chroma
SteelSeries Qck StarCraft II
Creative Sound Core3D-EX Audio
Other
Other
Creative Aurvana Live Headphones
SteelSeries QcK Starcraft Heart of the Swarm Mo...
View all
hide details