Update: Here is the final installment, lots of pictures
http://www.overclock.net/water-cooli...l#post14031668
Hi everyone!
This is project: NUB TUB
, hehe get it?
where a first time noob meets water cooling...
SO, this is my first computer build... I know, I know... i might be way way over my head. Let's try and keep things positive
Just assume I pick up very quickly and that I have great initiative.
Parts List:
- HAF X
- Gigabyte Z68 UD4
- i5 2500k
- 2x Powercolor 6950 2GB in crossfire
- GSkill 2x4GB DDR3 1600
- XSPC RS360 Water Cooling Kit, with Black Primochill tubing
- 3 120mm GT AP 29s
- 1 120mm Zalman F3 FDB for the Air Duct
- Corsair HX850
- Generic DVD Drive
- 3 Channel Rheosmart Fan Controller
- Vertex 2 120 SSD
- A bunch of hard drives, a few WD Black drives
Basically I have read all of my manuals a million times, and I know I am missing a million things still.. Here is a quick log of what I have done up to this point.
Motherboard
- Mounted the motherboard
- plugged in 24 pin power plug
- plugged in 8 pin molex
- Plugged in front panel plugs. (to the best of my ability... since the colors did not match up correctly. So I match on cable names to their on board names. P.s. I don't know which way to plug in the internal system speaker... there is no + or - any ideas?
- Plugged in Front panel USB, Firewire and eSata
- I applied AS5 to my processor in the line method, using sparse amounts.
- Mounted Rasa waterblock
Water Cooling
- Water cooling, I tested for leaks outside of case for a night. (external loop)
- Mounted the 360 up top with 3 GTs in push and 3 stock in pull
- I currently am running the pump all night now that it is setup inside the case, mounted on top of everything. (With towels in place incase of leak)
- I have bled the res to the best of my ability (and will continue to do so)
- I rinsed out the rad multiple times before using it at all.
- I cannot figure out how to mount the res with more stability. It is just wiggling around in the dual bay.. How do I mount it not JUST using the quick release mount?
- Routed tubing throughout the case.
Fans
- I will be running all case fans and the Zalman for the Air Duct, off the power supply, non stop.
- I want to run the 6 additional fans (3 GTs, 3 stock) off of my rheosmart 3 channel fan controller with PMW control.
- I have NO IDEA WHAT TO DO when it comes to fans... aaauugghh.. The fan controller can be controlled by PMW off the motherboard, should I do that? So 6 fans would be plugged from the controller into the CPU fan header? and the System header would be the 140 on the back? or 200 on the front? Not to mention the cables are so small... hurt my fingers, don't reach anything, and must be plugged sometimes 3pin? Sometimes 4pin molex?
- I don't know anything about fans, and it is giving me the most heartache trying to figure out what I need to do... where I need to power them... How I need to control them... help?
Video Cards
- I have installed the videocards, which sadly have ugly copper heatpipes...
- Plugged 2 6pins into each
- Installed the Air Duct with 120mm fan
- I will eventually be water cooling the video cards. Sometime down the road I will upgrade the pump/res and add a RX240 to the bottom of the case, maybe sell my RS360 for an RX360. Maybe
Misc
.. no particular order.
- Installed the power supply
- Cried
- Cut myself
- Cried some more
- Realized building a clean organized computer is VERY VERY hard.
- Got sad when I realized sleeving might be necessary, but looks SO time consuming!
- Dropped screws behind the PSU and considered never even trying to get them back.
- Pumped soda through my loop into my mouth for funzies.
- Got VERY VERY angry that tubing is possibly the worlds strongest natural adhesive to barbs.... OMG
Computer Barf
SO.... WHAT AM I MISSING!?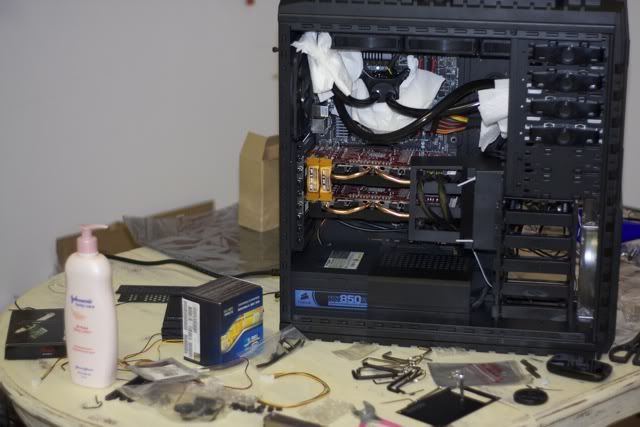 Interior Barf... Man i had no idea the labor to get a computer that looks good! I had it all planned out in my head! Then I started...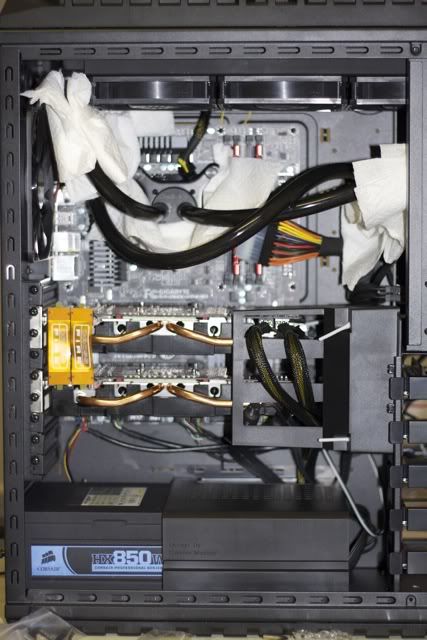 AAAHH!!!!
I left the plate off cuz I was too tired.. and to show I'm not total NUB with dyed coolant etc. just distilled water with a killcoil <-- Such a gnarly name... I feel bad for all them algaes.
Fans on the Powercolors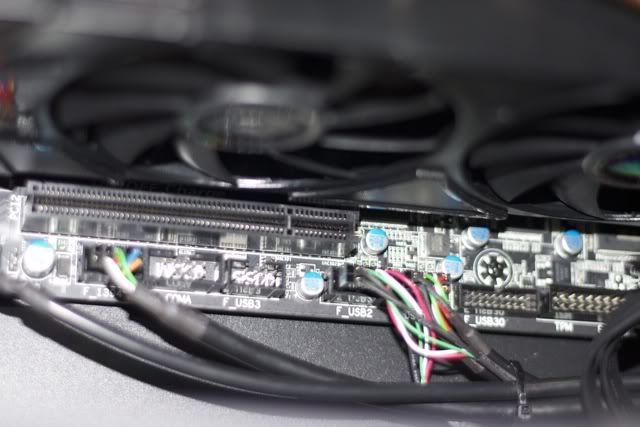 Gentle Typhoons, yeah right..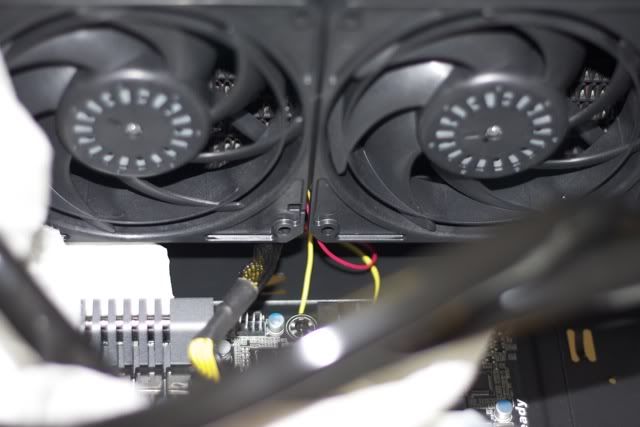 The gaming beef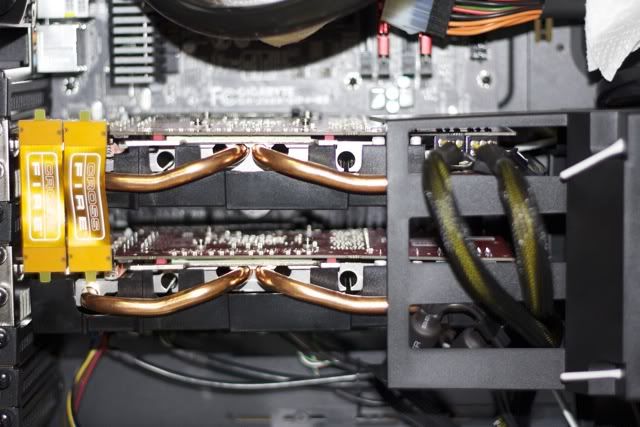 Bibbed water block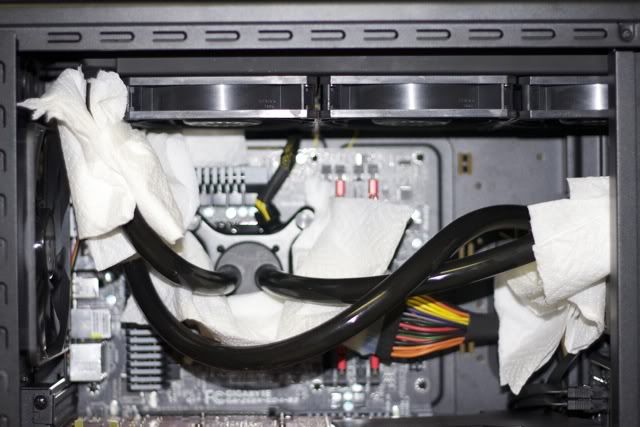 Primochill Tubing
UPDATE #2
MORE PICTURES
http://www.overclock.net/water-cooli...l#post13661361
UPDATE #3
More.. well its kinda a picture! and Newton's Law of Cooling
http://www.overclock.net/water-cooli...l#post13667632
UPDATE #4
Overclocking results, and a slew of things I don't understand
http://www.overclock.net/water-cooli...l#post13742588
UPDATE #5 FINAL CUT (lots of pictures)
http://www.overclock.net/water-cooli...l#post14031668
Edited by Elmateo487 - 6/28/11 at 12:39am
CPU
Motherboard
Graphics
RAM
i5 2500k @4.7/1.36V
Gigabyte Z68 UD4
2X Powercolor 6950's
8 GB G.Skill DDR3 1600
Hard Drive
OS
Monitor
Power
Vertex 2 120GB
Windows 7
Asus 27''
Corsair HX850
Case
HAF X
View all
hide details
CPU
Motherboard
Graphics
RAM
i5 2500k @4.7/1.36V
Gigabyte Z68 UD4
2X Powercolor 6950's
8 GB G.Skill DDR3 1600
Hard Drive
OS
Monitor
Power
Vertex 2 120GB
Windows 7
Asus 27''
Corsair HX850
Case
HAF X
View all
hide details