I am running into a stone wall, however I still think I can successfully stabilize 4.3 ghz.
So far:
Memory is running at around 1050 mhz so I've got some serious headroom for ram.
Voltages:
CPU: 1.45v~
PLL CPU: 1.2v
QPI: 1.335~
LLC: On
HT: On
Turbo: off
Let me know if there's any other settings to help stabilize the system.
So far running at 1.2v PLL has been giving me better results but I suspect it will crash again.
Alright 9 hours and 12 minutes Prime95, temps we staying at around 70c~ at around 30% fan speed.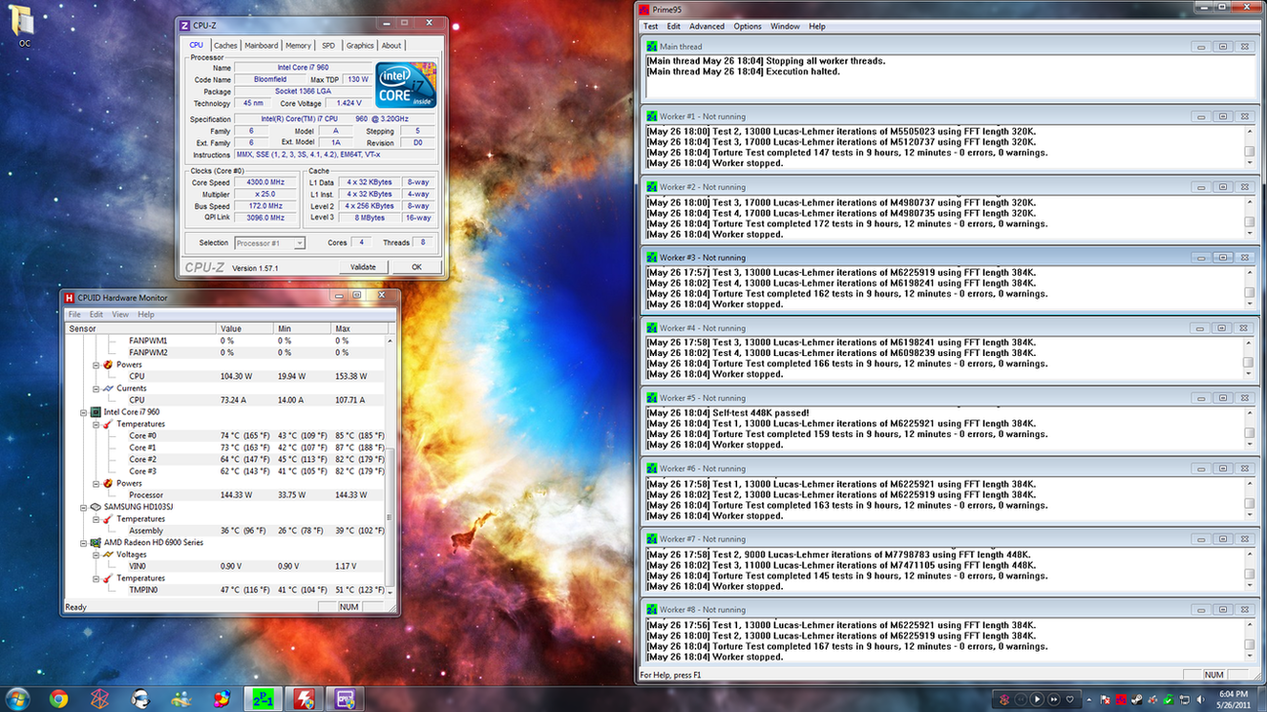 Edited by AsAnAtheist - 5/26/11 at 4:12pm
CPU
Motherboard
Graphics
RAM
Intel i7-960 4.3 ghz
Gigabyte GA-EX58-UD4P
AMD HD 6970 2GB GDDR5
2x4GB DDR3 1333 mhz
Hard Drive
Optical Drive
OS
Monitor
Samsung Spinpoint F3 1TB
DVD/DW +- RW/ Bluray
W7 64 bit
21.5" e-IPS U2211H
Keyboard
Power
Case
Mouse
Dynex cheapie
Antec TP-550W
Corsair Obsidian 650D
Logitech G500
Mouse Pad
google o.o
View all
hide details
CPU
Motherboard
Graphics
RAM
Intel i7-960 4.3 ghz
Gigabyte GA-EX58-UD4P
AMD HD 6970 2GB GDDR5
2x4GB DDR3 1333 mhz
Hard Drive
Optical Drive
OS
Monitor
Samsung Spinpoint F3 1TB
DVD/DW +- RW/ Bluray
W7 64 bit
21.5" e-IPS U2211H
Keyboard
Power
Case
Mouse
Dynex cheapie
Antec TP-550W
Corsair Obsidian 650D
Logitech G500
Mouse Pad
google o.o
View all
hide details