Just completed my first water cooling loop! Well...almost complete. I have done a majority of the water cooling setup, but I am just waiting for Performance-PC to send me my dang fan controller which at the moment is on back-order!
Additionally, I need to do the sleeving as well but have yet to order it. Seems like everyone is doing a HAF-X build nowadays, might as well toss mine into the mix!
Anyway, I just posting my initial build-log photos for you all to see. Hopefully you all like it! I will post final photos of the build later when i get everything completed. Sorry also for the crappy photos, I have bad lighting conditions. The final photos will be much better.
Quick back story on my build. Built my first rig about six months ago around the holidays. I mainly built my rig for school because I do a lot of AutoCAD, Revit, 3dsMax, and Sketch Up, and doing some of these programs on my old macbook pro (don't hate!) was a little...painful. So I built my first rig in order to help me work faster. Things worked great and everything went fine until...I discovered OCN
. I saw a few water cooling builds here and instantly wanted to do it. Alas, after tons of hours researching water cooling and few months later here I am!
What I'm Cooling:
1 - i7-950
2 - GTX 570
Parts List
1 MCR-320
1 XSPC 120RX
1 Koolance 402X2 Rev1.1 with Serial add-on
2 MCP-355
4 GT AP-15
3 Panaflo
1 EK Supreme HF /Nickel
2 EK GTX580+ Plexi/Nickel
1 EK Sli Parallel connector
White Primochill Tubing 7/16 ID
8 BitsPower 1/2in Barbs
1 Kill Coil
Stage 1: Deconstruction
So I had to start my taking her apart! Felt weird as I removed everything I built not to long ago. As you all can see, Pandora 1.0 was not that pretty on the inside. Nothing was really sleeved and things were a general mess.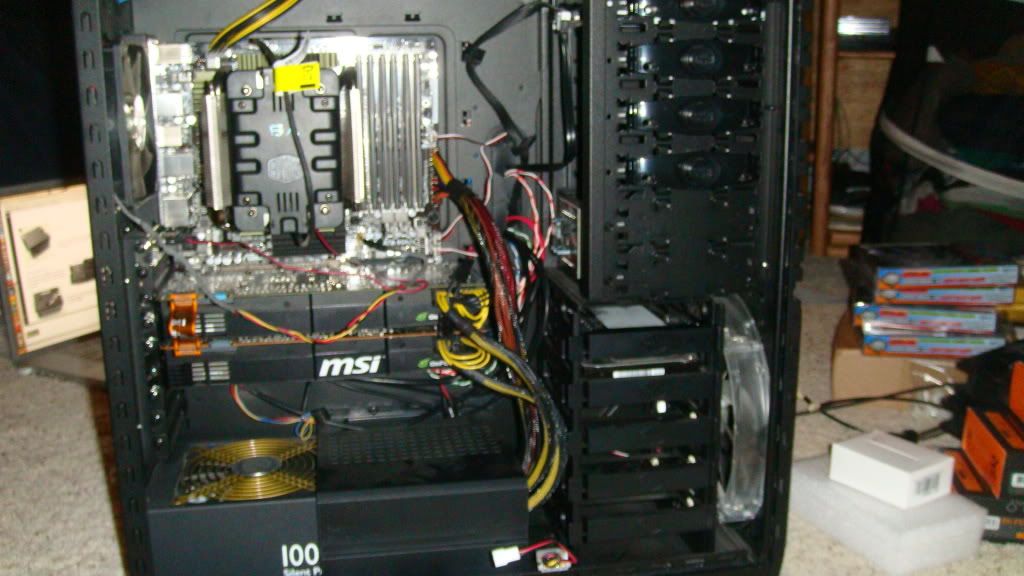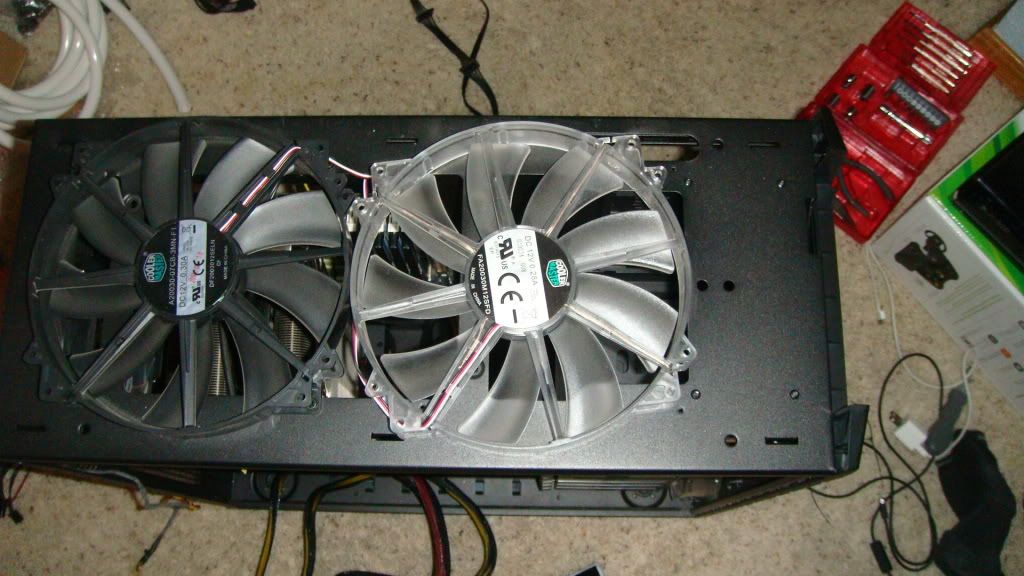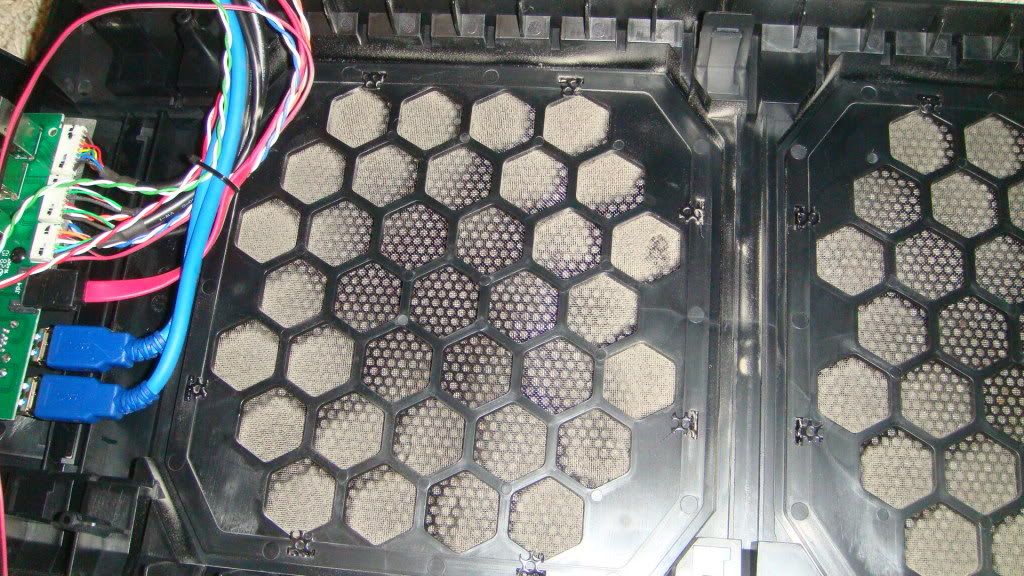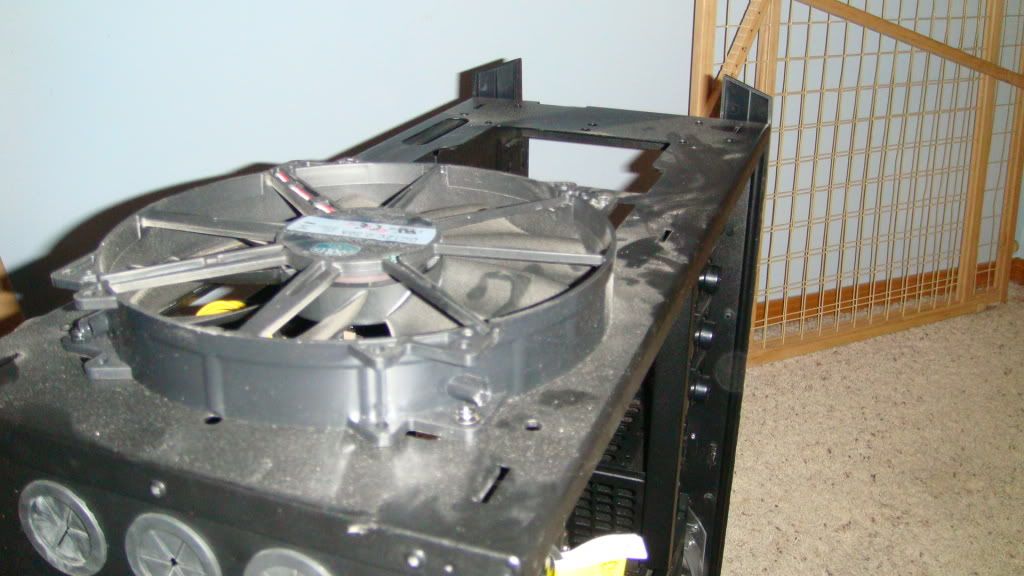 So as you can see, the HAF-X lives up to its name when it comes to airflow. Too bad everything gets super dusty if you don't take care of it. So as you all can imagine before putting any new parts in I had to do a bit of spring cleaning.
Stage 2: Building
The fun stuff! I started with assembling the Koolance res. I must say the res is quite nice and looks great on the HAF-X. Too bad the instructions for it kind of blow. Martin's review for it was a big help though. Cleared up a ton of questions I had, especially when it came to the add-on. So if anyone ever has questions about it I would advise seeing the review.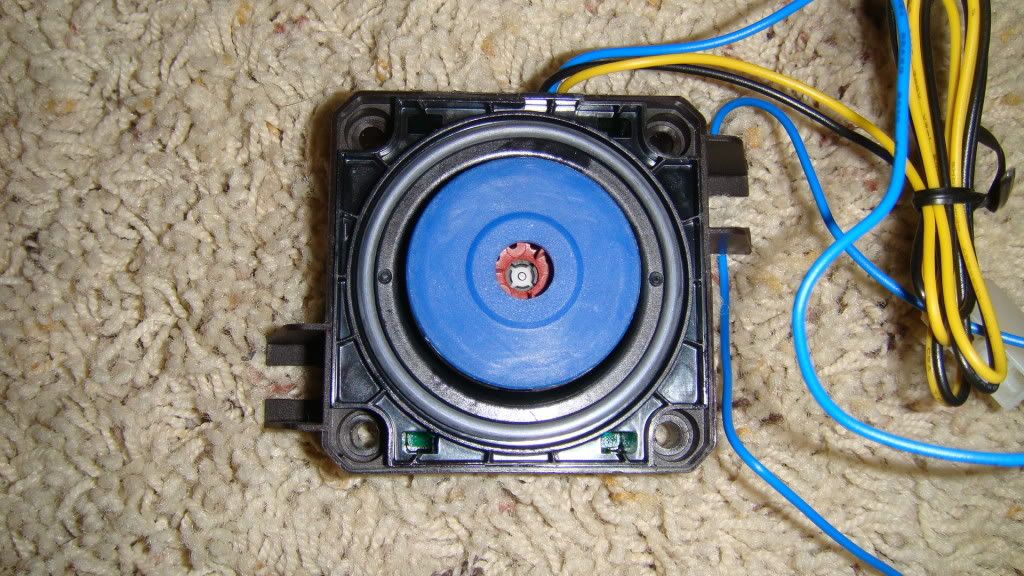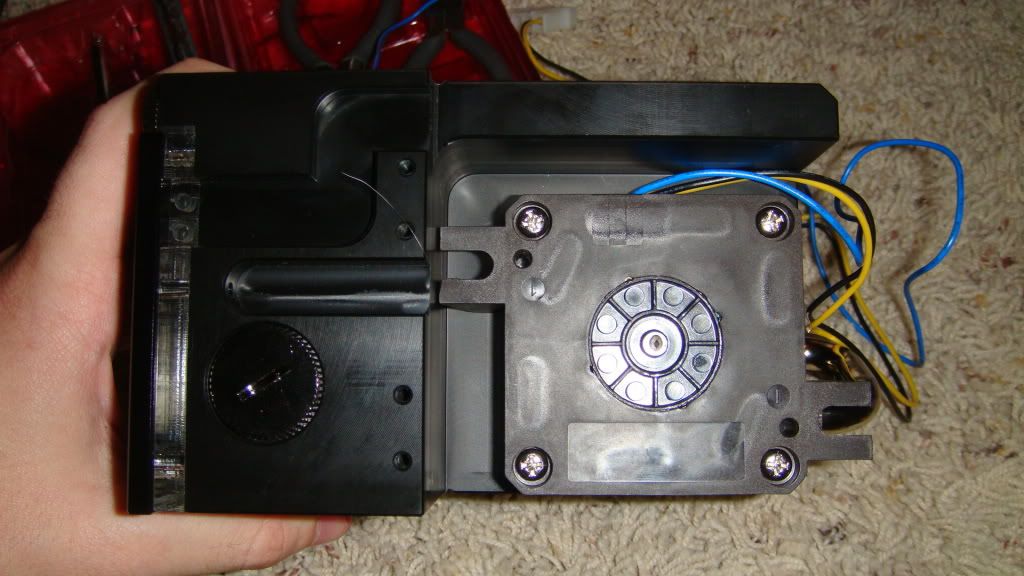 What is nice about the Rev1.1 is that the feet on the MCP-355 no longer need to be cut off.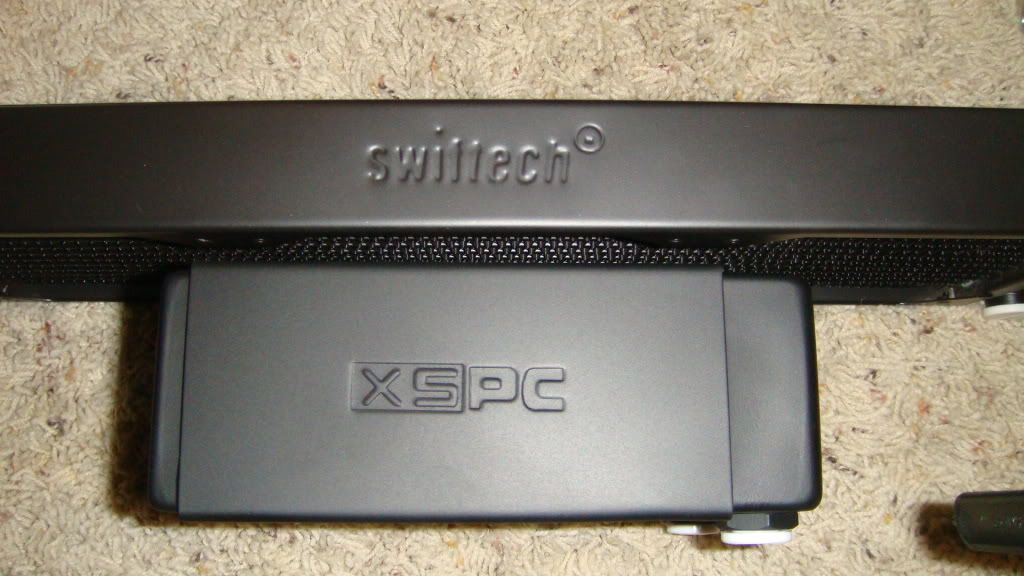 Both are matte black now which is nice.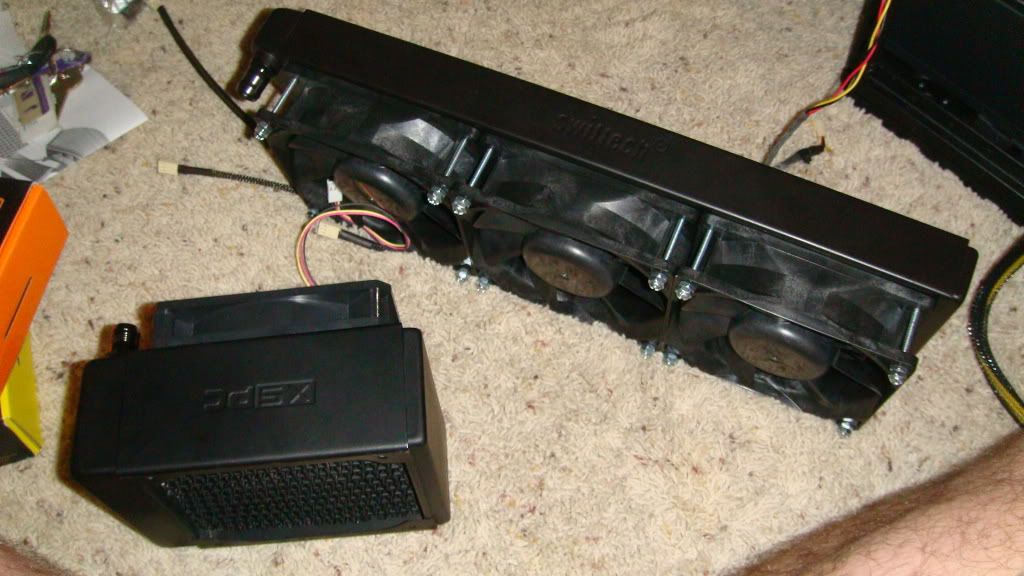 I had three extra fans laying around that 38mm so I decided to put them in push configuration on the MCR-320. Had to make a quick run to Home Depot to get some screws for them. The screws were still a little to big so I used two nuts to make up for the spacing. Not the most uniform look but it seems they fit in aesthetically well.
Mounting the radiator on the top of the HAF-X with the AP-15's on top was a bit of a tricky process for me. I had to work a bit slowly but eventually got it to work out. The biggest challenge was making sure I didn't pierce the radiator with screws.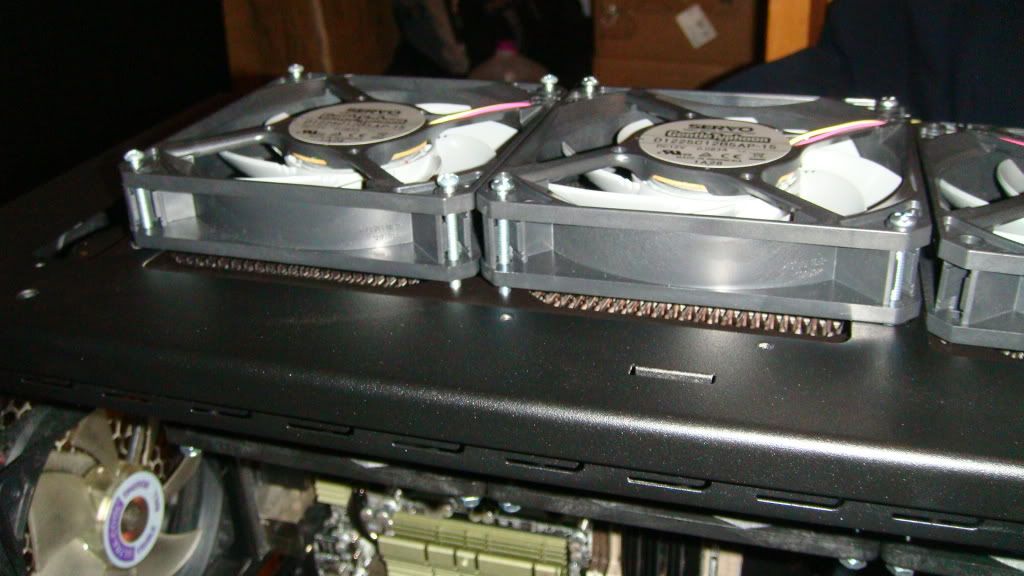 The XSPC 120RX fit perfectly into the bottom of the HAF-X with the power supply. It was nice and snug!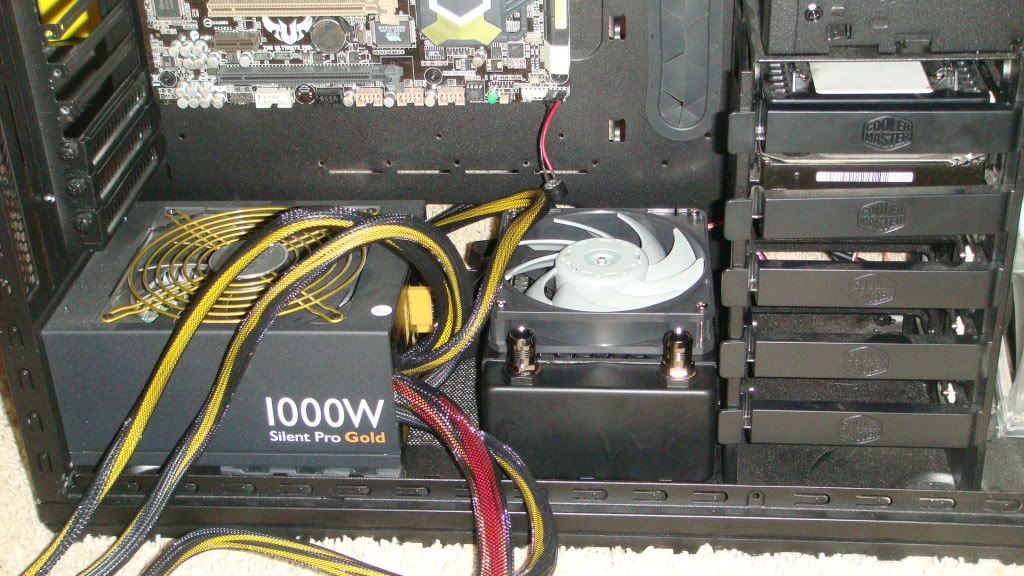 Oh just can't wait to sleeve all that later this month
Mounting the waterblocks on the 570's was the part of this build that I was least looking forward to, just for some reason opening them up made me super nervous. At first was getting really frustrated because I couldn't get the screws off for the life of me! I think I went through 4 different screwdrivers before I found one that worked well. Also the rubber footings the EK has you use on the block have got to go! Those things are plain annoying...
Too bad it says 580 on it...
Second card went considerably faster than the first, and after an evening I got them both connected.
Note I know the barb is connected in the wrong port on top, I fixed it later when I realized this, just didn't update the photos.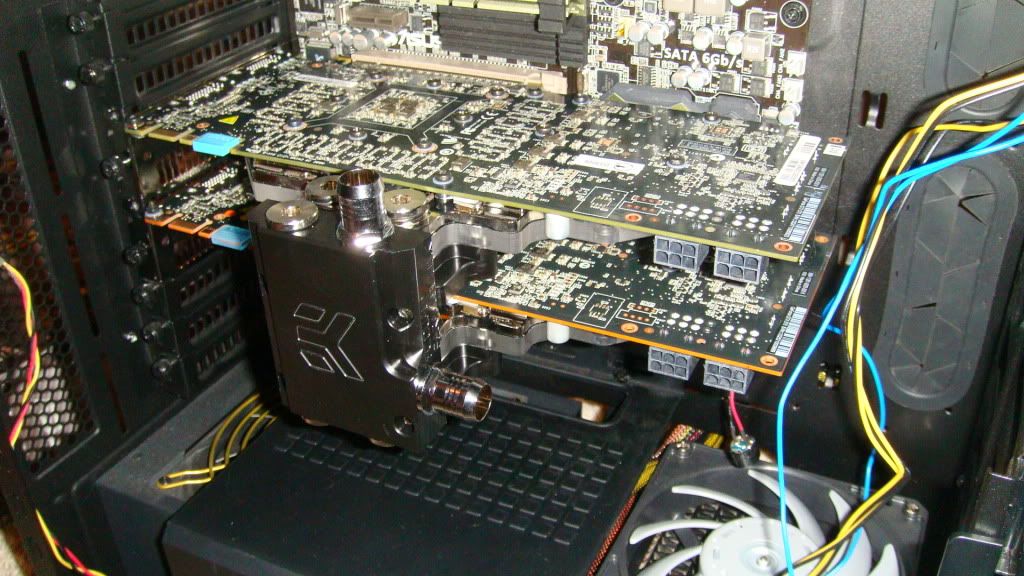 Mounting the CPU block went fairly fast. No real hard work there, just had to clean up the old TIM off and apply some new on. I did almost cause a big problem though. At first I put the springs on the wrong side of the block and started pushing down!
Caught myself before any harm was done and now the block is on nice and snug!
Since I was using 7/16in tubing on 1/2in barbs I decided to put the tubing on the block before I mounted it because I didn't want to apply any excess pressure.
Last thing to mount was the Koolance Res. Decided to put it in the lowest spot so I had to remove the hot spot bays and the quick disconnect panel. Was super easy to remove. Just had to take out four screws.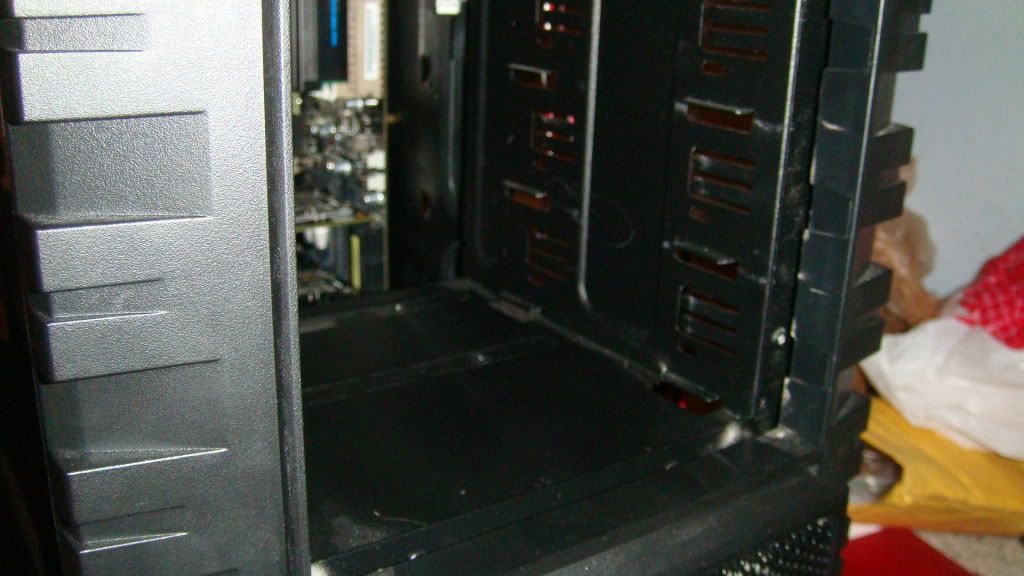 Connection of all the components was the last thing to do. As I said before I'm use 7/16in tubing and 1/2in barbs, and those two do not go together easily. I found that running the tube under hot water for a short period was super effective in getting the tube to slide onto the barbs. Just to for extra precaution I clapped down the tubes as well, these tubes aren't coming off!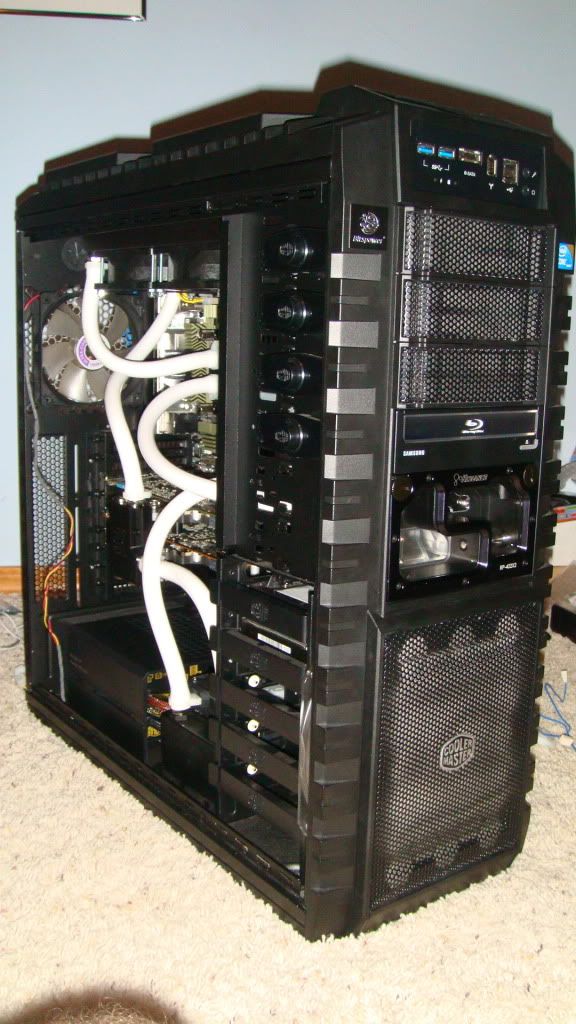 (Yes, I know, the parallel connector is wrong in the place)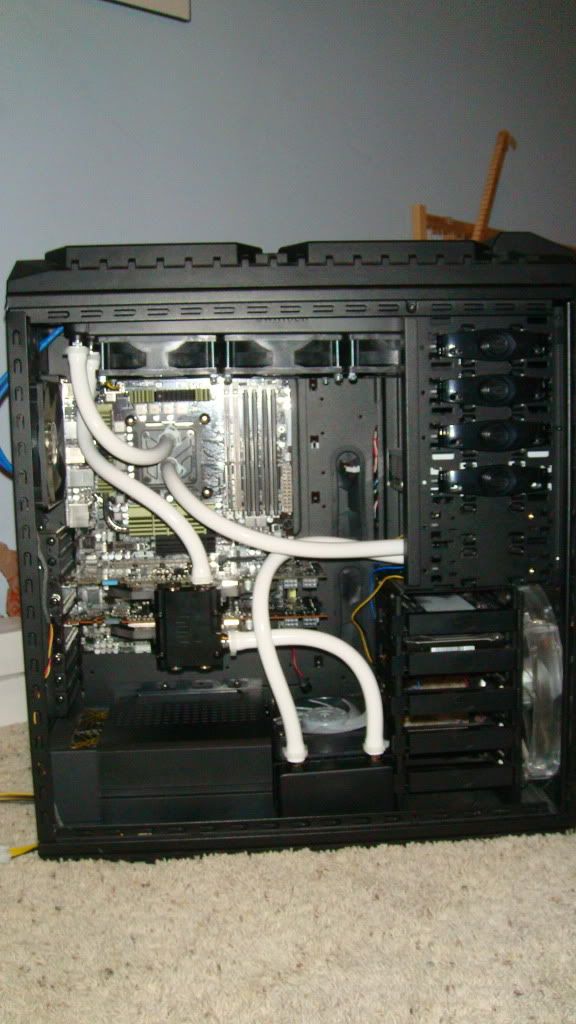 Well thats all for now. The next set of pictures will be better I promise!
The next stage is just finishing her all up and making it look real nice! No more excessive wires. I did happen to to boot up really quick the other day just to see what kind of temps I was initially getting. I did a run of prime 95 and was leveling off around 50C at full load. Also did 3D Mark Vantage real quick because thats all I have a the moment, highest temp I saw on the GPU's was 38C , so I will try to stress it harder next time. Can't wait to get a good overclock going!
Thanks for reading (or just browsing if your like me!
) Post more soon!
CPU
Motherboard
Graphics
RAM
i7 950
ASUS Sabertooth X58
Gigabyte GTX 570 + MSI GTX 570
Sector 7 Viper II 12Gb 1600Mhz DDR3
Hard Drive
Optical Drive
Power
Case
intel 120GB SSD + WD 1TB
Samsung Blu-Ray
1000W Cooler Master
Cooler Master HAFX
View all
hide details
CPU
Motherboard
Graphics
RAM
i7 950
ASUS Sabertooth X58
Gigabyte GTX 570 + MSI GTX 570
Sector 7 Viper II 12Gb 1600Mhz DDR3
Hard Drive
Optical Drive
Power
Case
intel 120GB SSD + WD 1TB
Samsung Blu-Ray
1000W Cooler Master
Cooler Master HAFX
View all
hide details