Project 3 Dollars:
My motherboard has heatsinks for the vrm and northbridge, but no fans. I wanted to get the maximum cooling per dollar spent. With a budget of 3 dollars, this is what I did...
Performance Stabilization Platform: the fans needed a rack to sit on. (I did not want to mount fans directly on the heatsinks, because of the cost buying thermal adhesive and marring/bending the heatsinks when drilling) The rack is composed of a BBQ grilling rack from my local dollar store, and an old silicone bath mat I had laying around (If you look at the third picture you'll see another piece is used as a cover to conceal the wires in my case and direct air flow). The bath mat was added because it reduces (completly removes) vibrations. Also it is non-conductive, heat resistance and free. Btw: the rack doesn't touch my GTS 450 graphics card, it uses the slot just above it, with scrap of bath mat under it to stop vibration. The other end has old window blinds mounting bracket supporting the rack. Cost: $1.
After-After Market Proven Fans: The larger fan is borrowed from my old stock AMD heatsink. Mounted by bend the BBQ grill wires around. The fan second is from my local computer store's junk bin. While not visible in the pictures, the fan on the northbridge heatsink has silicone spacer in its top two mounting holes, that keep it from resting on the Corsair A70 HSF, made from strips of the old silicone bath mat Cost: $2.
The $1 wire BBQ rack + the $2 heatsink the fan was removed from...
Window Blinds Mount:
Wide shot: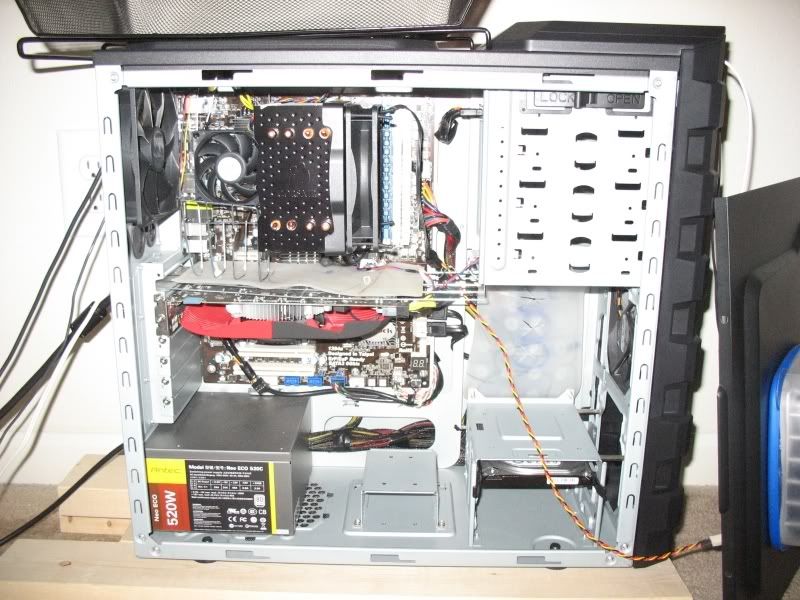 They work really well, my northbridge is cool and the vrm heatsink is like ice. I know vrm cooling is a big thing on the forums so, I handled the best way I know how... Cheaply
Hope someone gets a kick out of my cheapness,
Jyk
BtW: If you are wondering what the thing is on the side of my HAF 912 case, check out my
Cat Proofing the HAF 912: El Cheapo Edition
, post.
CPU
Motherboard
Graphics
RAM
Phenom II 555 BE 3.8ghz
ASRock 870 Extreme 3
MSI N450GTS-M2D1GD5/OC
G Skill 4 GB DDR3-1333
Hard Drive
Monitor
Power
Case
Seagate 500 GB, 7200
Compaq WF1907 [19" LCD]
antec neo eco 520c
Cooler Master HAF 912
View all
hide details
CPU
Motherboard
Graphics
RAM
Phenom II 555 BE 3.8ghz
ASRock 870 Extreme 3
MSI N450GTS-M2D1GD5/OC
G Skill 4 GB DDR3-1333
Hard Drive
Monitor
Power
Case
Seagate 500 GB, 7200
Compaq WF1907 [19" LCD]
antec neo eco 520c
Cooler Master HAF 912
View all
hide details