I've been lurking around and have posted a few threads but never made an intro to show everyone my PC. I'm known as SHMaRiM on just about every other forum I use so I'm sticking with that on here aswell.
This is my first self-built PC and I'm very delighted with my results. This thing can do anything I throw at it without slowing down one bit.
Here are a few pictures and specs are in my signature.
I need to get the Lian Li CD drive cover so that my slighty greyish (supposed to be black) CD drive doesn't kill the entire look of the PC. I'll get it sooner or later, not really a priority at this point though.
(1)Kamaflex 140mm and (3) s-flex 120mm fans installed in the case...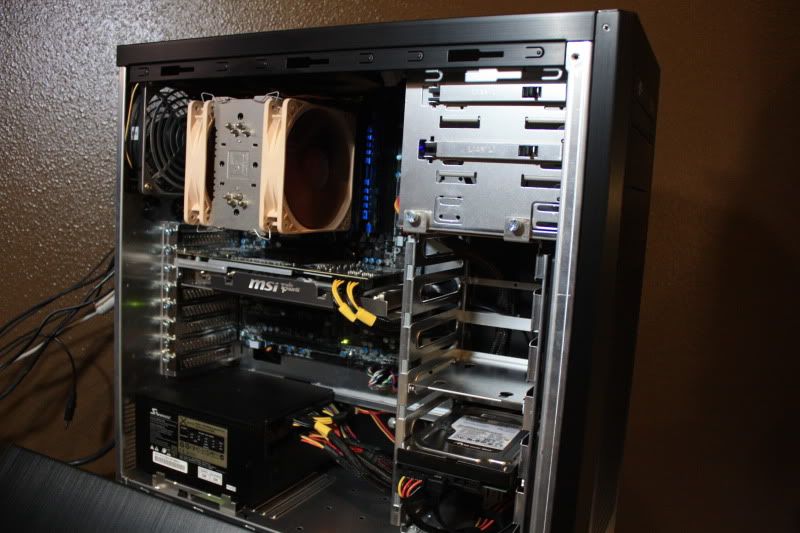 Edited by SHMaRiM - 5/29/11 at 12:01am
CPU
Motherboard
Graphics
RAM
i7-2600k
Gigabyte GA-P67A-UD5-B3
ATI Radeon HD 6950
G.Skill 8gb 1600 Cas8
Hard Drive
Optical Drive
OS
Monitor
WD Caviar Black 500gb
Sony Optiarc CD/DVD Burner & Sony Bluray Drive
Windows 7 x64
Undecided
Keyboard
Power
Case
Mouse
Logitech Wired Illuminated
Seasonic X Series 650w
Lian Li PC-9F Black
Logitech G9x Lazer Mouse
View all
hide details
CPU
Motherboard
Graphics
RAM
i7-2600k
Gigabyte GA-P67A-UD5-B3
ATI Radeon HD 6950
G.Skill 8gb 1600 Cas8
Hard Drive
Optical Drive
OS
Monitor
WD Caviar Black 500gb
Sony Optiarc CD/DVD Burner & Sony Bluray Drive
Windows 7 x64
Undecided
Keyboard
Power
Case
Mouse
Logitech Wired Illuminated
Seasonic X Series 650w
Lian Li PC-9F Black
Logitech G9x Lazer Mouse
View all
hide details