I'm looking at putting together a watercooling loop for my CPU+GPU in a CM 690II with a portion of my college graduation money, and being a complete newcomer to this I thought I'd get some input on the bits I've picked out. Thought it'd be wise from a price point of view to begin with the RS240 kit and add an RX240 radiator in the bottom of the case. I'd go with the pair of RX240s, but only the slimmer RS rad will fit in the top. Anyway, the list.
XSPC Rasa 750 RS240 CPU watercooling kit - 129.95
XSPC RX240 - Dual 120mm high performance radiator - 66.95
XSPC Razor 6970 - 84.95
Dangerden FB (Fat Boy) G 1/4 Fittings - 1/2" Barb (x4) - 10.00
10 feet of PrimoFlex Pro LRT White Tubing - 7/16in. ID X 5/8in. OD - 16.00
Plastic Tubing Clamps - Black - 4.00
Yate Loon D12SM-12 Medium Speed (x2) - 7.20
Scythe Kaze Master KM01-BK Fan Controller - 26.99
Total - 346.04
From what I've read the pump in the XSPC kit can easily handle the Rasa block plus a single GPU block (and even multiple low-restriction blocks like the Razor, so I should be fine if I want to XFire).
Also, how much tubing should I get? The RS240 kit comes with 2m (6 feet) of clear cheap tubing, will 10 feet of the higher quality Primochill be way overkill? The loop is planned out to minimize tubing lengths, of course.
Might there be any issues with the setup I have laid out?
Here's the loop diagram. Order is Res/Pump>CPU>RS240>GPU>RX240>Res/Pump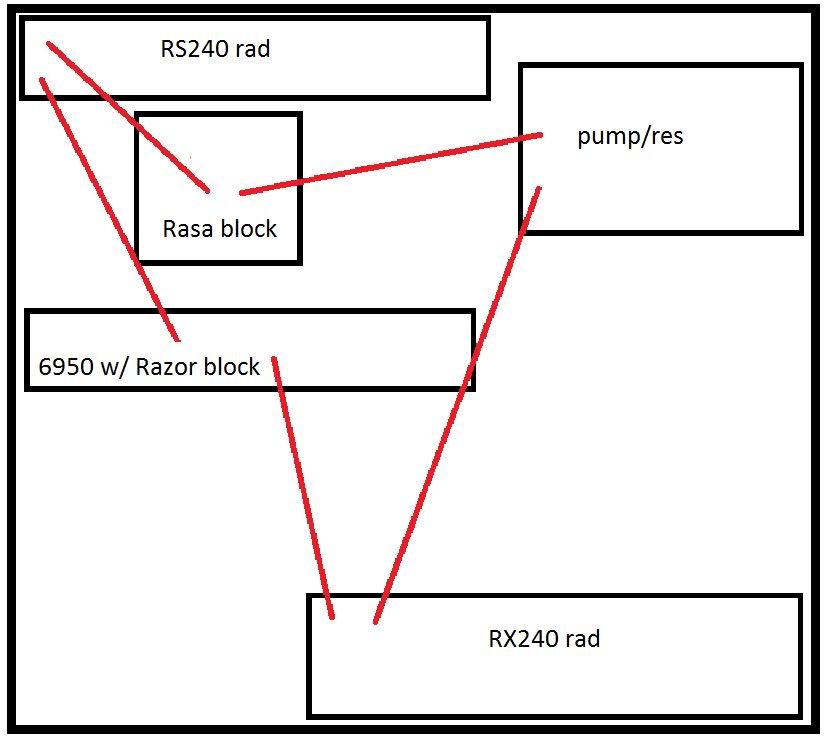 CPU
Motherboard
Graphics
RAM
Phenom II x4 955 @ Stock
ASUS M4A79XTD EVO 790X
Ref Sapphire 6950 2GB 900|1400|Shader Unlock
G Skill Sniper 2x4GB 1600MHz Low Voltage
Hard Drive
Optical Drive
OS
Monitor
Crucial M4 64GB + Samsung Spinpoint F3 500GB
LG GH24NS50
Windows 7 Ultimate
ASUS VH238H 1920x1080
Power
Case
Cougar CMX 700
Cooler Master 690 II Advanced
View all
hide details
CPU
Motherboard
Graphics
RAM
Phenom II x4 955 @ Stock
ASUS M4A79XTD EVO 790X
Ref Sapphire 6950 2GB 900|1400|Shader Unlock
G Skill Sniper 2x4GB 1600MHz Low Voltage
Hard Drive
Optical Drive
OS
Monitor
Crucial M4 64GB + Samsung Spinpoint F3 500GB
LG GH24NS50
Windows 7 Ultimate
ASUS VH238H 1920x1080
Power
Case
Cougar CMX 700
Cooler Master 690 II Advanced
View all
hide details