My motherboard MSI 870-G45
http://www.msi.com/product/mb/870-G45.html#?div=Detail
shows that I have 2 PCIE 2.0 slots (x16 x4).
But when i Crossfire 5770s in this board. The second card does not show PCIE 2.0 as shown in the picture.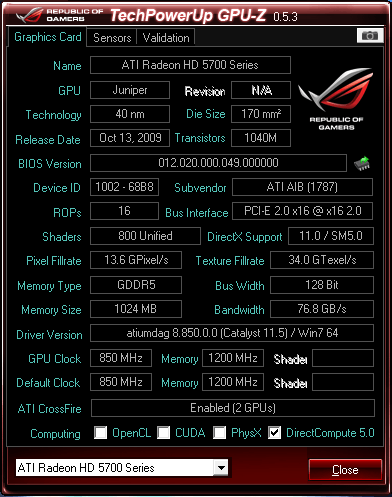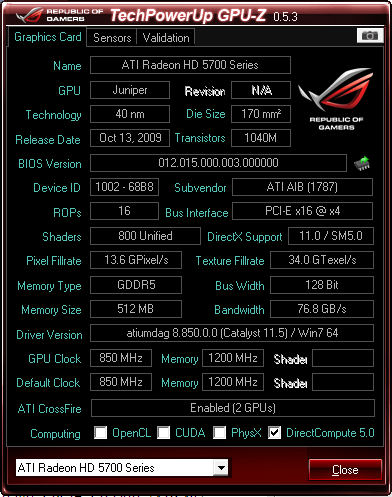 I have run Crysis benchmarks and I have taken the average fps:
resolution:
1440x900
single 5770 1gb pciex16
32.855
single 5770 512mb pciex16
32.715

5770 1gb pciex4
17.1175
5770 crossfire
39.18
5770 cf disabled(1gb on the x16slot)
28.86
So the question is:
1.) Is my PCIE slot x4 not PCIE 2.0 even if MSI tells it is 2.0?
2.) Does crossfiring these cards really help because in my experience, I cannot really tell that I am benefiting in my crossfire?
3.) Assuming that my second PCIE slot (x4) is not pcie 2.0 , do you think this is the cause why I cannot see an increase in performance?
I'll appreciate all the replies as it can really help me address my problems.
CPU
Motherboard
Graphics
RAM
AMD Athlon II X2 250 OC (3.7GHz)
MSI 870-G45
Sapphire Radeon HD 6950 1gb
4.00 GB DDR3 (1333MHz)
Hard Drive
OS
Monitor
Power
Western Digital Caviar Blue 500Gb
Windows 7 64-bit Home Premium
17" Samsung SyncMaster 733NW 1440x900
Thermaltake TR2 900AP 900W
Case
Antec Three Hundred
View all
hide details
CPU
Motherboard
Graphics
RAM
AMD Athlon II X2 250 OC (3.7GHz)
MSI 870-G45
Sapphire Radeon HD 6950 1gb
4.00 GB DDR3 (1333MHz)
Hard Drive
OS
Monitor
Power
Western Digital Caviar Blue 500Gb
Windows 7 64-bit Home Premium
17" Samsung SyncMaster 733NW 1440x900
Thermaltake TR2 900AP 900W
Case
Antec Three Hundred
View all
hide details