Hey everyone, i hope i have posted this is the right place but let me get started.
So... My Gainward 8800GT 1024MB GDDR3 Graphics card might be on its way out, i have had it roughly for around 2 years, i know that the typical lifespan the 7800-9800 series is 2-3 years. But i just cant believe it yet.. it dosent feel dead to me, it all started last night, for 2 years my 8800GT has been.. well just amazing, it can play games with such a high FPS that people with GTX480s cant even achieve, i know that it sounds stupid, but ive made many youtube videos of my 8800 getting 40fps in crysis everyone on max even AA while recording with fraps, Im guessing i got really lucky with this card?
The other specs of my PC are perfect, theres nothing wrong with anything but the graphics card, the problem is when attempting to play ANY game, the monitor turns off [still has power but no display]
Its runs everything apart from games and youtube, Its really quite confusing, because i knew that the 8800 would die eventually, but it still shows life, and its not like im playing demanding games, ive been playing alot of minecraft and driftcity recently, and they are NOT graphicly demanding games.
Before you ask my temps are FINE, there perfect, idle at 35, lode at 55-60, they are perfect temps, it dosnt make alot of sound, its dust proof [i clean my PC every week] so i really dont understand what is happening.
I have the LATEST drivers for EVERYTHING, ive even tried rolling back and the new 275 beta drivers.
I did a system restore back to the 27th of may [today being the 30th] and it played a game, driftcity for more then 2 hours straight, but then it happened again.. no display to the monitor [and no its not the monitor ive tried 3 different monitors and even a television] when the monitor stops displaying anything, the PC is still on, everything is still functional, i can even shut down the PC via the keyboard...
I am really confused about this, i can accept the fact its dead, but it dosnt feel dead!
Any advice or help would be much appreciated.
Thank you for your time.
8800GT in GPU-Z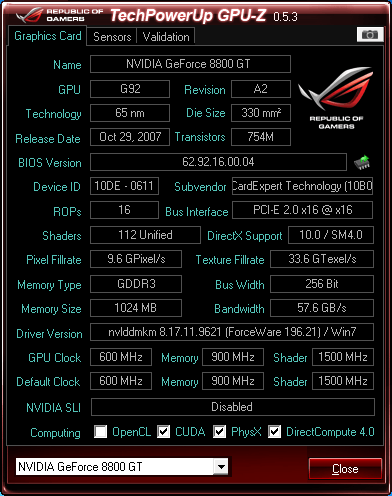 8800GT Sensors in GPU-Z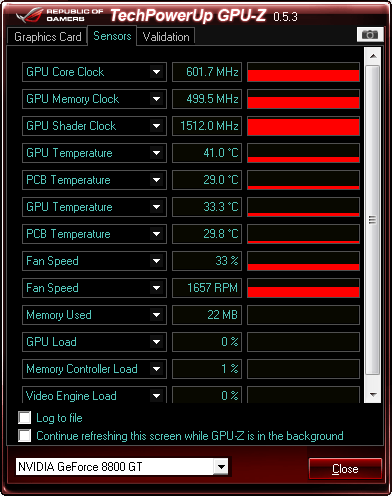 Edited by Krullexneo - 5/30/11 at 2:12pm