Quote:
http://www.anandtech.com/show/4378/i...nfigurable-tdp
With Haswell Intel already committed to dropping notebook TDPs from 35 - 45W down to the 10 - 20W range: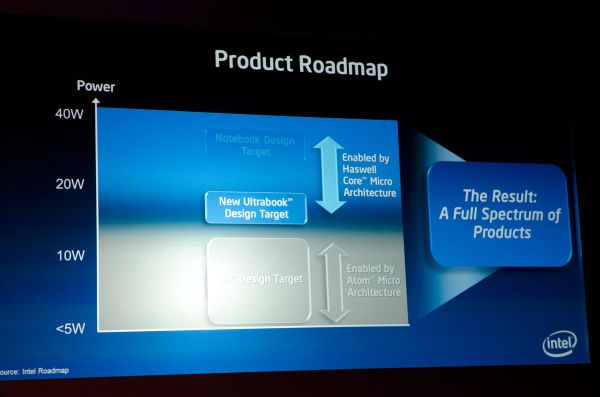 As a result you get thinner notebooks, but you do sacrifice peak performance. Intel doesn't want to make that tradeoff, so Ivy Bridge will be the first Intel CPU to introduce configurable TDP.

Ivy Bridge turbo won't just run up to the hard limits of your TDP, but it'll be able to exceed that TDP significantly (Intel wouldn't comment on the exact numbers) until the CPU gets too hot. You can imagine a 15W TDP part that could turbo up to 35W TDP for a matter of seconds to make your system feel ultra snappy without requiring a thicker notebook.

The ultra configurable TDP will also have support for a docked mode. So if you take your Ivy Bridge notebook, stick it on a docking station with better cooling you'll be able to exceed the system's TDP consistently. Now your 15W TDP part works like a 35W TDP part because you've given it more cooling.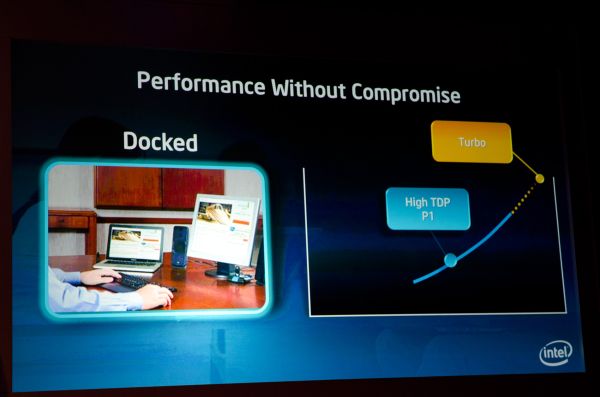 Configurable TDP will start with Ivy Bridge, but it'll be absolutely necessary (and likely much better) with Haswell. Look at what Turbo did from Nehalem to Lynnfield and I'm guessing we'll see the same sort of transition with Ivy Bridge to Haswell.
Combined with recent news of:
Bumping up the TDP when docked sounds like a great way to finally kill off desktop PCs for the mainstream non-hardcore gamers.
Edited by PoopaScoopa - 5/31/11 at 3:34pm