So until I learn more about OC'ing I wanted to do a moderate increase without risking too much, so I set my Vcore to 1.35 and the multiplier to 45 and I ran IBT a couple times. This is the result: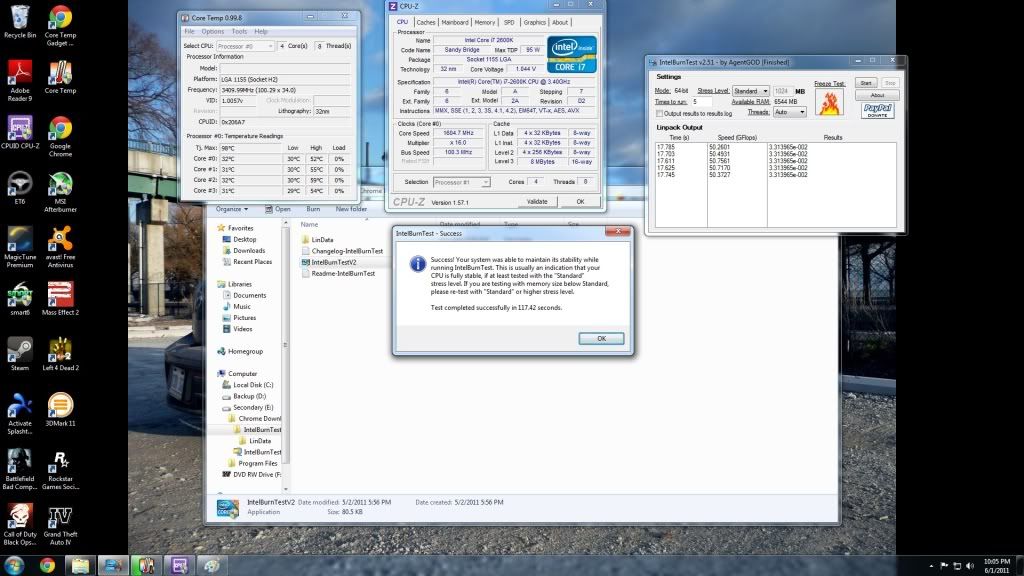 My question is: Is there anything else I should do to determine stability? I heard running prime95 might be a good idea. I saw that my temps never went above 59C which is respectable IIRC. I'm not looking to push the boundaries of what is possible atm, but I do want to see some moderate OC benefits.
What else should I do? Or am I set til I want to go higher?
Oh my CPU Cooler is a Venomous X RT(Sig Rig) with the single standard fan equipped.
CPU
Motherboard
Graphics
RAM
i7 2600k @ 4.4ghz
GIGABYTE GA-Z68X-UD4-B3
GTX 580 Lightning/EVGA GTX 580 SLI
GSKILL DDR3 1600mhz 2x4gb
Hard Drive
Optical Drive
OS
Monitor
Boot: Intel 320 120g SSD Storage:Spinpoint F3 1TB
Asus DVDRW
Windows 7 home 64-bit
Samsung BX2350 23" LED LCD
Keyboard
Power
Case
Mouse
G15
OCZ ZX1000W
Antec DF-85
G5
Mouse Pad
Rocketfish
View all
hide details
CPU
Motherboard
Graphics
RAM
i7 2600k @ 4.4ghz
GIGABYTE GA-Z68X-UD4-B3
GTX 580 Lightning/EVGA GTX 580 SLI
GSKILL DDR3 1600mhz 2x4gb
Hard Drive
Optical Drive
OS
Monitor
Boot: Intel 320 120g SSD Storage:Spinpoint F3 1TB
Asus DVDRW
Windows 7 home 64-bit
Samsung BX2350 23" LED LCD
Keyboard
Power
Case
Mouse
G15
OCZ ZX1000W
Antec DF-85
G5
Mouse Pad
Rocketfish
View all
hide details