Hi fellow overclockers.
I just recently joined this community, which means today however did lurked around alot to gather some informations regarding overclocking specifically for my setup.
I have been trying to find the stability on my cpu but without any luck so far. I did some various test increasing vcore and VTT mainly but with no stability so far. I have written down the tests I've made with different voltage.
One problem I noticed during the increment of the Vcore was that when I put it at 1.37500V (bios voltage) and ran LinX it would start making static noise at 4 min mark coming from the cpu however I do believe it would go away shortly but did not go further and stopped the test.
Hope there is some one out there who might be able to help me out reaching stability at 4.0GHz if possible at all with my CHIP which I believe is not that good :S
The last test (TEST 8 on 01-06-11) my temperature was reaching 78 degree which I find it to be very high or is it normal for my NH-D14?
EDIT:
TURBO BOOST [DISABLED]
C1E [DISABLED]
C3/C6 State Support [ENABLED]
CPU EIST Function [DISABLED]
Multiplier: 20
BCLK: 200
Memory Multiplier: 8
Memory Frequency: 1600MHz
31-05-11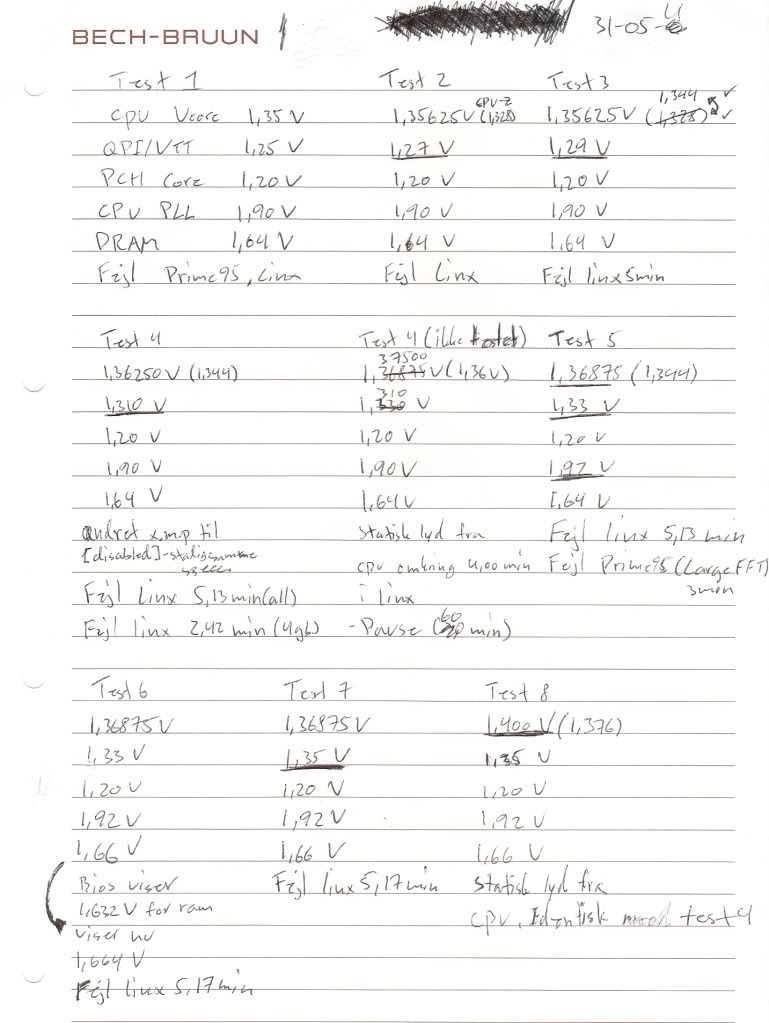 01-06-11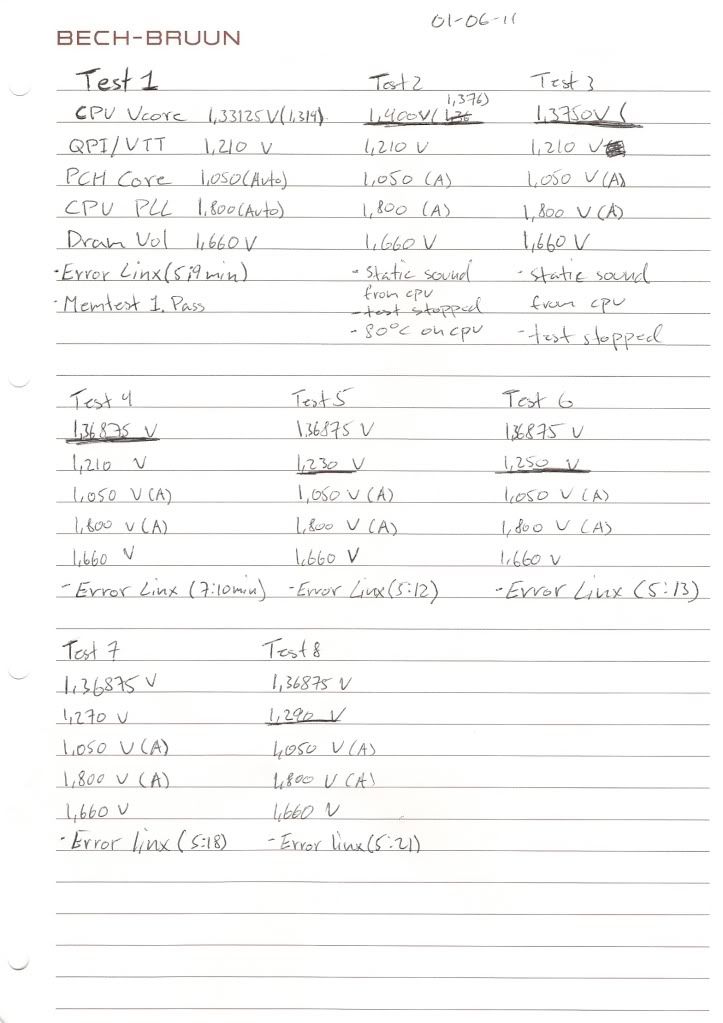 Edited by yellowbeast - 6/2/11 at 9:06am
CPU
Motherboard
Graphics
RAM
i5 750 @ 3.8GHz ~1,312v
Gigabyte P55A-UD3 rev.1
HD 5850 Premium
8GB Corsair xms3 1600 CL9
Hard Drive
OS
Monitor
Keyboard
Vertex 3 120GB, HD103UJ(1TB), HD501LJ(500GB)
Windows 7 64bit
BENQ G24HDBL
Zowie Celeritas
Power
Case
Mouse
Mouse Pad
Corsair HX650W
Antec Performance P180
Razer Deathadder
Steelseries QCK
View all
hide details
CPU
Motherboard
Graphics
RAM
i5 750 @ 3.8GHz ~1,312v
Gigabyte P55A-UD3 rev.1
HD 5850 Premium
8GB Corsair xms3 1600 CL9
Hard Drive
OS
Monitor
Keyboard
Vertex 3 120GB, HD103UJ(1TB), HD501LJ(500GB)
Windows 7 64bit
BENQ G24HDBL
Zowie Celeritas
Power
Case
Mouse
Mouse Pad
Corsair HX650W
Antec Performance P180
Razer Deathadder
Steelseries QCK
View all
hide details