Hi guys,
I just managed to get a chance to test the new FAH client v7.1.24. I am not too sure if I have run my GPU folding correctly.
Can I get your help to see if everything looks OK here? (PPD-wise, GPU utilization, TPF, etc). All GPU slots are set to receive "client-type=advanced".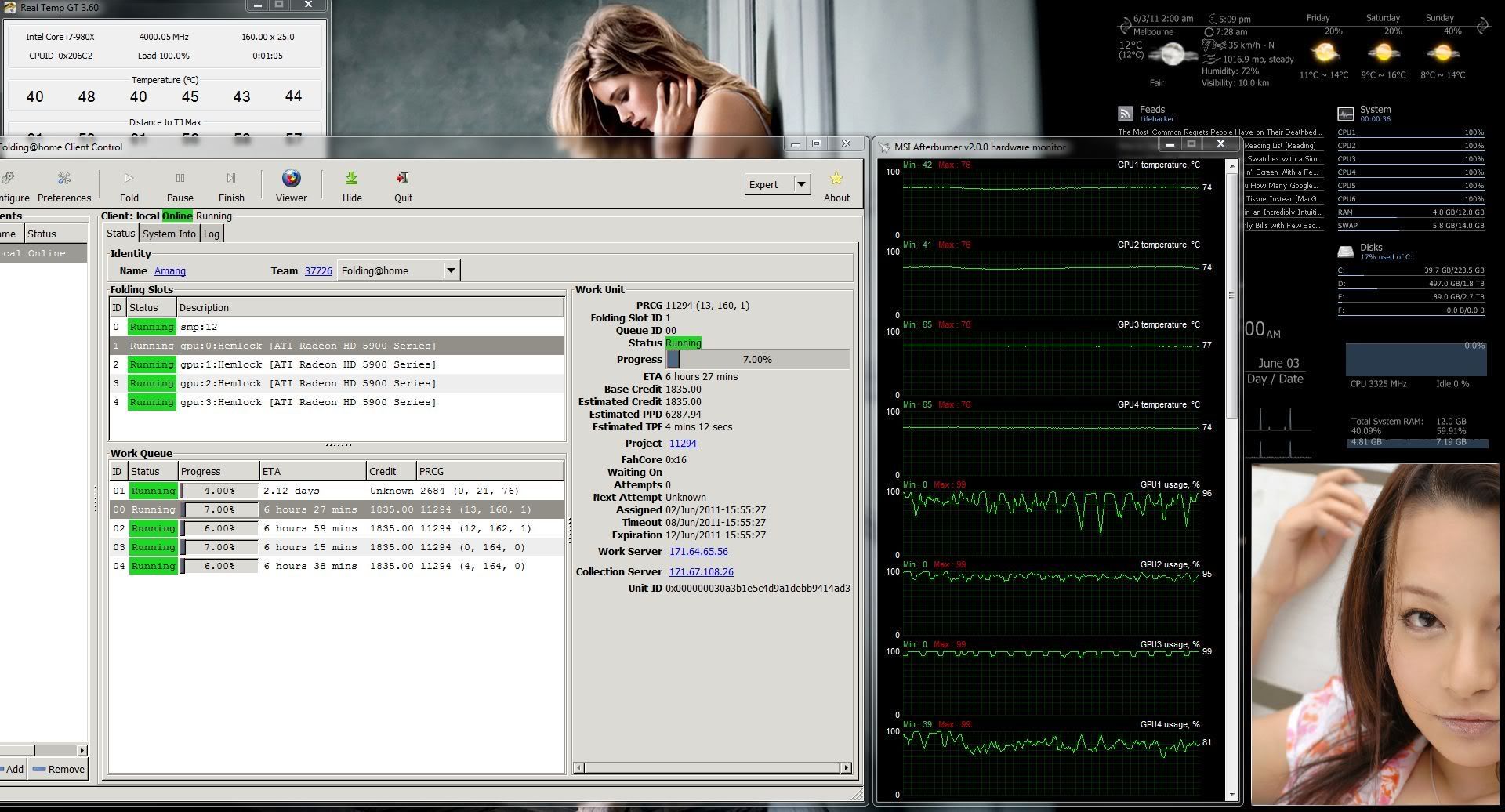 Thanks for your help in advance.
CPU
Motherboard
Graphics
RAM
Intel Core i7-7700K Kaby Lake 5.1GHz
ASUS ROG Strix Z270G Gaming
Nvidia GTX Titan X Pascal
Corsair Dominator Platinum 16GB
Hard Drive
Cooling
OS
Monitor
960 PRO NVMe M.2 SSD (512GB)
NZXT Kraken X31
Windows 10 Enterprise
Sony X800D 49"
Monitor
Keyboard
Power
Case
Acer Predator X34 34"
Corsair Vengeance K70
Corsair AX1200
Corsair Carbide Air 240 White
Mouse
Other
Corsair Vengeance M65
AudioEngine A5+ Black Speakers
View all
hide details
CPU
Motherboard
Graphics
RAM
Intel Core i7-7700K Kaby Lake 5.1GHz
ASUS ROG Strix Z270G Gaming
Nvidia GTX Titan X Pascal
Corsair Dominator Platinum 16GB
Hard Drive
Cooling
OS
Monitor
960 PRO NVMe M.2 SSD (512GB)
NZXT Kraken X31
Windows 10 Enterprise
Sony X800D 49"
Monitor
Keyboard
Power
Case
Acer Predator X34 34"
Corsair Vengeance K70
Corsair AX1200
Corsair Carbide Air 240 White
Mouse
Other
Corsair Vengeance M65
AudioEngine A5+ Black Speakers
View all
hide details