Due to case mod, I have limited space in my case where my wires run. This limits what kind of radiator cooler I can use. Currently the clearance is 1 and 3/4 from the top of the usb ports, to the top of the fan, and 3/4 between the motherboard tray and the edge of the fan to squeeze wires through: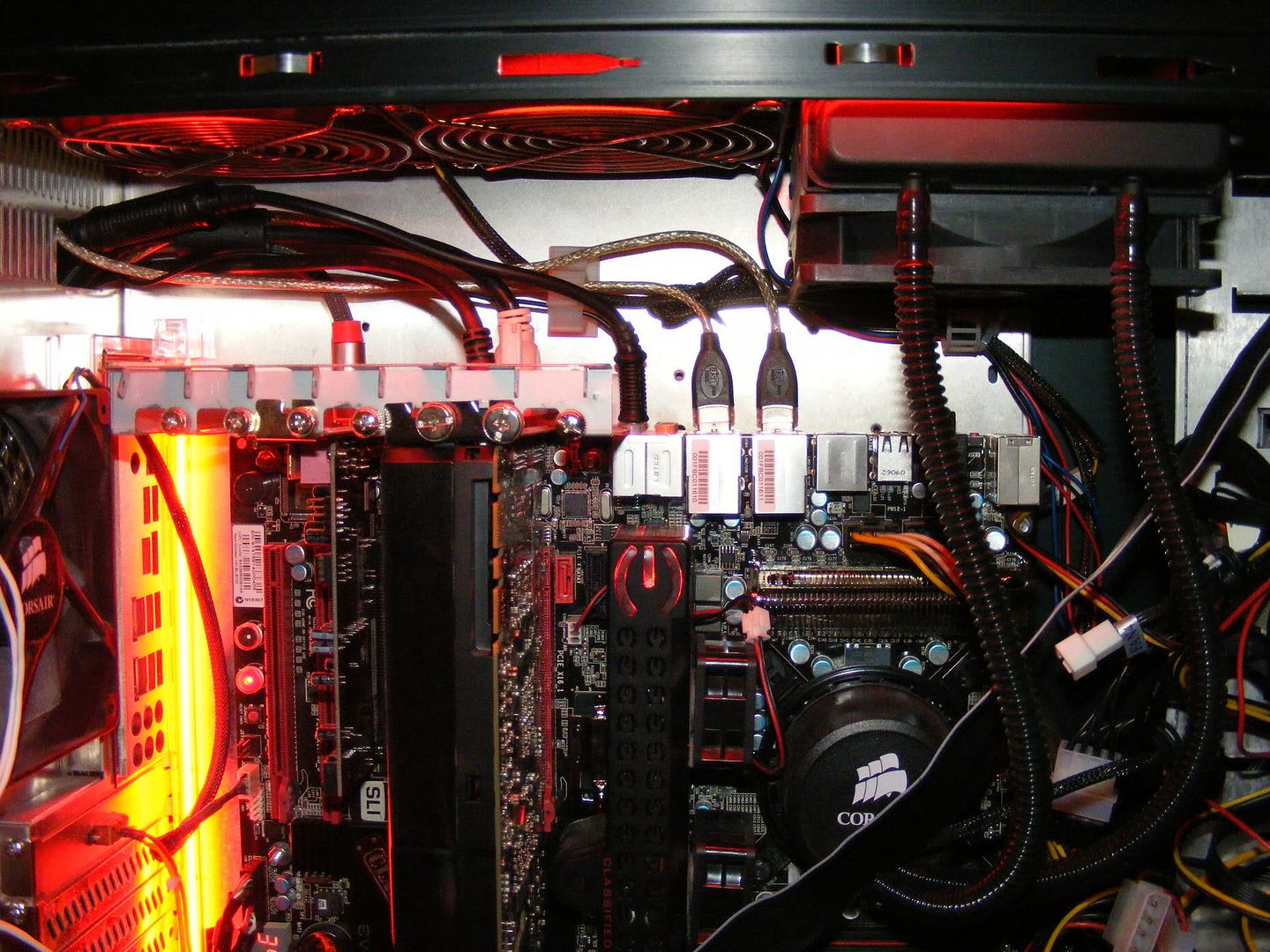 I will be staying with i7 9xx series for a long time (will be looking for 12 thread cpu in the future) . Currently the H50 will not allow me go push the 920 OC as far as I want to go (not enough OC for multi gpu gaming or folding on three monitors with HT on). Thus I'm just wondering those who's had 240 rads before, and experienced h2o coolers, will I be able to install the H100 or C240 ALC for the two right fan slots (like the h50 is now) in a push pull config, while maintain enough clearance for the extra wires required to run through? I'd appreciate the suggestions.
Note: when I originally designed the mod, though I had h2o cooling in the far backs of my mind, it was my intention to stay with air coolers. Therefore wire/radiator clearance was not in my considerations.
CPU
Motherboard
Graphics
RAM
i7 920 Doh
eVGA 759 Classy
Gigabyte GTX 470
6 gb Mushkin Blackline
Hard Drive
Optical Drive
OS
Monitor
80gb SSD, 2x640 Black, 2x1TB Green, 640 Green
Samsung DVD-RW
W7 64bit
1920x1200 Asus 25.5 incher
Keyboard
Power
Case
Mouse
Realforce 86ub + HHKbp2
Silverstone Zeus 850W
Ravenfish
Rayzor Naga | Sseries Xai
Mouse Pad
Rayzor Sphex | PT Talent
View all
hide details
CPU
Motherboard
Graphics
RAM
i7 920 Doh
eVGA 759 Classy
Gigabyte GTX 470
6 gb Mushkin Blackline
Hard Drive
Optical Drive
OS
Monitor
80gb SSD, 2x640 Black, 2x1TB Green, 640 Green
Samsung DVD-RW
W7 64bit
1920x1200 Asus 25.5 incher
Keyboard
Power
Case
Mouse
Realforce 86ub + HHKbp2
Silverstone Zeus 850W
Ravenfish
Rayzor Naga | Sseries Xai
Mouse Pad
Rayzor Sphex | PT Talent
View all
hide details