Quote:
Originally Posted by dota-two.com
Another unexpected DOTA 2 sneak peek! A lot of new information and a confirmation that DOTA 2 Beta is live for some time now!
June 6, 2011
An article posted today pointed out the findings of a particular user after searching for DOTA 2 news at Valve's SteamPowered games website.

The news have been removed now, but the screenshot below shows what appears to be DOTA 2 changelogs: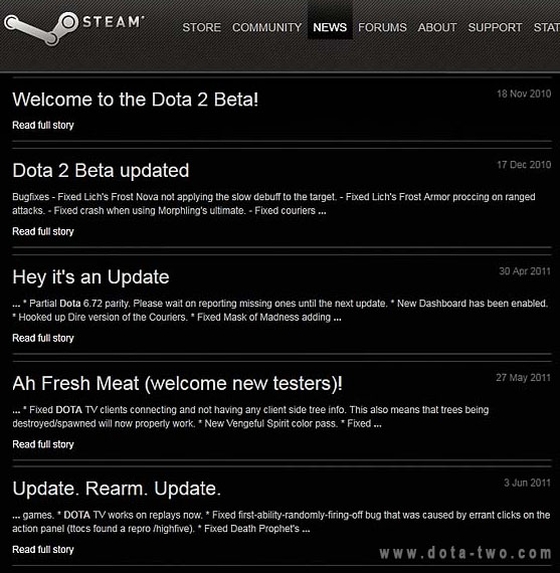 Source
It appears to be legit but because its a leak I'm posting in the Rumors forum. For those of you that don't know, DotA 2 is being made by Valve and is the sequel to the popular Warcraft III custom map DotA (Defense of the Ancients). IceFrog, who maintained the first game is also developing Dota 2. Click the source link for much more info!
CPU
Motherboard
Graphics
RAM
Intel C2D E6600 B2
EVGA 680i A1
Evga 8800GT
OCZ 4GB DDR2 800
Hard Drive
Optical Drive
OS
Monitor
WD Caviar Black 600 GB
NEC DVD-RW
Windows 7 Pro 64-bit
BenQ V2400W 24" widescreen
Keyboard
Power
Case
Mouse
Random Logitech
OCZ GameXStream 700 Watt
Antec P182
Logitech G700
Mouse Pad
Razer Destructor
View all
hide details
CPU
Motherboard
Graphics
RAM
Intel C2D E6600 B2
EVGA 680i A1
Evga 8800GT
OCZ 4GB DDR2 800
Hard Drive
Optical Drive
OS
Monitor
WD Caviar Black 600 GB
NEC DVD-RW
Windows 7 Pro 64-bit
BenQ V2400W 24" widescreen
Keyboard
Power
Case
Mouse
Random Logitech
OCZ GameXStream 700 Watt
Antec P182
Logitech G700
Mouse Pad
Razer Destructor
View all
hide details