Hey guys, I did some googling one day, to come across this program:
http://www.coderforlife.com/projects/win7boot/
It's called the Windows 7 Boot Updater. IT COMPLETELY WORKS.
there are no full themes for it yet, but you can customize the boot screen fully!!! What I did with mine was remove the text during boot so that it only shows the windows logo and four dots showing up out of nowhere. I LOVE THIS. You can even set your own still picture, or if you want, get either a .GIF or a bunch of numbered .PNG files into one folder and you have yourself an animation!
Here are some snaps:
Original boot screen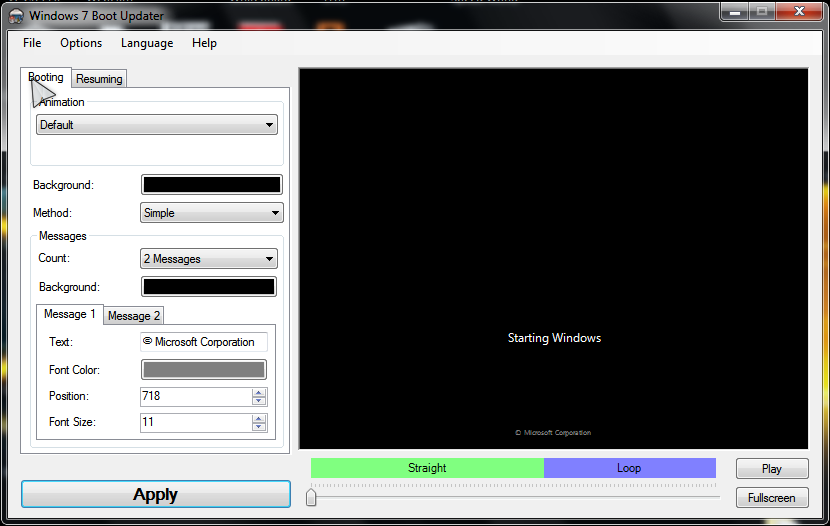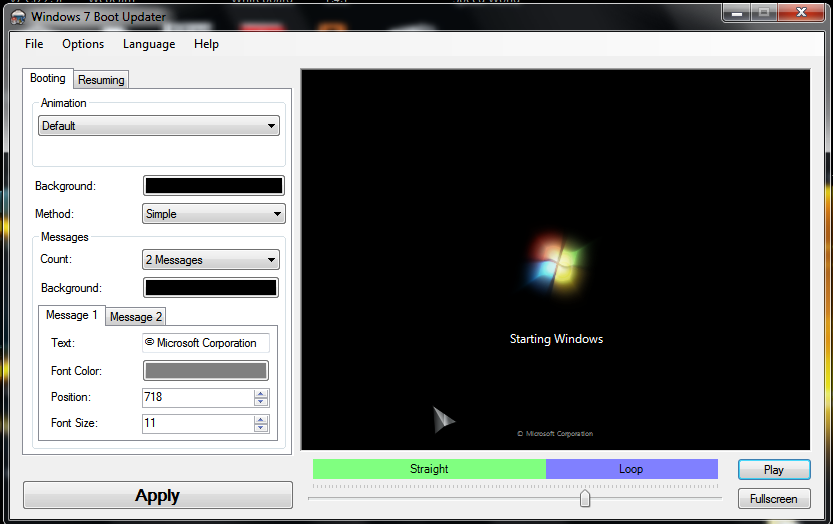 Newly Edited boot screen
Applying (updating) changes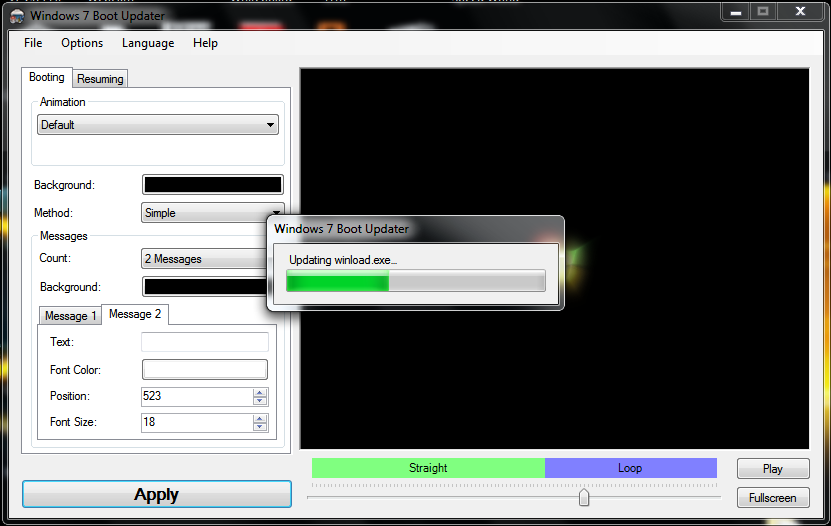 I hope People start making boot screen themes soon! This guy who made this program is amazing! I Hope you guys like my post!
CPU
Motherboard
Graphics
RAM
Intel Core i5-3210M @ 2.5GHz
ASUS G46VW Motherboard
Nvidia GTX 660M
Stock Ram (UNKNOWN BRAND)
Hard Drive
Hard Drive
Optical Drive
Cooling
Samsung Spinpoint M8 HDD
Crucial M4 MSata SSD
None
Stock HS fans
OS
Monitor
Keyboard
Power
Microsoft Windows 8 x64
Stock 1366x768 LCD Panel with LED Backlight
Built-In White Backlit Keyboard
Stock 19.5V 9.23A ASUS Power Brick
Case
Mouse
Mouse Pad
Audio
ASUS G46VW Laptop Body
Built-In ELAN Trackpad
N/A
Stock VIA Chipset
View all
hide details
CPU
Motherboard
Graphics
RAM
Intel Core i5-3210M @ 2.5GHz
ASUS G46VW Motherboard
Nvidia GTX 660M
Stock Ram (UNKNOWN BRAND)
Hard Drive
Hard Drive
Optical Drive
Cooling
Samsung Spinpoint M8 HDD
Crucial M4 MSata SSD
None
Stock HS fans
OS
Monitor
Keyboard
Power
Microsoft Windows 8 x64
Stock 1366x768 LCD Panel with LED Backlight
Built-In White Backlit Keyboard
Stock 19.5V 9.23A ASUS Power Brick
Case
Mouse
Mouse Pad
Audio
ASUS G46VW Laptop Body
Built-In ELAN Trackpad
N/A
Stock VIA Chipset
View all
hide details