mmmmm sorry but i think its really sad that u would need to prize out a 240gb Revo to get someone to help you out perfectly. (i'll try to help ya out for free!
, then u can sell the 240 revo and get more H2O gear!!!! )
First off, i dont recomend u mixing ATI and Nvidia together, as u will sometimes and could run into driver problems.
Go with all ATI or go with ALL nvidia, and use 1 set of drivers. Most games can now offload the phyx on the cpu, so having a dedicated phyx is moot.
2. Your coolant is garbage. I dont trust any premix because they all stain and can / will leave a nasty deposit on all your blocks. Especially blocks with use injectors.
From your list, your not mixing any nasty metals, so i would go with straight distilled + kill coil + Mayhem dye if you want color.
3. You have too much heat load to stay 1 loop.
Typical rules in LC is you dont want to exceed the maxiumum hold capacity of water in relationship to your flow.
(what does that mean? )
OK physics states at 1gpm ~ 300W of carrying capacity in H2O b4 it goes up 1C.
Typical values will be no more then 450W on 1 single loop, which translates to about a 120x3 in cooling capacity @ a 7d/t air vs water.
That means with 1gpm on a 120x3 /w 450W of load, you shouldnt be getting no more then a 1-2C delta in water temps from inlet and outlet.
(this is considered mid tier water)
You can also see if u increase the radiator it wont help you very much in the holding capacity of water unless u increase flow.
This is why flow in relationship to heat disapation is very important. If one is overpowering the other, you can see why u dont get much benefit, because ur outside the range of efficiency.
Lastly, all your parts with EK nickle... start pulling it out.
http://lib.store.yahoo.net/lib/sidewindercomputers/Corporate06042011.pdf
Dont trust EK until they released an offical comment, and retailers themselves can pull that notice.
lastly, im down to help ya, but i ghost on this forum more then any other.
Feel free to shoot me a pm, or reply with questions in this one, and im down to help ya out.
This is my system: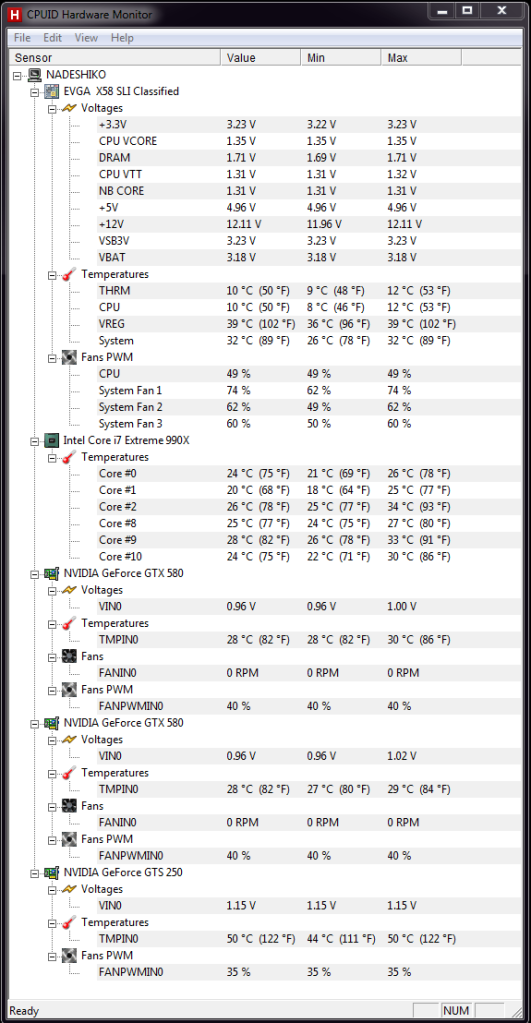 Its on 3 loops, 6 pumps, 4 radiators...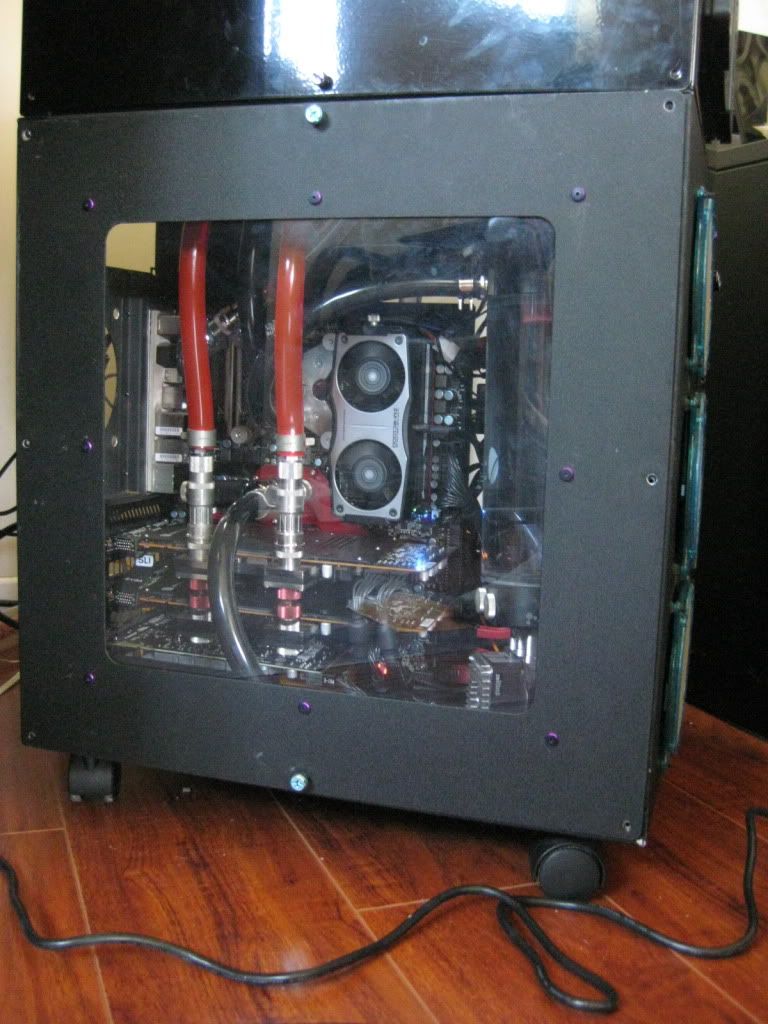 So i know how to build a machine in your scale.
Edited by NaeKuh - 6/10/11 at 11:13am
CPU
Motherboard
Graphics
RAM
i7 990X
eVGA Classified E759
eVGA GTX 580 x 2 + GTX 550Ti
Corsair Dominators
Hard Drive
Monitor
Power
Case
Intel G2 x 3 in R0 + C300 256GB - Gaming
Gateway 2485W x 2 + Asus 27 LED center
AX1200
MM + Pedistool
View all
hide details
CPU
Motherboard
Graphics
RAM
i7 990X
eVGA Classified E759
eVGA GTX 580 x 2 + GTX 550Ti
Corsair Dominators
Hard Drive
Monitor
Power
Case
Intel G2 x 3 in R0 + C300 256GB - Gaming
Gateway 2485W x 2 + Asus 27 LED center
AX1200
MM + Pedistool
View all
hide details