Just a regular crappy HP Pavilion with a Phenom x4 9650 CPU and a BFG 9800GT video card.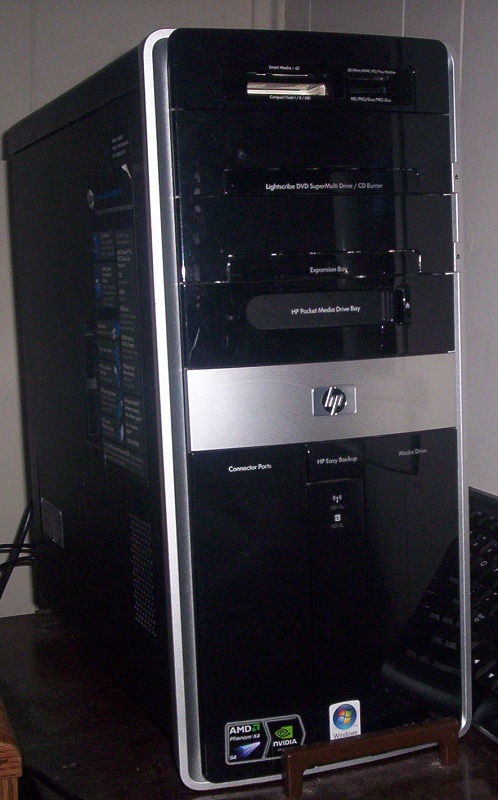 It was having over heating problems while folding 24/7 with the really bad stock cooling. It was never intended to run at full load for extended periods in ambient temps of up to 31ºC though, so it is hard to fault it.
Anyway, I had a left over H70, a Swiftech MCR220 radiator, and some other odds and ends laying around, so I decided to put them to work!
Full internal CPU+GPU water cooling loop in a mini ATX case!
The extra loops of tubing are so I can remove the radiator with it still connected to the loop. It is mounted on top of the HD cage where the mount for an optical backup drive used to be.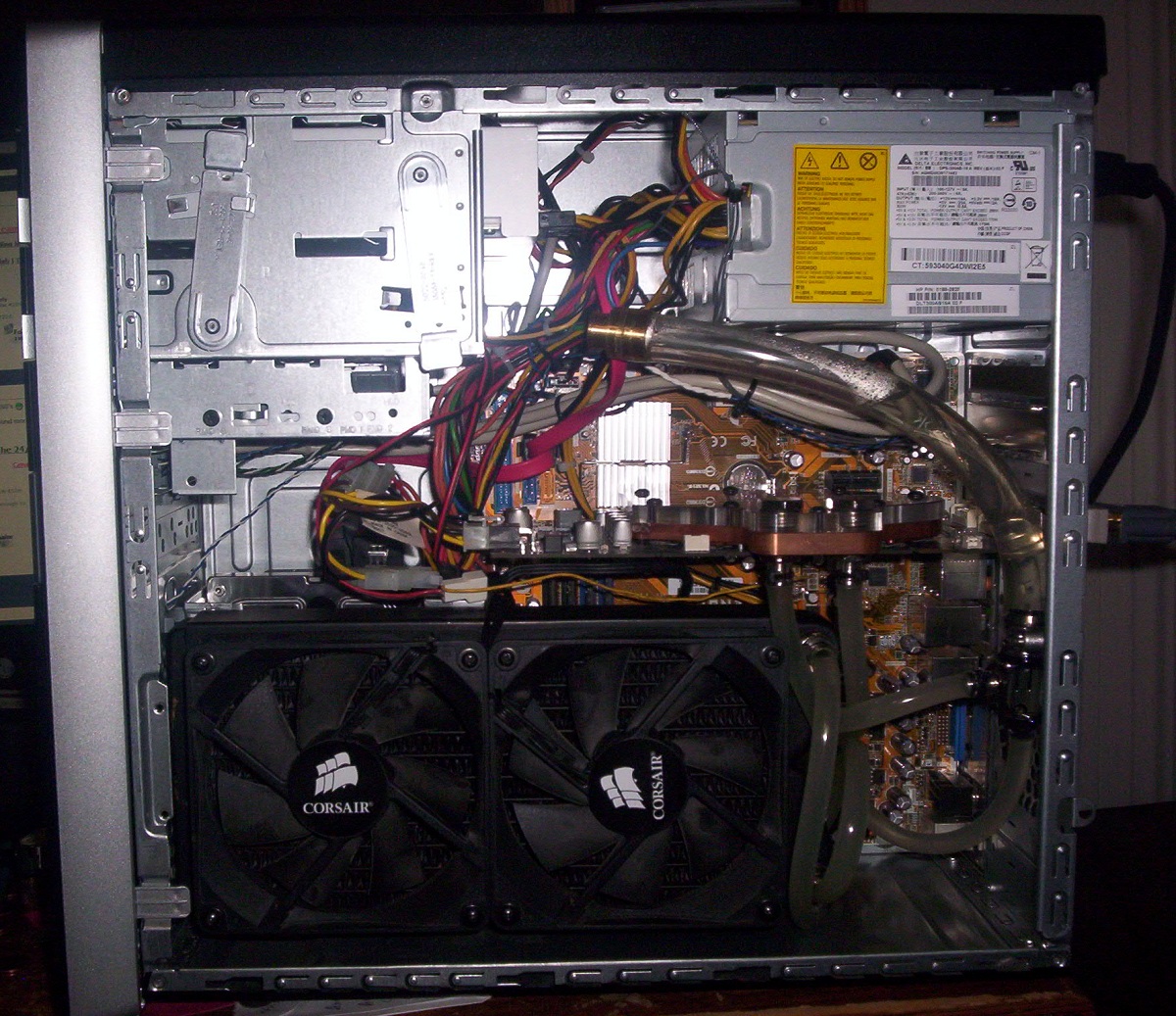 I picked up a used EK FC88 water block from an OCN member for the 9800GT.
Still bubbles under the plexi because the flow rate is really low.
I had to remove the VRM cooler tail piece from the block because my non reference card has giant sized capacitors in the way.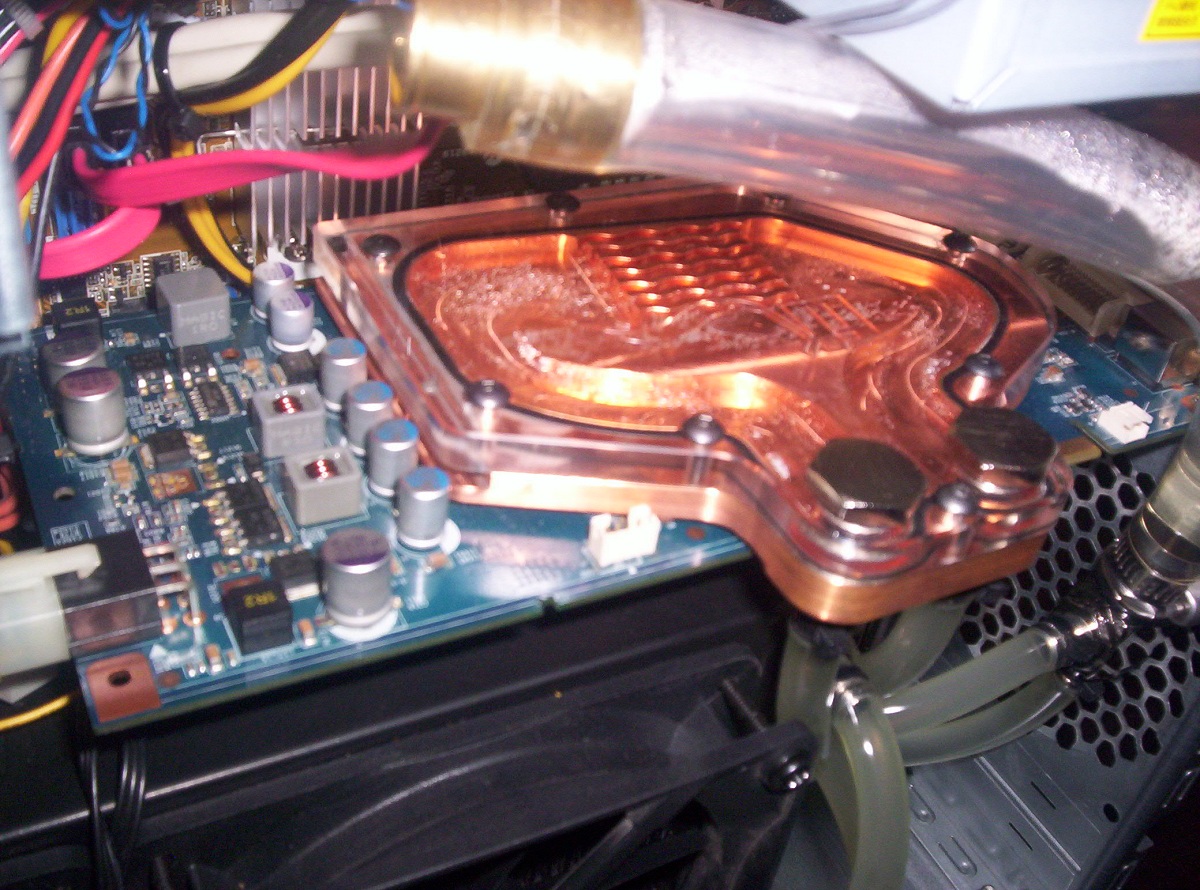 The heart of the system, an H70 pump/block.
The temps are pretty darn good too. It keeps the stock clock CPU under 40ºC, and mildly overclocked 9800GT around 50ºC while folding.
Unfortunately there is no way to OC the CPU with the stock HP motherboard.
I still need to get some cooling on the video card VRMs, and do a cutout in the side panel, for the radiator fans, but it is working for now.
CPU
Motherboard
Graphics
RAM
Phenom x4 9650
Cheap MSI board
EVGA GTX580 SC
Junk PC-800 DDR2
Hard Drive
Optical Drive
Cooling
OS
WD Blue
Generic DVD
Cuplex Kryos HF CPU block, Swiftech MCW82 GPU b...
Windows 7 Home Premium
Power
Case
Antec True Power 650W
>10 year old Antec something or other.
View all
hide details
CPU
Motherboard
Graphics
RAM
Phenom x4 9650
Cheap MSI board
EVGA GTX580 SC
Junk PC-800 DDR2
Hard Drive
Optical Drive
Cooling
OS
WD Blue
Generic DVD
Cuplex Kryos HF CPU block, Swiftech MCW82 GPU b...
Windows 7 Home Premium
Power
Case
Antec True Power 650W
>10 year old Antec something or other.
View all
hide details