Its my 1st time using Conky and I'm a bit confused on how to do some things...
1: Where/how do I enter any commands for this once it has been installed? I did not compile from source so I don't have a conkyrc file.
2: Set it to lower right/left
3: Set it to transparent
4: extend the height
5: Set it so it does not disappear behind the Chromium DE when clicking my desktop. If this means windowing it, then I'm fine with that.
Thanks!
EDIT: Added screenshot. This is what it looks like now... as you can see, seems out of place.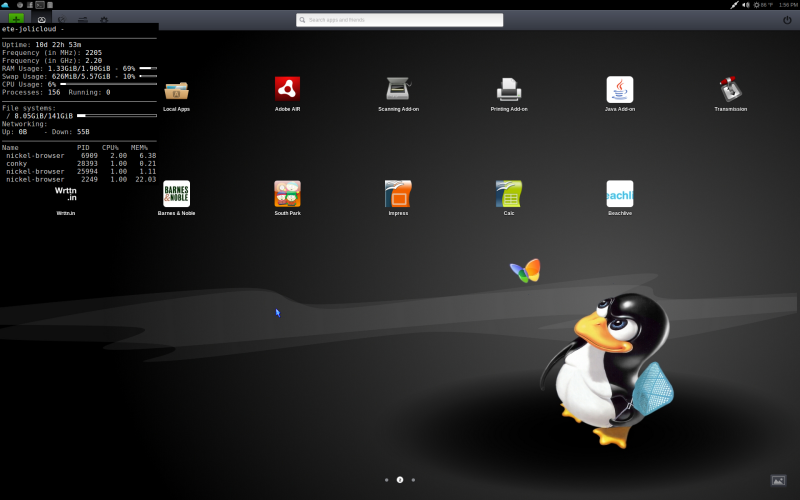 Edited by StupidMonkey - 6/9/11 at 10:59am
CPU
Motherboard
Graphics
RAM
AVC PENTIUM 4 DUAL CORE HSF Z9H741K011
EVGA 680i SLI
2x NVIDIA GEFORCE 8800GT 512MB PCI-E REV 1 (SLI)
4x WM552/XG691 HYNIX 1GB DDR2 PC2-6400 JEDEC STD
Hard Drive
Optical Drive
OS
Monitor
2x SEAGATE HDD 250GB SATA 7200RPM 16MB (Raid0)
LG 20X DUAL-LAYER DVD RE-WRITER NON-LIG
XP-MCE/Mint 11 KDE
50 inch Samsung DLP HDTV
Keyboard
Power
Case
Mouse
MS Wireless BT 7000
1 KILOWATT OEM ATX PSU
FULL-TOWER BLUE CASE 2.0B
MS Wireless Laser BT 8000
Mouse Pad
Alienware Big Head
View all
hide details
CPU
Motherboard
Graphics
RAM
AVC PENTIUM 4 DUAL CORE HSF Z9H741K011
EVGA 680i SLI
2x NVIDIA GEFORCE 8800GT 512MB PCI-E REV 1 (SLI)
4x WM552/XG691 HYNIX 1GB DDR2 PC2-6400 JEDEC STD
Hard Drive
Optical Drive
OS
Monitor
2x SEAGATE HDD 250GB SATA 7200RPM 16MB (Raid0)
LG 20X DUAL-LAYER DVD RE-WRITER NON-LIG
XP-MCE/Mint 11 KDE
50 inch Samsung DLP HDTV
Keyboard
Power
Case
Mouse
MS Wireless BT 7000
1 KILOWATT OEM ATX PSU
FULL-TOWER BLUE CASE 2.0B
MS Wireless Laser BT 8000
Mouse Pad
Alienware Big Head
View all
hide details